Lakers have big plans (Jahlil Okafor or Karl-Anthony Towns) for pick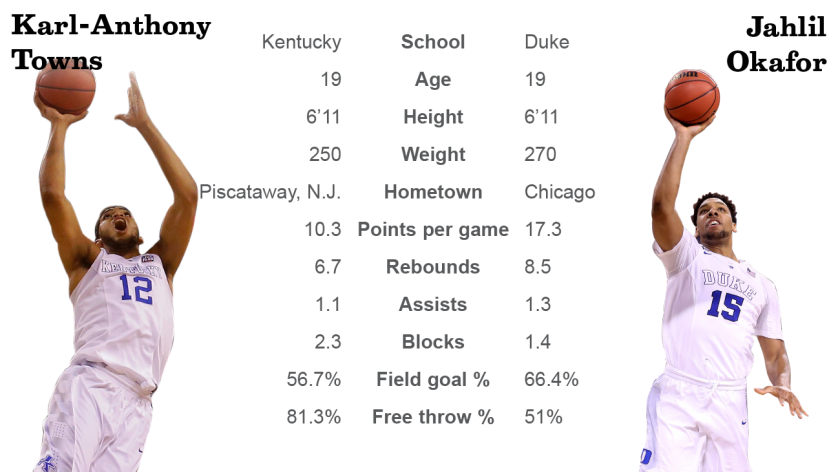 The Lakers found gold in a pot of ping-pong balls at the end of their worst season ever.
Now comes the easy part. Wait for the Minnesota Timberwolves to draft Duke's Jahlil Okafor or Kentucky's Karl-Anthony Towns and then take the other one with the No. 2 pick.
Which one ends up with the Lakers? Not even they know. For the first time in a while, uncertainty isn't a bad thing for them.
"It's a great day for the Lakers and their fans," ESPN analyst Jeff Van Gundy said Wednesday on a conference call. "We're used to seeing them never have down years, and when they have had a down year in the past, they've immediately been able to solve their problem and get a Hall of Fame talent. This gives them the opportunity picking No. 2 to do that."
The Lakers will look at dynamic Ohio State point guard D'Angelo Russell but preliminary indications are they want to go big, The Times has learned. In fact, General Manager Mitch Kupchak is fond of saying that a good big man is often more valuable than a good little man.
The similarities between Okafor and Towns end after their height and age — they're each 6 feet 11 and the 19-year-olds declared for the June 25 NBA draft after their freshman seasons.
Towns is Kentucky's happy-go-lucky kid who talks to an imaginary friend on his shoulder during games — "Karlito" — and attended the same high school as Andrew Bynum.
Not that there's a comparison between the former Lakers lottery pick and perhaps their future one.
"Karl is way better than Bynum," Metuchen (N.J.) St. Joseph High Athletic Director Jerry Smith said in February. "I don't want to talk negative about [Bynum] but there's no comparison whatsoever. This kid works, this kid is really the total package. He's one in a million."
Smith willingly shared plenty of stories about Towns, who helped take St. Joseph to three state championships and was sometimes left behind at road games because he took too long to sign autographs and pose for pictures, Smith said.
Perhaps most telling, a former St. Joseph student was killed in Afghanistan while supporting combat operations during Towns' sophomore year, Smith said. Towns didn't know him but heard the Marine's sister say at a memorial service that he would have been 25 if he was still alive.
In St. Joseph's next game, Towns scored with ease through three quarters against Perth Amboy High.
"And then in the fourth quarter, he had layup chances and he wouldn't shoot the layup. He'd pass it back out," Smith said. "After the game, his mother said, 'What's wrong with my son? How come he's not shooting?' So we went up to Karl and he said, 'I wanted to honor the guy who passed away because he was 25.' So he stopped when he was at 25 [points]."
Towns is more athletic than Okafor and showed it with a 25-point outburst against Notre Dame to launch the Wildcats to the Final Four. Then he had 16 points and nine rebounds against Wisconsin.
Teammate Willie Cauley-Stein stole the national highlight attention with his dramatic display of dunks, but Towns was more apt to score with an eight-foot hook or set up teammates with a sharp pass from the post. Then again, he scored one point in a Sweet 16 game against West Virginia.
Toward the end of Kentucky's season, his coach John Calipari said, "Within two or three years, when he gets that weight in his butt, in his thighs that he's going to have, now it becomes another one of those kids you look at and you say, 'Oh my gosh. I didn't realize he was going to be like this.' "
Okafor experienced more team success, helping Duke win the national championship, while Kentucky saw its 38-0 record end stunningly against Wisconsin.
Okafor also had better numbers than Towns, 17.3 points and 8.5 rebounds a game, though it was more a product of Duke's perilously thin bench and Calipari's liberal substitution pattern.
Okafor goes by the nickname "Jah" and comes with a sad story. His mother, Dacresha, died in front of him when he was 9 because of a collapsed lung likely brought on by bronchitis. He keeps her image as the screensaver on his phone.
He often credits the presence of his father, Chukwudi.
"He made sure I didn't use it as an excuse to go down the wrong path," Okafor said in March. "That's part of my motivation too, my mother. There hasn't been a day where I haven't thought about her."
The first things people notice about Okafor are his hands. They're massive, grabbing a basketball like an orange and holding it out in the post, Michael Jordan-style.
Many NBA executives consider Okafor the safer choice of two big men. His footwork allows him to deliver from an army of spin moves, he can sink hook shots with either hand and his mid-range jumper is solid. "He can score 16 points a game right now" in the NBA, a front-office official told The Times.
Okafor will have to work on his free throws, though. He was only 51% from the line at Duke and sometimes had to be encouraged by standing ovations at home games.
The Lakers would happily try to fix it.
Or maybe they'll try to figure out the "Karlito" phenomenon, which started when Kentucky coaches realized Towns kept turning his chin toward one of his shoulders for one-on-one conversations with no one. Towns revealed he was actually talking with the oft-critical Karlito, as Towns called him, comparing him to Li'l Penny, the yammering figure from the old Nike commercials with Penny Hardaway.
The Lakers will have to wait a few minutes on draft night. Then they'll find out who they get. It will be only a minor inconvenience.
Follow Mike Bresnahan on Twitter @Mike_Bresnahan
Times correspondent Eric Pincus contributed to this report.
---
All things Lakers, all the time.
Get all the Lakers news you need in Dan Woike's weekly newsletter.
You may occasionally receive promotional content from the Los Angeles Times.