Brandon Ingram steps up, and Lakers think they'll see more progress from the rookie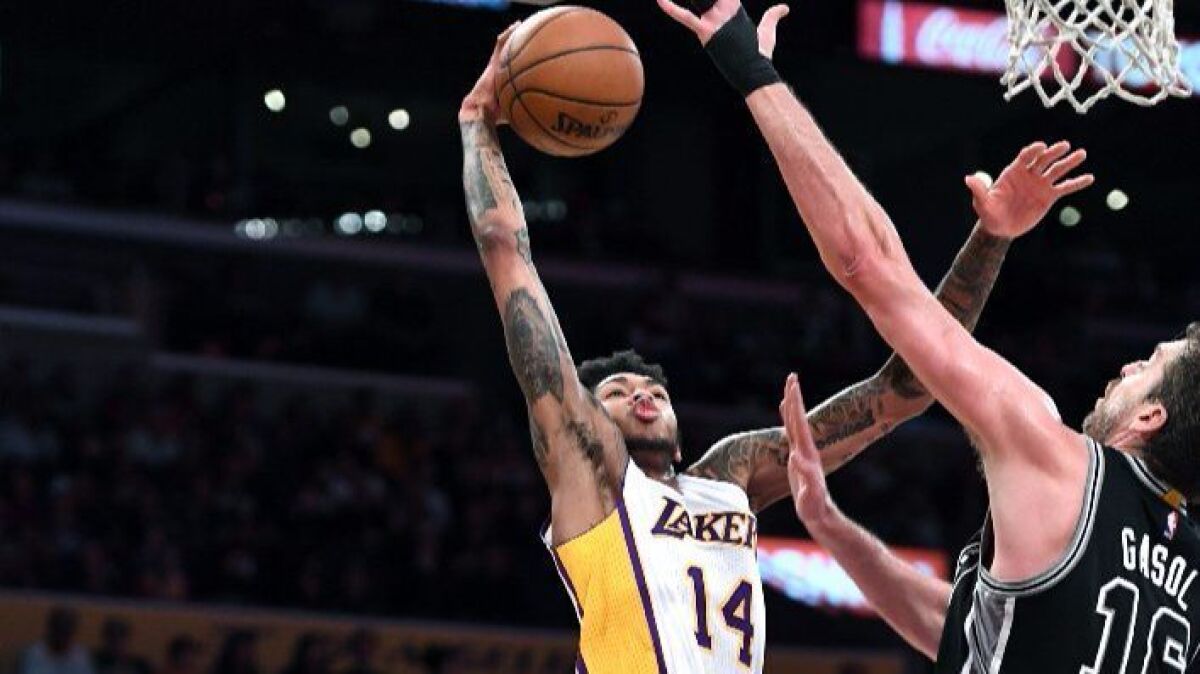 For one half of a game Sunday afternoon, the Lakers saw signs of what they want to see more often from their first-round pick, Brandon Ingram.
They saw an aggression with which Ingram doesn't always play.
"Sometimes I shy away from it a little bit," Ingram said. "[Sunday night] I did a good job."
Ingram had his first career 20-point game Sunday against the San Antonio Spurs. His 22 points and 10 field goals were both career highs. He hasn't been the type of player to take over games at any point this season, but that doesn't worry the Lakers. As his coaches work on his physicality, the proper way to take contact and an attacking mentality, they believe they'll see more of this from Ingram.
"He'll figure it out," Lakers Coach Luke Walton said. "We're very confident that, from what we see every day in practice, he's gonna be a successful player in this league. We'll keep pushing him and keep putting him in positions to succeed and to fail, and he'll keep figuring it out. When he gets it, he'll get it."
Understanding contact, and how he can use it to his advantage, is part of the learning process for Ingram. Team executive Magic Johnson worked with him last week on techniques that would make things easier for him on offense. But that's also something Lakers assistant Brian Keefe, who works individually with Ingram, has helped him learn.
"It's understanding to use your body, knowing when the contact's coming, knowing when you can be the player that initiates the contact to get your defender off balance, then obviously getting stronger yourself," Walton said.
Ingram is still about as thin as he was when he was drafted. During the season, he's just working on maintaining his weight. As he fills out, he could start to look physically more like Warriors star Kevin Durant.
In the meantime, he and the Lakers are working on what they can better control.
Calderon waived
The Lakers waived reserve point guard Jose Calderon on Monday, after working on a buyout with the veteran guard.
"Jose wanted to play and the Lakers were going in the direction of trying to play the younger guys, which we understood," said Mark Bartelstein, Calderon's agent. "I am really appreciative of Magic and the Laker organization for doing this for Jose. They wanted to keep him around, felt like he was valuable for his team. … [There were] some opportunities we thought might be available and Magic was great about accommodating us."
According to reports, the Golden State Warriors would like to sign Calderon if he clears waivers.
Calderon spent most of his career with the Toronto Raptors. In the seven years he played there, the Raptors made the playoffs twice, and never got out of the first round.
The Warriors, meanwhile, have the best record in the NBA. They are heavy favorites to return to the NBA Finals this season.
The Bulls traded Calderon to the Lakers in July for the final year of a four-year contract he signed with the Dallas Mavericks. Calderon, 35, was often inactive for the Lakers, unless injuries required them to play him. He played in 24 of the Lakers' 60 games and started 11 times for the Lakers this season.
He hopes to play 15 years in the NBA — that would mean three more seasons.
"I feel really good physically," Calderon said. "I think I still can help and I can play minutes. … I will be a free agent this summer, too, to maybe choose a good situation. Here it was great. The wins and losses, I totally understand what they're trying to do. I've been here helping all these guys and it's been fun. But I guess you've always got that thing inside you, I think I can still play a little bit."
UP NEXT
LAKERS VS. CHARLOTTE HORNETS
When: Tuesday, 7:30 p.m.
Where: Staples Center.
On the air: TV: Spectrum SportsNet, Spectrum Deportes; Radio: 710, 1330.
Records: Lakers 19-41; Hornets 25-34.
Record vs. Hornets: 0-1.
Update: The last time these teams faced each other, the Lakers built a 19-point lead only to lose the game. The Hornets have been in Los Angeles for a few days. They played the Clippers on Sunday, scoring 121 points and still losing the game.
Follow Tania Ganguli on Twitter @taniaganguli
All things Lakers, all the time.
Get all the Lakers news you need in Dan Woike's weekly newsletter.
You may occasionally receive promotional content from the Los Angeles Times.