Lakers GM Mitch Kupchak, exec Jim Buss relieved of duties as Magic Johnson takes over basketball operations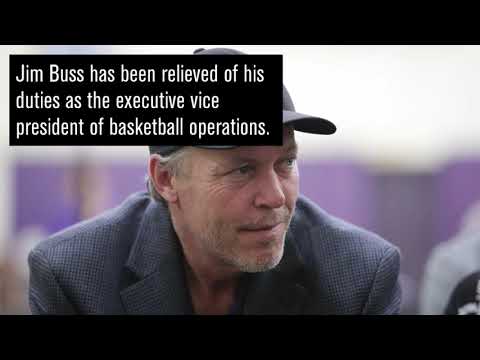 Jim Buss has been relieved of his duties as the executive vice president of basketball operations. (Feb. 21, 2017)
On one of the most dramatic days in the history of the Lakers, the woman at the center of it all made drastic changes Tuesday aiming to help resuscitate the team.
Jeanie Buss, the Lakers' governor and president, fired her brother, Jim Buss, the head of basketball operations.
She fired general manager Mitch Kupchak, who has been a Laker for more than 35 years.
She fired John Black, the team's spokesman for more than two decades.
She handed the reins of the franchise to a man she has known since she was 17 years old, one who calls her a sister. Magic Johnson, perhaps the best to ever play for the Lakers, is now the team's president of basketball operations.
Then she sat on a television set wearing championship rings from 1988 and 2000 and said she was sorry.
"This was a very difficult decision," Buss said during an appearance on Spectrum SportsNet. "It was probably so hard for me to make that I probably waited too long. And for that, I apologize to Laker fans."
Johnson now faces the task of turning around a franchise that has won 16 NBA championships, but hasn't won more than 27 games since the 2012-13 season.
"You don't know that I'm a control freak?" Johnson said Tuesday afternoon, grinning. "You don't get to where I am without being one, right? I'm gonna make sure I set the strategy. I set the tone. And that this organization is gonna be about excellence on and off the court."
He started right away.
Johnson's phone began ringing as soon as the announcement was made, with general managers around the league offering well wishes and trade pieces. In between radio, television and print interviews, he gathered Lakers Coach Luke Walton, assistant general manager Glenn Carraro, director of player personnel Ryan West, assistant general manager and director of scouting Jesse Buss and Joey Buss, the CEO and president of the Lakers' Development League team.
Once the Lakers complete the process of hiring longtime agent Rob Pelinka as general manager, he will make those calls, and report to Johnson, who will have the final say. For now, though, with the trade deadline at noon Thursday, Johnson serves as a stand-in.
Together they sorted through the Lakers' options, with Johnson running the show, as he did on the court for the Lakers decades ago. Johnson wants to build through the draft but also supplement those additions with free agents. He's also mindful that the Lakers could lose their top first-round pick this year if it falls out of the top three.
"It can't be one path," Johnson said. "When you think about, there's a lot of great young teams right now — or teams with young talent. But those same teams are not in the playoffs. So you have to have a combination of both."
The specter of Jim Buss and Kupchak's future had hung over the season since training camp. Kupchak was the architect of two Lakers championship teams in 2009 and 2010.
Lately, though, the Lakers struggled to interest big-name free agents, which frustrated Jeanie Buss. LaMarcus Aldridge wasn't interested in 2015. Kevin Durant wouldn't even meet with the Lakers last summer.
Last season, Kobe Bryant's last, the Lakers won only 17 games. It was their worst record in franchise history. In the following off-season they gave free-agent deals worth $136 million to Timofey Mozgov and Luol Deng, two players who were not in the Lakers' long-term plans and who have both been removed from the starting lineup.
While the Lakers started anew with first-year head coach Walton, they approached the expiration of a timeline Jim Buss set for himself. In April of 2014, he told The Times he planned to step down in three or four years if the Lakers were not in contention for a Western Conference championship.
Under Walton, the Lakers' priorities publicly diverged from Jim Buss' timeline.
They made it clear all they cared about was developing their young talent — lottery picks Julius Randle, D'Angelo Russell and Brandon Ingram, as well as Larry Nance Jr., Jordan Clarkson and Ivica Zubac.
A surprising 10-10 start sprouted optimism in the organization, and perhaps hope for Jim Buss that he could last even if the Lakers weren't yet a championship contender. But since then, the Lakers have gone 9-29. Injuries highlighted the deficiencies on their roster.
Without a star, the Lakers didn't have much hope for change.
"I'm not really aware of much discussion about, how did you phrase it? My job?" Kupchak said last week. "I'm very comfortable in my skin. I've been doing this a long, long time. So my days are so full with the obligations and the duties of a general manager, I really don't have time to do much else."
On Sunday, Kupchak and Jim Buss made one last attempt. Kupchak engaged in trade talks with the Sacramento Kings to see their interest in a deal that would send star forward DeMarcus Cousins to the Lakers. The price, though, which included Ingram, was too high.
That deal might have gone similarly had Johnson been in charge.
"Our untouchables are our young talent right now," Johnson said. "We've already let everybody know that. We want to hang on to our young talent. People have been calling for it, but we've been saying no."
A few hours later he traded Lou Williams, the team's leading scorer, to the Houston Rockets for Corey Brewer and a first-round pick.
Bringing the Lakers back to prominence is Johnson's dream job. He spoke of understanding the changing NBA, and embracing analy-tics and new trends. He'll travel to New York at the invitation of NBA Commissioner Adam Silver to learn more about the collective bargaining agreement and the salary cap.
But nostalgia crept in a few times for the late Jerry Buss, the man he said was like a father.
"He's so happy," Johnson said. "To know that I'm working with Jeanie and also Jesse and Joey. It's been probably for him, he'd be saying, 'OK it brings a smile to my face.'"
But it wasn't that simple, Tuesday,for anyone.
"It's probably tough for him to look at, that he had to see Jim get removed from this position," Johnson said. "That's not a good thing for anybody, a sibling has to remove another sibling. But one thing that happened here is the Lakers have been losing and we made critical mistakes. It's not like nobody was given a fair shot at this. What I'm looking to do here is to move it forward."
Follow Tania Ganguli on Twitter @taniaganguli
ALSO
Lakers have two Rising Stars, but no All-Stars for the first time in 21 years
Plaschke: The signs are all there: Magic Johnson is the man in charge of the Los Angeles Lakers
Five questions to keep in mind as the NBA trade deadline approaches
---
UPDATES:
11:15 a.m.: This article was updated with background information.
This article was originally published at 10:25 a.m.
All things Lakers, all the time.
Get all the Lakers news you need in Dan Woike's weekly newsletter.
You may occasionally receive promotional content from the Los Angeles Times.