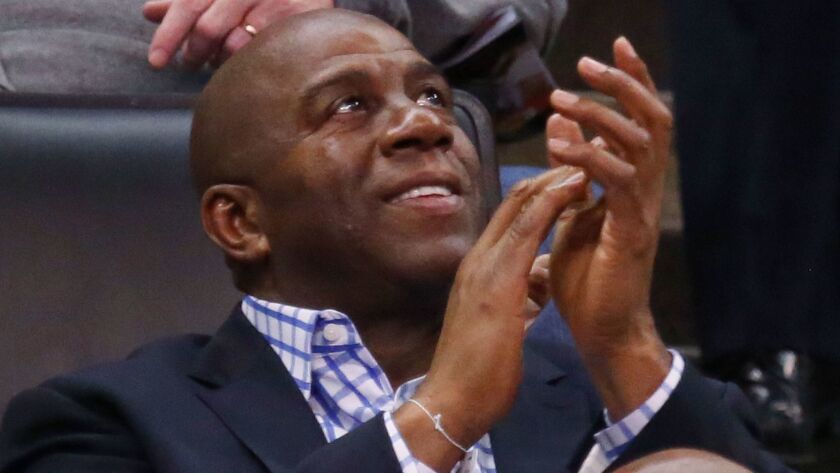 Someday, the Lakers hope, they will share the ball as efficiently and cleverly as the San Antonio Spurs did Sunday in racking up 37 assists on 49 field goals in a 119-98 rout at Staples Center.
Someday, the Lakers dream, they will again experience stability as a franchise, as the Spurs have enjoyed over the 20-plus seasons of Gregg Popovich's coaching tenure, and they will again make seamless transitions from one triumphant era to the next and attract free agents who will take less-than-maximum paydays in exchange for a strong chance to win a championship in Los Angeles.
The distance between their reality and their dreams never seemed greater than it did Sunday during their first home game since Magic Johnson was given wide-ranging power as their new president of basketball operations. The young Lakers, who had nothing to lose and a world of respect to gain, slogged through a slow start and were punished by a team they admire and would like to become, a team they're far, far away from resembling.
"They've been around for a while, especially that group. That core group has been together forever. They've won NBA championships and that's a championship kind of a team right now, too," Jordan Clarkson, who had 19 points off the Lakers' bench, said of the 45-13 Spurs. "Those guys have been together for a while and that's something we're working toward."
The Lakers are still in the painful early stages of that journey, but Clarkson said it's possible this group will reach a happy end-point. "I see it happening," he said. "With time it's going to happen but we've got to put forth the effort to want to get better and come out here and compete so we can go to that level."
They didn't make that effort in the first half, which Coach Luke Walton correctly called "unacceptable." Johnson, who watched the game from a suite above the Staples Center court, didn't comment publicly after the team's record fell to 19-41. But if he thought this turnaround would be swift, he might have to retrench following a 17-point loss at Oklahoma City on Thursday and Sunday's turnover-ridden performance.
Another Lakers legend, Kareem Abdul-Jabbar, was in the house Sunday to be honored at halftime and he offered a blunt assessment of the current team and its young core. "You have to start somewhere. I hope that they can use that as the basis to even get better players," he said.
"I think they still need what they call a stud. Somebody that they can all hang on his performance and he can make everybody else better. Usually you need one or two guys like that."
Abdul-Jabbar said Johnson "has had a lot of experience in terms of his knowledge of the game and his knowledge of how players fit together. That's a key for any manager." He also wished Johnson "some good luck to go along with the opportunity that he has. Maybe he'll get an opportunity to improve the team."
Former Laker Pau Gasol, whose 15-point performance included a pair of pretty, back-to-back three-pointers late in the first quarter, offered an endorsement of Johnson but cautioned that even Magic might not be able to work miracles.
"They made a big move but it's the right move for the franchise. Magic is a very knowledgeable man and a great leader and I think if anyone can do it, it's him," Gasol said. "Of course I want to see the Lakers do well, and I think they will. It's just a matter of time until they get back to it. But now there's clearly a very young core of players that they need to develop, and be patient, for sure."
The Spurs' stability and competitiveness were key factors in his decision to sign with them. "I think every franchise now is trying to build its own culture and have consistency and kind of emulate or copy what the Spurs have been able to do, which is very difficult," Gasol said. "Because at the end of the day, there's one Gregg Popovich, one Tim Duncan, not many Tony Parkers and Manu Ginobilis, Kawhi Leonards. It's just a fantastic, fascinating job they've been able to do here."
Spurs forward Kawhi Leonard and Dejounte Murray battle for a rebound against Lakers forward Larry Nance Jr. in the fourth quarter.
(Wally Skalij / Los Angeles Times)
Spurs forward Kawhi Leonard has the ball knocked away by Lakers forward Corey Brewer.
(Wally Skalij / Los Angeles Times)
Spurs center Dewayne Dedmon dunks over Lakers forward Brandon Ingram.
(Wally Skalij / Los Angeles Times)
Former Lakers center Kareem Abdul-Jabbar is honored at halftime.
(Wally Skalij / Los Angeles Times)
Lakers forward Brandon Ingram, left, and Thomas Robinson battle for a rebound with Spurs forward David Lee.
(Wally Skalij / Los Angeles Times)
Lakers forward Julius Randle gets a shot off against Spurs guard Manu Ginobili.
(Wally Skalij / Los Angeles Times)
Spurs guard Danny Green blocks the shot of Lakers center Ivica Zubac, but David Lee (not pictured) is called for a foul.
(Wally Skalij / Los Angeles Times)
Lakers Tarik Black has the ball knocked away by Spurs Pau Gasol while driving to the basket.
(Wally Skalij / Los Angeles Times)
Lakers Pau Gasol gets a shot off in front of Lakers Larry Nance Jr.
(Wally Skalij / Los Angeles Times)
Lakers Jordan Clarkson and Spurs David Lee battle for a rebound.
(Wally Skalij / Los Angeles Times)
Lakers Brandon Ingram is about to dunk on Spurs Pau Gasol.
(Wally Skalij / Los Angeles Times)
Spurs Tony Parker scores against Lakers Ivica Zubac at the Staples Center Sunday.
(Wally Skalij / Los Angeles Times)
As Spurs Pau Gasol puts the pick on Lakers Nick Young, Manu Ginobili dribbles past them.
(Wally Skalij / Los Angeles Times)
Popovich also said he hopes Johnson and the Lakers succeed. "You can't deny that markets like New York and Chicago and L.A., the big cities, are attractive no matter what. No sense trying to hide that," he said before the game.
"We've been here four or five nights and I've had lunches and dinner and wine every day until I can't wait to get out of here. I need to go dry out, both food and alcohol-wise. It's been great. I just hope half the team shows up today."
The Spurs showed up in full. The Lakers showed only how far they are from being like the team they admire.
Follow Helene Elliott on Twitter @helenenothelen
---