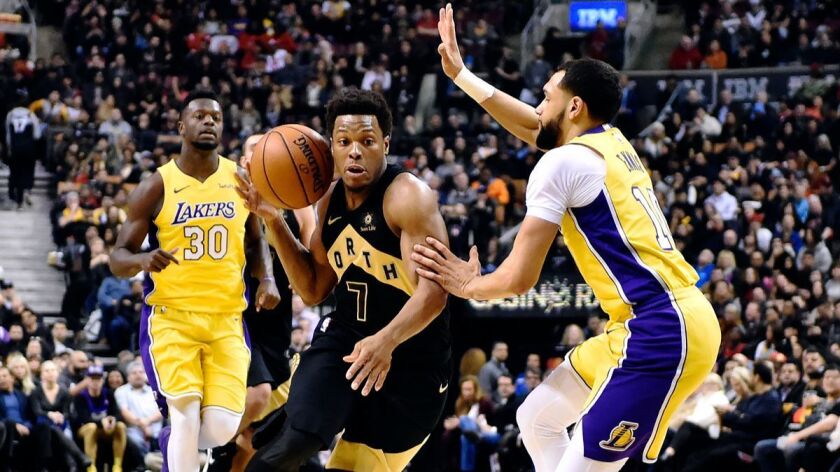 Reporting from Toronto —
The Eastern Conference had become the Lakers' playground over the past week and a half, but on Sunday night their winning streak hit a cold front.
The Lakers couldn't hit shots and the Toronto Raptors, a team chasing the Boston Celtics for the top seed in the East, dominated the pace and the game in a 123-111 victory.
"We just didn't play well enough to win against a team like this on the road," Lakers coach Luke Walton said. "We didn't make shots. You got to really go after and get it and for whatever reason we didn't play with that same edge tonight and they made us pay for it."
The Lakers (19-30), who'd won four straight, fell to 1-1 on their road trip, which will continue Wednesday at Orlando before wrapping up in Brooklyn and Oklahoma City.
Six Lakers scored in double figures, led by Julius Randle and Jordan Clarkson with 17 points apiece. Randle added 10 rebounds and five assists. Kyle Kuzma, the Lakers' leading scorer, had just seven points on three-of-nine shooting, while the team shot 43.5%.
The Raptors (33-15) are a team extremely capable of capitalizing on the Lakers' misses and mistakes. They have lost only four of 22 home games and are among the highest scoring teams in the NBA.
Toronto made 50% of its first-quarter shots, while the Lakers made 29.6%. Still the Lakers trailed by only seven after one quarter, with Randle scoring six points with five rebounds.
But the defensive intensity which the Lakers thrived on in winning eight of the previous 10 games lifted as this one progressed.
"If we were able to keep it a little closer, striking distance, maybe our energy would have been a little bit better," said Randle, who achieved his double-double in the first half but added only four points, one assist and no rebounds in the second.
The Lakers never led after early in the first quarter. The Raptors scored more than 30 points in each of the final three quarters and finished the game making 50% of their shots.
All-Star starter DeMar DeRozan scored 19 points through three quarters and didn't play in the fourth. Fellow All-Star Kyle Lowry and his backup, Fred VanVleet, combined for 39 points, with VanVleet scoring 13 of his career-high 25 in the fourth quarter.
Tyler Ennis, the Toronto area native who started at point guard for the injured Lonzo Ball, made only one of four shots with no assists. Fellow starters Brandon Ingram, Brook Lopez and Kentavious Caldwell-Pope combined to shoot 12 of 37.
"We got some really good looks, and then when you hold the ball on the offensive end, the Raptors are a long, effective, defensive team and we did that too often tonight," Walton said. "So when we had good looks, we didn't make them and then when we held the ball and didn't move it freely, the Raptors' defense affected our shots."
Follow Tania Ganguli on Twitter @taniaganguli
---