Kobe Bryant reveals how deeply the Lakers' 2008 Finals loss tormented him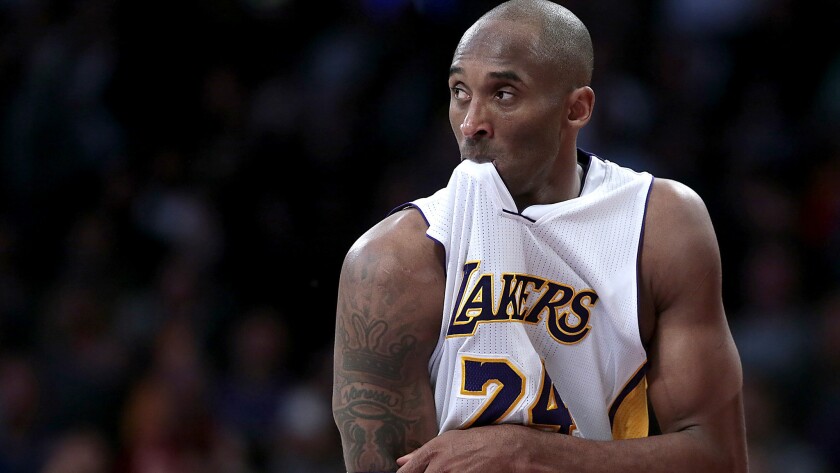 It was quite the window into Kobe Bryant's soul, a late-night admission of how he tortured himself for two years after one of his biggest failings as a pro.
The Lakers lost another game Friday to the Clippers, no surprise, and Bryant continued to turn his previous 19 seasons on their ear by being refreshing and forthcoming with reporters when asked about next Wednesday's game in Boston, his last trip to the Garden.
He revealed that he listened daily to Journey's ubiquitous "Don't Stop Believin'" for two years after the Lakers were pummeled by the Celtics in the 2008 NBA Finals. The song was played during and after every Boston victory at the Garden, including the Game 6 clincher the Celtics won by 39 points. It was the second-largest margin of victory in Finals history.
Join the conversation on Facebook >>
"I remember when we were losing, they played that Journey song and the whole arena started singing," Bryant said after scoring 12 points in the Lakers' 94-84 loss to the Clippers. "I hated that song for two years. I listened to the song every single day just to remind me of that feeling. Same thing with the Dropkick Murphys — I listened to the Dropkick Murphys all the time just because I wanted to remember that feeling."
Bryant was referring to another song continually played at the Garden that series — "I'm Shipping Up to Boston" by a Massachusetts-born punk band.
Bryant eventually got his revenge when the Lakers beat Boston in seven games in the 2010 NBA Finals. He was stellar in the series except for a near-disastrous six-for-24 shooting effort in the finale.
Bryant had a side discussion Friday with teammate Metta World Peace while watching former Boston forward Paul Pierce run up and down the court for the Clippers.
"To go back in 2010 and have that redemption, I was telling Metta on the bench, 'You know, Metta, I'm so damn happy we won that 2010 Finals because I'd be sick as … sitting here right now,'" Bryant said.
So that 2010 championship was Bryant's favorite of the five he won?
"I'll put it to you this way — if I lost that championship, I'd be miserable. I'd be absolutely miserable," he said.
Sticking with misery, the Lakers (5-25) hit the road for three more games in their worst December ever travel-wise (13 total road games).
Before finishing the month in Boston, they play Sunday in Memphis and Monday in Charlotte.
There was supposed to be some intrigue before Boston, but that ended when Coach Byron Scott said he would not reinsert Julius Randle and D'Angelo Russell into the starting lineup for at least another few games.
He took away their starting jobs after 20 games, pledged at the time to reevaluate the lineup after another 10, and deferred when that point came and went after Friday's loss.
"It's official — I'm going to stick with the same lineup," Scott said Saturday.
He will consider promoting Russell and/or Randle again in January, at the conclusion of the Lakers' seemingly monthlong road trek.
"January, at least we're playing every other day so we get a day in between games where we can start practicing with a different lineup," he said. "I just don't want to do it cold turkey right now."
Russell in particular has been playing well lately, including a 16-point effort against the Clippers. Randle, however, is shooting a woeful 37.7% since being demoted.
LAKERS AT MEMPHIS
When: 3 PST, Sunday.
Where: FedEx Forum.
On the air: TV: TWC SportsNet, TWC Deportes; Radio: 710, 1330.
Records: Lakers 5-25, Grizzlies 16-15 through Friday.
Record vs. Grizzlies (2014-15): 0-4.
Update: Memphis has underperformed so far after securing 50 or more victories the previous three seasons. Their problem is an offense averaging only 96 points, ranking 29th of 30 NBA teams. Grizzlies stalwarts Mike Conley and Zach Randolph have started slowly, Conley shooting about 40% and Randolph recently losing his starting job. The Lakers have lost six consecutive games against Memphis, their longest such streak since the Grizzlies began play in 1995-96.
Twitter: @Mike_Bresnahan
MORE NBA NEWS
Stephen Curry is the AP male athlete of the year
Clippers win Christmas game over Lakers, 94-84
---
All things Lakers, all the time.
Get all the Lakers news you need in Dan Woike's weekly newsletter.
You may occasionally receive promotional content from the Los Angeles Times.