Ivica Zubac made the most of his opportunity, but it might be short-lived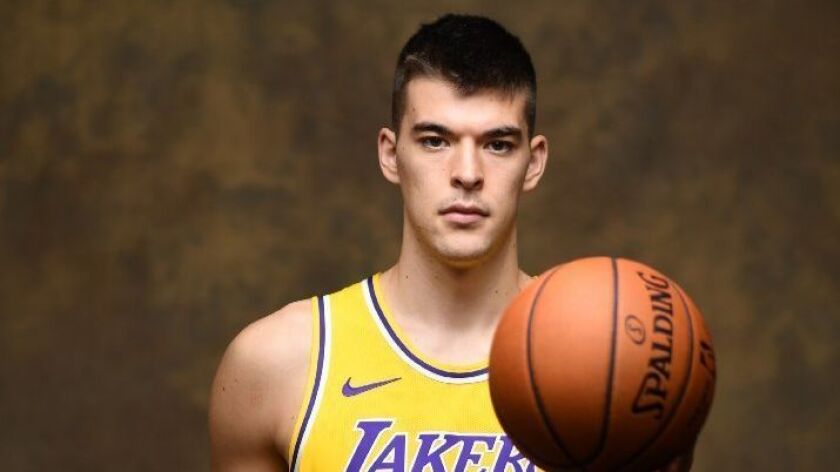 Part of the reason the Lakers' need for depth at center had become so dire was they weren't comfortable with playing Ivica Zubac, the third-year center on their roster.
Zubac, 21, had played only seven minutes all season before Saturday, when he got a chance for some meaningful playing time at Portland.
He played almost 20 minutes and the Lakers were plus-15 with Zubac on the floor. He scored nine points, taking five shots, and grabbed eight rebounds — half of them offensive. The second unit played well with Zubac on the floor and put the Lakers in position to win.
"I'm really proud of Zu," starting center JaVale McGee said. "He hadn't played in a couple games. And I've been on him for the past two weeks: stay focused, stay ready, and he was. And I'm so proud of him."
Since the Lakers drafted him in the second round in 2016, Zubac has had trouble getting on the floor. He played 38 games in his rookie year, most toward the end of the season when the Lakers weren't chasing wins. Last season Zubac played 43 games, averaging 9.5 minutes. He's averaging the same in four games this season after playing more than 30 minutes last weekend.
"You earn the opportunity to play," Coach Luke Walton said. "He's, even in the last few practices before this, has really started to play well. To his credit … even when he wasn't playing at all, [he was] staying after, coming early, in the weight room with [strength trainer] Gunnar [Peterson]. Getting his work in on off days. Staying in shape. Full-court sprint drills after practice with JaVale.…
"When your opportunity comes, you better have done those things or you're gonna look bad and probably not get another opportunity for a while. He had done those, he had taken care of those things like a professional should and he was great for us [in Portland]."
In 11 minutes 12 seconds Sunday, Zubac scored five points and grabbed six rebounds.
The Lakers are giving up 12.7 offensive rebounds per game, among the most in the NBA, a problem partly born of their lack of depth at center. McGee has been asked to take on a heavier load than he's used to. Moe Wagner hasn't been able to play yet and fellow rookie Johnathan Williams, on a two-way contract, has been the Lakers' other option. This week they are expected to sign Tyson Chandler, whose contract was bought out by Phoenix on Sunday, to give them more depth.
With Chandler's addition, Zubac likely will see his playing time decrease again.
"That's up to coaches but I'm playing my hardest," Zubac said. "I'm trying to grab all the boards. We had some problems with offensive rebounds and second-chance points in the last couple of games. That's my main focus, just to get those defensive boards."
Defensive woes
With scoring numbers skyrocketing, the Lakers are like many teams struggling defensively. But unlike past years, it could be worse.
Opponents have made 47.6% of their shots against the Lakers, one of the highest percentages in the league. Their defensive rating is among the worst in the league. Between the 2013-14 and 2016-17 seasons, the Lakers finished in the bottom three in defensive rating every year.
Follow Tania Ganguli on Twitter @taniaganguli
---
All things Lakers, all the time.
Get all the Lakers news you need in Dan Woike's weekly newsletter.
You may occasionally receive promotional content from the Los Angeles Times.