Lakers' roster hasn't gotten much of a boost in off-season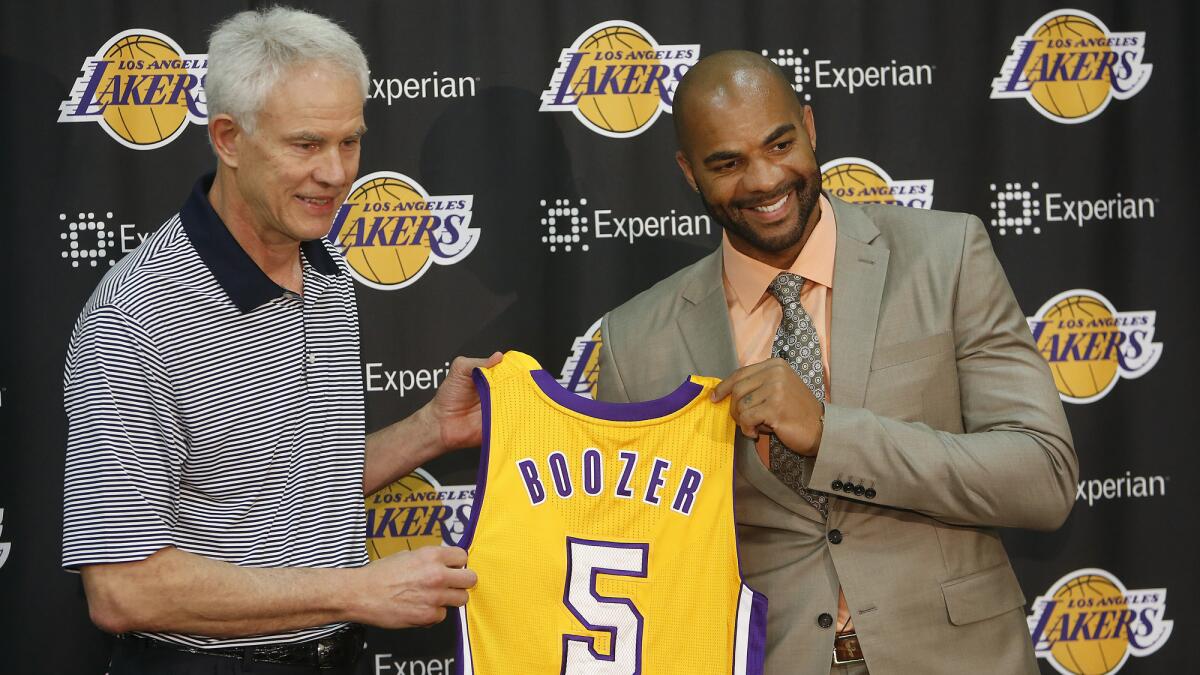 These off-seasons just keep getting rougher.
The Lakers wanted Carmelo Anthony. Struck out.
They offered Pau Gasol $29 million over three years. He said no.
The Lakers followed up last year's whiff on Dwight Howard with a silent summer consisting of very little new energy and a lot of familiar faces.
Jeremy Lin is in after losing his starting job in Houston.
Carlos Boozer was plucked from the waiver wire after being continually benched in Chicago's crunch time.
Jordan Hill is back at the outrageous price of $9 million next season.
Kobe Bryant turns 36 in a few weeks and Steve Nash, at 40, is the league's oldest player. At least there will be some entertaining moments from Nick Young, for better or for worse.
Here's a look at the roster as it stands now.
GUARDS: One of the first questions the new Lakers coach (presumably Byron Scott) will have to answer is who starts at point guard: Lin or Nash?
Nash played only 15 games last season.
Lin couldn't keep the starting job in Houston because of Patrick Beverley, who averaged 8.7 points and 1.8 assists in the Rockets' first-round playoff exit against Portland. Ouch.
Here's a nod for the starting job to Lin, who is 15 years younger than Nash, who will no longer get partisan treatment because Mike D'Antoni is no longer the coach.
Bryant gets the start at shooting guard. He played six games last season. He made $30.5 million and scored 83 points. That's $367,470 per point. The Lakers are hoping for a little better return on their money after signing him to a heavily scrutinized two-year, $48.5-million contract extension.
If he doesn't look like the old Bryant, there will be problems. Lots of them. Not a good thing for a team that thoroughly bored its fans at Staples Center by finishing with the worst home record in the West (14-27).
FORWARDS: The Lakers actually won something!
Boozer fell into their laps after Chicago decided he wasn't worth $16.8 million. The Lakers' bid of $3.3 million was enough to win the services of an aging power forward who played only the first and third quarters toward the end of last season, replaced by younger and more active Taj Gibson in the second and fourth quarters.
And at small forward …
Therein lies the problem.
Right now, it's looking like Xavier Henry, who played only half a season because of injuries, or Wesley Johnson, who seemed to float in and out of the Lakers lineup … and drift around the court most games.
Bryant could also see time at the position, too, depending on whom the Lakers hire to coach their team.
CENTER: Gasol said no to the Lakers' advances, so Hill became the backup plan to start at center.
Hill is an average player who doesn't look like such a lottery bust after posting career highs in scoring (9.7 points a game) and rebounding (7.4) in his fifth NBA season.
His supporters point to his per-48-minute averages of 22.3 points and 17.1 rebounds. But reality points to something else — he tended to flame out quickly and stayed on the court for only 20.8 minutes a game last season.
Basically, he's an energy guy who can't sustain energy for long periods of time.
BENCH: Swaggy P!
If nothing else, the Lakers bought themselves four more years of Young for the relatively fair price of $21.5 million. He'll be ebullient off the court, unpredictable on it and a reporter's best friend when quotes and context are needed.
Most eyes, though, will be on rookie forward Julius Randle, who already looks like a high-value pick after the Lakers took him seventh overall in last month's draft.
He was highly entertaining on the Lakers' summer-league team, acting more like a point guard than power forward with his crashing drives toward the rim from atop the key.
Randle also showed smart passing skills, kicking out to open shooters, and some decent post moves. He's a good outside shooter, but not great, something he'll need to work on between now and October.
Beyond that on the bench, there will be big men Ed Davis and Robert Sacre, second-year forward Ryan Kelly, the loser of the Johnson-Henry starting competition, and second-round draft pick Jordan Clarkson, who showed some flair in summer league.
And, of course, Nash, might be a reserve. The Lakers would have waived him had they signed Anthony and Gasol, but now they'll eat the final year of his contract in one $9.7-million chunk instead of spreading it out over three years and taking up precious cap space in the summers of 2015 and 2016.
OFF-SEASON GRADE: C-. Maybe even a touch lower.
Nothing can be worse than last season.
The Lakers were 14th in the Western Conference and 27-55 overall as Bryant and Nash failed to stay on the court.
Pencil them in for 12th in the West next season and a victory total in the low 30s. And practically no chance at a championship.
At least that's what Las Vegas says.
Earlier this month, as the Lakers wooed Anthony, MGM Resorts International had them at 12-1 odds to win the championship next season. That has since fallen to 30-1.
Gambling site Bovada thinks even less of the Lakers, dropping their championship odds from 33-1 on July 11 to 50-1 a few days ago. Their company at that price: Toronto, New Orleans and Memphis.
It isn't all doom and gloom for the Lakers.
Minnesota will finish below them after trading Kevin Love for draft picks and youth, whenever that happens.
Utah was somehow below them last season and that was without any injury excuses. Denver and Sacramento will also give them competition in the West's basement.
The Lakers are ahead of a few teams, but look like a good bet to miss the playoffs in consecutive years for the first time since 1975-76.
mike.bresnahan@latimes.com
Twitter: @Mike_Bresnahan

All things Lakers, all the time.
Get all the Lakers news you need in Dan Woike's weekly newsletter.
You may occasionally receive promotional content from the Los Angeles Times.