LeBron James scores 44 to become fifth leading scorer in NBA history in Lakers' 126-117 win over the Trail Blazers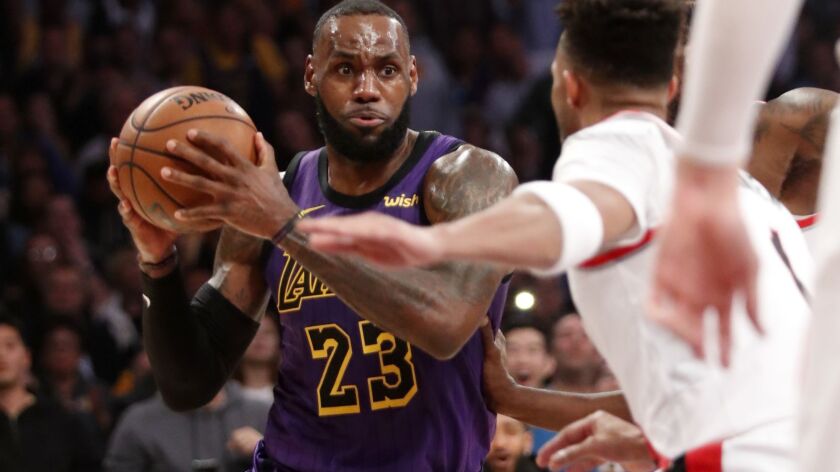 There are some nights when there is nothing an opponent can do about LeBron James.
There are some nights when his shot seems too sure, his focus too narrow and his will too intense.
Sometimes on those nights he makes history.
With 44 points in a 126-117 victory over the Portland Trail Blazers, James became the fifth- leading scorer in NBA history. He passed Wilt Chamberlain, who scored 31,419 points before the introduction of the three-point line.
Fittingly, James passed Chamberlain with an old-fashioned three-point play. He drove in and hit a floater with 3:55 left in the game and got fouled. The ensuing free throw was James' 39th point of the night and the 31,420th of his career.
"I think it's important to recognize milestones in our game," Lakers coach Luke Walton said. "To do what he did and get on the top five of that list and play basketball the way he plays basketball, how unselfish he is and how great he is at getting his teammates involved is something that should be praised and talked about."
James' 44 points was the most by any Laker since Kobe Bryant scored 60 in the final game of his career. The Lakers also won their second consecutive game against the Trail Blazers, after losing 16 in a row.
Damian Lillard led Portland with 31 points, 11 assists and eight rebounds. Jusuf Nurkic added 21 points and 14 rebounds.
Lakers center JaVale McGee had 20 points, with Lonzo Ball adding 11 points, three assists and six rebounds.
Ball also helped facilitate the offense in the third quarter when James truly got going.
After a 16-point third quarter, James was only six points from Chamberlain's mark. He sat to begin the fourth and re-entered the game with 7:03 left in the fourth.
Three days after calling his own free-throw shooting garbage, James made every one of his 13 attempts in the second half.
With 10 rebounds and nine assists, James came close to his second triple-double as a Laker. He passed to Brandon Ingram near the end of the game, but Ingram airballed his shot, to the crowd's dismay.
When James signed with the Lakers, he talked about the excitement of signing with such a storied franchise. He might have thought about climbing this franchise's record books, or reaching milestones in this jersey. Five of the league's six all-time leading scorers wore a Lakers jersey for at least part of their careers.
The history isn't unfamiliar to James.
"One of the most dominant forces we ever had in our game along with Shaq," James said about Chamberlain. "One of the greatest Lakers ever to play the game. One hundred point scorer. One of the greatest scorers, rebounders to ever play this game. Multi-sport/dimensional type of athlete. People had never seen something like that in that era. So just dominant in all walks of life, not only just basketball but period."
But what exactly this all means to James, he saved for another time. James shrugged as he was asked about what it meant to pass Chamberlain wearing a Lakers jersey.
"I don't know how I feel right now," James said. "I'm happy we were able to get another win. But any time my name is mentioned with some of the greats that have played this game, I always think back to my hometown, where I come from and how far I've come."
His hometown is Akron, Ohio, where James helped open a public school through his foundation that seeks to give underperforming, at-risk children the best education possible.
The ball from this game will rest there after it's painted to commemorate Wednesday night. So will his jersey from the game.
Follow Tania Ganguli on Twitter @taniaganguli
---
All things Lakers, all the time.
Get all the Lakers news you need in Dan Woike's weekly newsletter.
You may occasionally receive promotional content from the Los Angeles Times.