Column: Lakers' Magic Johnson has bigger problems than Luke Walton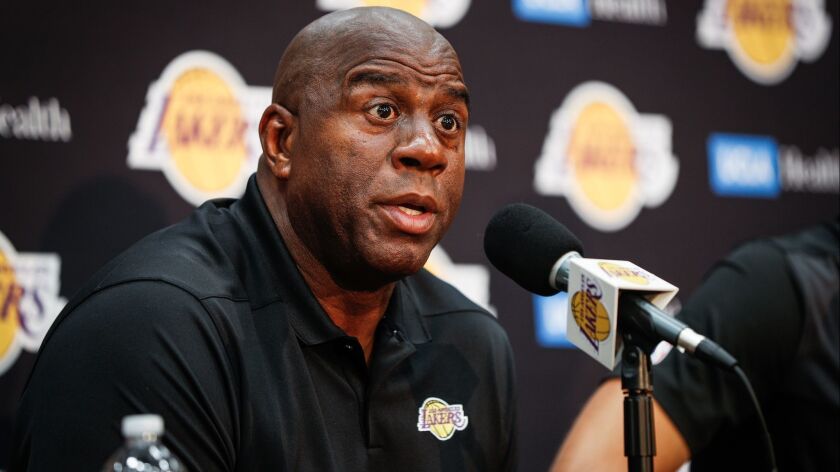 I was standing in a Staples Center hallway with two Times colleagues late Sunday afternoon, smack in the middle of another torrential Lakers drama, when we were suddenly greeted by the eye of the storm.
Out of nowhere, here came Magic Johnson.
He wanted to explain. He wanted to defend.
"Everything is just fine in Lakerland," he said, and of course he was smiling.
It was not a scheduled interview. It was barely an interview at all. Johnson mostly spoke on background. But he clearly wanted to send a message through myself, Broderick Turner and Tania Ganguli about last week's infamous scolding of Coach Luke Walton.
He wants everyone to know he supports Walton, yet he doubled down on taking him to the woodshed.
"Luke and I are fine … but I'm going to do my job, and I don't care what anybody thinks," Johnson told the Times.
You know about the scolding. Everyone knows about the scolding. The Lakers universe has been completely enveloped by the scolding since it was first reported by ESPN late last week.
In a meeting that remained private for about five seconds, Johnson summoned Walton to his office Tuesday to reprimand him for the team's 2-5 start. This happened even though during a preseason news conference, Johnson had publicly stated he would be patient.
That didn't last long. According to details furnished by the Times' Ganguli and Turner, Johnson was in a rage, shouting and cursing at Walton. He asked Walton what he was doing with the team, complained about an offensive system that had not yet been implemented, and when Walton tried to explain, he was chided for interrupting.
It was a tense meeting, lacking any semblance of professional collaboration, and made anyone in earshot cringe. Then the details of the meeting were leaked to ESPN, and the entire basketball world cringed, and the narrative slowly switched from Walton's job security to Johnson's behavior.
Walton was expected to struggle early to figure out this newly composed team. Everyone knew he had a difficult job making everyone fit into the LeBron James universe; nobody was calling for his job.
But the fact that Walton's biggest early drama would be created by his boss? That was unseemly. That was a surprise.
So, shortly before the Lakers' 121-107 loss to the Toronto Raptors on Sunday, Johnson showed up in the hallway to expound.
"I said it, Luke took it, and we're all good," he said. "It's no big deal."
Johnson wanted everyone to know that in the meeting, he felt he was just fulfilling his role as president of basketball operations. He wanted to remind everyone that he showed this same blunt competitiveness when he was a player.
"If something needs to be said, I'm going to say it, and I don't care who gets mad," he said.
He added, "People forget that there's Earvin, and there's Magic, and back when I played, Magic knew when to get tough."
Johnson offered his support of Walton, even getting specific when I asked if he was going to allow his coach to finish the year.
"He's going finish the year, unless something drastic happens, which it won't," Johnson said.
Walton should be safe. Even with a 4-6 start that including Sunday's embarrassing defeat to a Raptors team that did not have an injured Kawhi Leonard, Walton deserves a chance to figure this out. He showed his leadership last spring while leading a makeshift bunch to a 16-16 finish to the season.
Granted, Walton almost certainly will be the fall guy if the Lakers don't finish well, especially since he was neither hired by Johnson nor brought in by James, but he has earned a chance to at least see if he can make it work. Remember when James showed up in Miami in 2010 and young coach Erik Spoelstra was immediately on the hot seat? Two championships later, Spoelstra is still there. The Lakers would do well to learn from that patience.
The biggest and most important Walton supporter remains owner Jeanie Buss, who was the only Lakers executive to jump to his defense during last winter's LaVar Ball mess, and who remains staunchly in his corner today.
"I feel like I have a great relationship with management, yes," Walton told reporters earlier this week. "I feel like I'm coming down here to do my job and coach and I don't feel like I'm going anywhere, no."
To be honest, Johnson has problems bigger than Walton.
First, there is the apparent dysfunction in the Lakers offices. Can there be any other explanation for someone leaking the story of the meeting? It makes Johnson look bad. It makes him look impetuous and unprofessional. Who preaches patience to the coach in September and is screaming at him in November?
Whoever leaked the story was clearly trying to embarrass Johnson and undermine his credibility with Buss.
Before handling his coach, Johnson needs to watch his back.
His second problem is an obvious one — himself. The meeting made Johnson look bad because it was bad. He came across as a bully. It was not a good look for the basketball boss of a team that will be trying to lure another superstar free agent to join James next summer.
Stars want stability, they do not want drama. They do not want to be in an environment where confrontations and cacophony detract from the basketball.
The Lakers surely love Johnson's passion, but probably wish he exercised a bit more perspective. He's an executive of a billion-dollar company, the face and voice and biggest asset of the most popular sports team in the nation's entertainment capital. He needs to remember that the next time he wants to use a fancy office for a locker-room tongue lashing.
Get more of Bill Plaschke's work and follow him on Twitter @BillPlaschke
---
All things Lakers, all the time.
Get all the Lakers news you need in Dan Woike's weekly newsletter.
You may occasionally receive promotional content from the Los Angeles Times.