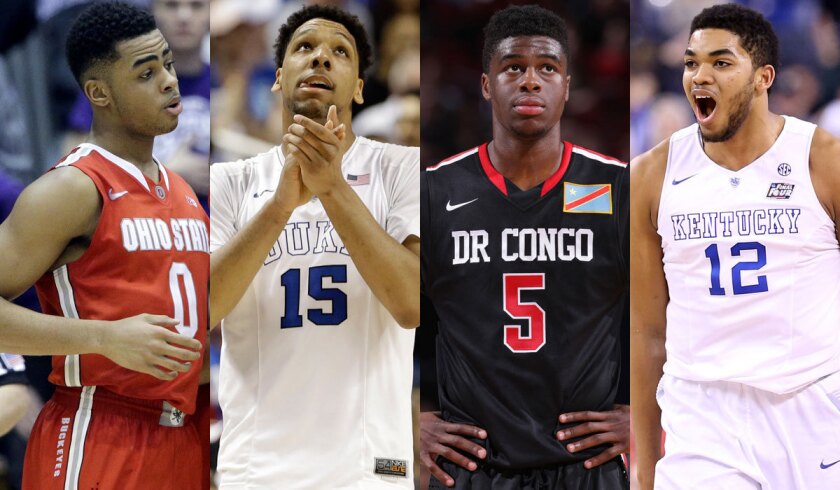 It is not lost on the minds of the Lakers that the NBA has morphed into a point-guard centric league.
So for the Lakers, that means they will weigh using their No. 2 overall pick in the NBA draft on a point guard just as much as they will consider using the selection on a center.
The Lakers had predraft workouts with guards D'Angelo Russell from Ohio State and Emmanuel Mudiay, who played in China last season, and were impressed by the 19-year-olds.
The Lakers also liked what they saw in a workout by center Jahlil Okafor of Duke. The Lakers haven't secured a workout with center Karl-Anthony Towns from Kentucky but like his body of work in college.
Though the thought is for the Lakers to draft one of the big men during the June 25 NBA draft, Lakers General Manager Mitch Kupchak admitted that many teams these days are built around guards.
"Absolutely," Kupchack said Monday after Okafor worked out. "It can be argued that in today's game that maybe you should do that."
Kupchak said the Golden State Warriors and their point guard, Stephen Curry, who was the most valuable player in the NBA, typify the guard trend.
Kupchak also mentioned point guards Chris Paul from the Clippers, James Harden from Houston and Mike Conley of Memphis as being among the top players in the NBA. Oklahoma City point guard Russell Westbrook should be considered in this group.
"You can argue that maybe the way to go is with a guard," Kupchak said.
The Lakers have a point guard in rookie Jordan Clarkson, whose development during the season could mean the team doesn't need to select the 6-4 Russell or 6-5 Mudiay.
Kupchak recalled the 1984 draft, when Houston picked center Akeem Olajuwon (he later became Hakeem) with the first overall pick, Portland took Sam Bowie with the second pick and Chicago took Michael Jordan with the third pick.
Jordan won six NBA championships and is widely considered the best player ever. Olajuwon won two NBA championships. Bowie's career was cut short because of injuries.
No team, including the Lakers, wants to pass on a talented guard just because the conventional wisdom says pick a big man.
The 6-11 Okafor or 6-11 Towns may fill the biggest need for the Lakers -- who also have the 27th pick in the first round and 34th pick of the second round -- but the team will ponder every option before deciding whom to draft.
"In years past and maybe even today, it makes sense to build around a big," Kupchak said. "But you don't want to take a big because it's a big and then pass on the No. 3 pick, which turned out to be Michael Jordan [in '84].
"So we're going to look at the bigs, then you want to look at the guards and see if there is a guard there that despite being just a guard, you don't want to miss and pass on him because he's not a big."
Twitter: @BA_Turner
ALSO
Duke's Jahlil Okafor works out for Lakers, who mull draft options
D'Angelo Russell works out for Lakers, seeks to emulate Stephen Curry
Lakers put Murray State point guard Cameron Payne through solo workout
---