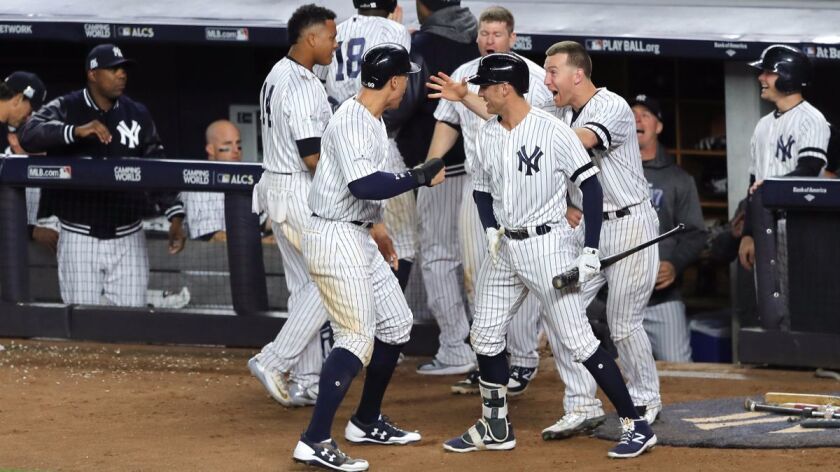 Reporting from New York —
For two decades, Aaron Judge dreamed of a night like Tuesday. Often when he takes batting practice, he visualizes the moment, loud and cold October baseball, his team in need of a hit, his name blasted over the loudspeaker. When he was a kid taking cage hacks in California's Central Valley, he envisioned it a little less clearly. Last winter, after he hit .179 in his first major league action, he used the prospect as fuel to prepare better than ever before. He has never lost sight of the dream.
"But," Judge said, "the dreams aren't the same as reality."
Reality was sweet for the New York Yankees on Tuesday night. It was frenzied, it was potent, and it was effective. Before a sold-out Yankee Stadium crowd of 48,804, New York rallied from a seventh-inning four-run deficit to topple the Houston Astros 6-4 and even the American League Championship series at two wins apiece.
Judge started it by slamming the first pitch of the seventh inning off the black batter's eye in center field. Astros manager A.J. Hinch had hoped to squeeze a few more outs from his starter, Lance McCullers, who had held New York scoreless through six innings. One hanging curveball hit for a homer forced Hinch to abandon his plan.
In trotted Chris Devenski, who immediately ceded a triple to Didi Gregorius. Gary Sanchez's well-struck sacrifice fly scored him. After Devenski walked Greg Bird, Hinch called in Joe Musgrove, who allowed the Astros to retain their 4-2 lead for another inning.
Hinch left Musgrove in for the eighth as Ken Giles, his closer, warmed up. Todd Frazier began by hitting a single into left field, and he took third when pinch-hitter Chase Headley drove a cutter into the left-center gap. Headley decided to go for two, but slipped on first base and fell to the dirt, getting himself caught in between bases. He vaulted up and tried again for second, making it safely because Jose Altuve stood behind the base as he applied a late tag.
"Talk about going from extremely excited to extremely panicked," Headley said. "It went from being a great moment to a terrible moment back to a great moment."
Hinch challenged it, but the call was confirmed. As the crowd erupted, Hinch brought in Giles. Brett Gardner waited on deck, lost in the moment as Giles fired 100-mph warmup pitches with ease.
"I kind of blacked out for a second," Gardner said. "And I was the guy coming up to the plate."
Gardner grounded out to second, halving the Yankees' deficit. Judge then banged a double off of the left-field wall to tie the score. He advanced to third when Gregorius sneaked a single past Carlos Correa into short left field.
Sanchez passed on two sliders that sunk below the strike zone. Giles' third pitch was a fastball over the middle, and Sanchez stroked it into the vast uncovered territory in right-center. Judge jogged home and Gregorius sprinted his way there, the crowd noise intensifying as he made the turn from third.
"I didn't know what to do after I touched home plate," Judge said.
No one else did, either. Frazier ran in circles around the Yankees' dugout. The 300-pound, 37-year-old CC Sabathia leapt over the guardrail to greet his teammates.
"That was a loud as I've ever heard it," Sabathia said. "It felt like the old stadium."
The Yankees won the World Series in 2009 in their first season in this stadium's second iteration. Since then, though, the most expensive ballpark ever constructed has been decried as too quiet, too sanitized, too unlike the old place.
Not on Tuesday night. The tension built as McCullers and Yankees starter Sonny Gray matched each other's early efforts. Gray had known since the last round's end that he would draw this start. McCullers learned just before midnight Monday that this would be his. Asked for an explanation, Hinch said only that McCullers "is really good."
He pitched that way, his lone misstep his last pitch. Meanwhile, Houston scored all of its runs in the sixth and seventh innings. As the sixth started, David Robertson warmed in the Yankees' bullpen. Manager Joe Girardi summoned him during an at-bat after Gray let the first two Astros he faced reach base.
After a walk and a strikeout, Robertson spun a 1-and-1 curveball that hung along the inside of the plate to Yuli Gurriel, who whacked it down the left-field line. Three Astros scored as Robertson kicked dirt around the mound. Another Astro scored an inning later, when Yankee second baseman Starlin Castro committed his second error of the evening.
That ball took an odd bounce, but nothing topped the fourth inning's end, when Judge stood on first base with one out. He ranged past second base while a short fly from Sanchez headed to right field. When Josh Reddick caught it and threw to first, his throw appeared to beat Judge back by a millisecond. But the Yankees challenged the call, and Judge was ruled safe. During the review, first-base coach Tony Pena informed him he had not touched second on his route back. The infraction would have resulted in an out had the Astros challenged, so Judge took off for second before McCullers came set.
He was thrown out easily.
"I was going to be out no matter what," Judge said. "Why not try?"
Follow Pedro Moura on Twitter @pedromoura
---