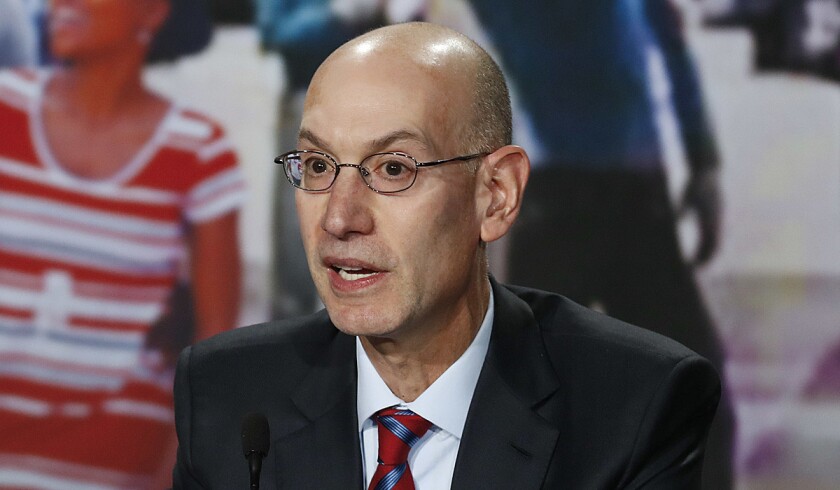 The viewing habits of sports fans are evolving, and NBA Commissioner Adam Silver said Thursday his league intends to keep up.
Sitting on a sports business innovation panel at the Consumer Electronics Show in Las Vegas, Silver envisioned a future in which fans would no longer have to pay to watch entire games if all they're interested in is a fantastic finish.
"Certainly we're going from a place where it was one price for an entire season of games. Now just in the last two years, we've made single games available," Silver said of the NBA League Pass package. "But I think you're going to get to the point where somebody wants to watch the last five minutes of the game, and they go click, they'll pay a set price for five minutes as opposed to what they would pay for two hours of the game."
Such a move would be an attempt to cater to modern fans who have plenty of other distractions in their lives. Silver hopes NBA content will soon be easier to watch on mobile devices and that technology will enable fans to know when they should be tuning in.
"I think you're going to hit the point where for example … you're on a Twitter feed or you get an alert. I think there will be a lot more sophisticated alerts, and you'll see, 'I know Sue Bird, I like Sue Bird, Sue Bird's going for a record-setting game.' And then you're going to go click, and then you're going to get the game."
He added: " I think you're going to take the same great content, and you're just going to make it that much more available to people who want it."
Twitter: @chewkiii
---