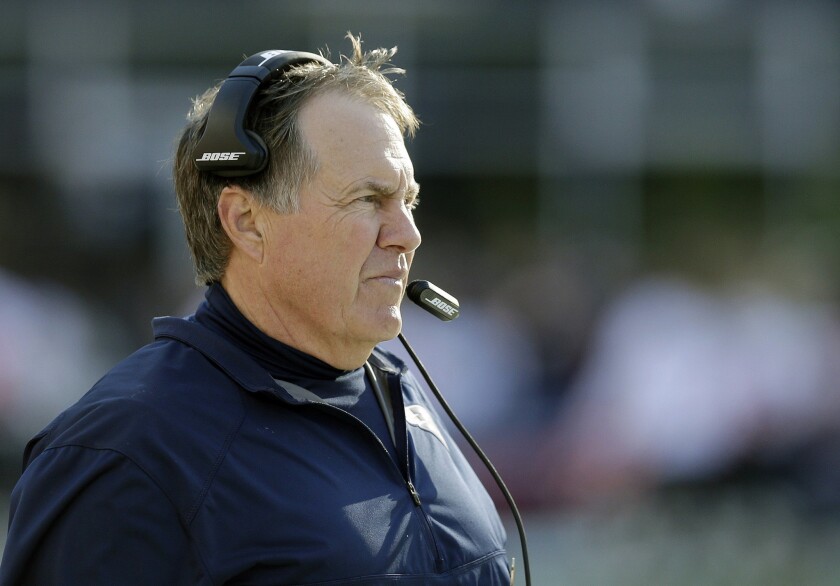 FROM EAST RUTHERFORD, N.J. —
Shortly after he was hired as coach of the New York Jets in 2009, Rex Ryan made his position clear on the mighty New England Patriots.
"I never came here to kiss Bill Belichick's, you know, rings," Ryan told WFAN radio, referring to the legendary New England coach.
The Patriots went 9-4 against the Jets before Ryan was fired after last season.
The New York coach with a more impressive record against Belichick is the Giants' Tom Coughlin, whose team plays host to the Patriots on Sunday. Coughlin is 5-1 lifetime against Belichick, including two wins when he was in Jacksonville and Belichick was in Cleveland.
Belichick and Coughlin are the league's two winningest active coaches and have won six Super Bowls between them. Notably, both of Coughlin's rings have come against Belichick's Patriots.
According to the Elias Sports Bureau, this is the first meeting of head coaches with at least 388 combined regular-season victories (Belichick has 219, Coughlin 169) since Dec. 17, 1995, when the coaches combined for 453 — Miami's Don Shula (327) against Buffalo's Marv Levy (126).
The Giants are 3-0 against the Patriots since their hard-fought game at the end of the 2007 regular season, when New England was met with an unexpectedly ferocious challenge to complete a 16-0 season. The Giants, who were already in the playoffs and could have rolled over, were 13 1/2-point underdogs in that game but put up a huge fight before losing, 38-35.
Of course, New York went on to upset the Patriots in that Super Bowl, denying their bid for a perfect season, then beat New England during the 2011 regular season and the Super Bowl.
"Those games were a long time ago," Belichick said. "I don't think it really has any bearing or influence on what happens this week. I think this week is about the matchups with these two teams, and so that's what we're really focused on."
This year's version features the 8-0 Patriots versus the Giants, who are atop the muddled NFC East at 5-4.
"I think for our team playing against their team, a very, very good team, it's exciting," Coughlin said. "Let's face it, accomplished is the right word, but also remember, they are undefeated. In this day and age, being undefeated at this point of the season is quite an accomplishment in itself."
His left is right
The Giants' Odell Beckham Jr. might be the NFL's most athletic receiver. He's right-handed, but has spent years developing his left.
He told the Wall Street Journal that he's dabbled with doing some things with his off hand since discovering his left-handed writing was surprisingly good. That led to his doing as many things as possible left-handed, including swinging a baseball bat, dribbling and shooting a basketball ("My left-handed shot now looks better than my right"), and kicking balls with his left foot to help balance that side of his body.
Perhaps most helpful to his marketability, he brushes his teeth left-handed three times a day.
Shades of gray
The NFL is still working out the kinks in its "Color Rush" jerseys, which were rolled out Thursday night when the all-green Jets played host to the all-red Buffalo Bills.
In the wake of that game, the league heard from colorblind fans who had a hard time distinguishing the jerseys.
"In this day and age when companies strive for more inclusion, I believe continuing this color-on-color experiment would be a step backward by the NFL," wrote Dawn Turco, senior vice president of The Hadley School for the Blind, wrote in a letter to The Times.
Turco added: "The 'Color Rush' concept is better in theory than it is in practice. Hopefully, the NFL will 'see the light,' so to speak, and never frustrate football fans this way again."
NFL spokesman Brian McCarthy said the league intends to take steps next season to address the problem.
"We did test the jerseys this summer on field and on television," McCarthy said in an email. "The standard television test did not account for color blindness for fans at home that became apparent. We will enhance our testing to include a color blindness analysis to better address this issue in the future."
Bills-Jets was the first of four Color Rush games, all on Thursday nights. The next are Tennessee (blue) at Jacksonville (gold) on Nov. 19, Carolina (blue) at Dallas (white) on Nov. 26, and Tampa Bay (red) at St. Louis (yellow gold) on Dec. 17.
The plan is to expand the promotion next season, with every team wearing the alternate uniforms on Thursday nights.
Follow Sam Farmer on Twitter @LATimesfarmer
---