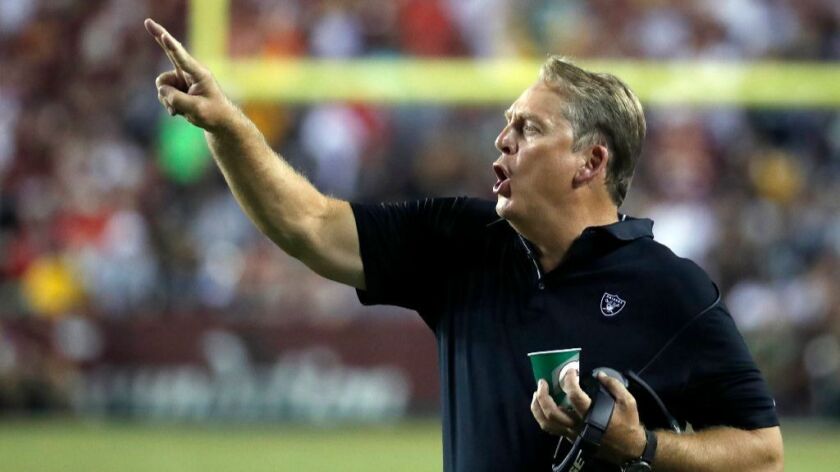 Great rivalries. Terrible moods.
Two of the best NFL games in Week 4 — Pittsburgh at Baltimore, and Oakland at Denver — are marquee divisional matchups featuring four teams coming off upset road losses, Sunday stumbles ranging from mildly surprising to shocking.
The Ravens, who were favored by four points in London, were stomped by Jacksonville, 44-7. That 37-point spread is tied for the most lopsided loss in club history.
Pittsburgh, favored by seven at Chicago, was stunned by the 0-2 Bears in overtime, 23-17. Historically, the Steelers have been lousy in the Windy City, with a record of 1-13 there.
The Broncos, favored by three at Buffalo, contained LeSean McCoy yet still lost to Buffalo, 26-16. The visitors Sunday bore no resemblance to the Denver team that crushed Dallas by 25 points the week before.
Oakland, which was favored by three at Washington on Sunday night and could have made an argument for being the NFL's best team, was utterly embarrassed by the Redskins, 27-10. Washington forced three turnovers and held Oakland to seven first downs and 128 yards of offense.
Asked Monday about the plane ride home, Raiders coach Jack Del Rio said: "It was quiet. I think we all understand what occurred and we understand that there's a challenge coming up this week. … There's no time to sit around and dwell on it. We'll own up to it, we'll make our corrections and then go forward."
With three of its four teams losing Sunday, the AFC West's burgeoning reputation as the best division in football absorbed a big hit. But Raiders-Broncos remains a must-see game, and a critical one for a pair of teams chasing the undefeated Kanas City Chiefs.
"Not just being the Raiders, but being a divisional opponent, and having a chance to go 2-0 in the division," Broncos coach Vance Joseph said when asked about the magnitude of the game. "Having them at home, that's always a huge deal."
With the first quarter of the season drawing to a close, assuming these games don't end in a tie, two teams will step up and the other two will have more reason to wring their hands.
World travelers
The Jaguars are all over the map, and not just because they've played on two continents. They've won by 22, lost by 21, and won by 37. They're on the road again this week, at the New York Jets, and are favored as the visiting team for the first time in six years.
The last time the Jaguars were favored on the road was 2011, when they played at the Peyton Manning-less Indianapolis Colts. Just like almost everybody else on the schedule, they beat the Colts, who finished 2-14.
Putting the O in Ohio
Cincinnati plays at Cleveland, with both teams narrowly losing Sunday to drop to 0-3. While it isn't shocking that the Browns are off to such a slow start, it is surprising that the Bengals have struggled so mightily.
Remember, Cincinnati hasn't won a playoff game since 1990. And so far it doesn't look like the Bengals will snap that streak of futility. The last team to lose its first three games yet still make the playoffs was Buffalo in 1998.
Rodgers that
When Chicago plays at Green Bay on Thursday night, it will be the 12th consecutive year those NFC North rivals have met in a prime-time game. Lately, Green Bay has done a good job of holding serve in that series, winning seven of the past nine at Lambeau Field. The Aaron Rodgers-led Packers, who swept their series with Chicago last season, opened as seven-point favorites.
Bag the jet lag
New Orleans and Miami are playing in London on Sunday. The Saints are the first of this season's across-the-pond teams to set up shop to prepare there all week. That's what they did in 2008, when they beat the San Diego Chargers in London, so why fiddle with the formula?
The son also rises
Even though Del Rio's Raiders lost, the coach had some reason to smile this weekend.
His son, Luke Del Rio, regained the starting quarterback job at Florida after coming off the bench Saturday to lead the No. 21 Gators to a victory over Kentucky. Del Rio was 5-1 as a starter last fall until a shoulder injury cut short his season.
"It wasn't all bad this weekend, just not good for the Raiders," the Raiders coach said. "I was happy for him. He's done a great job of staying prepared and being a great teammate down there. I'm really proud of the character that he's shown. Then he gets in there in a big moment and has poise and leads the team, so I was really proud of him."
Follow Sam Farmer on Twitter @LATimesfarmer
---