Cycling's keirin is known as NASCAR on two wheels, and the pace car's a guy on a scooter
Reporting from Rio de Janeiro —
A green-and-white scooter buzzes along, its electric motor humming as it circles the polished wooden track at the Olympic velodrome.
Ivo Siebert keeps to a modest pace with a pack of elite cyclists following close behind. He can sense their impatience to burst past, can feel the rumble of their wheels, but he holds them back a little longer.
The crowd and the television cameras watch his every move.
"Yes," he says. "It's strange."
The 35-year-old bicycle shop owner from southern Brazil is a "derny driver," a key element to one of his sport's oddest and — in America — least-known events.
The keirin is a fast, dangerous race, with riders following the derny at gradually increasing speeds for several laps before the scooter steers aside, triggering an all-out sprint that often results in crashes and photo finishes.
Like NASCAR on two wheels.
"You're talking about top speed, and you're allowed to bump each other," says Matt Baranoski, who will represent the U.S. in the men's event on Tuesday. "It's pretty much the worst of all situations."
That Siebert has ended up in the midst of this havoc is an utter surprise to him. Though he began cycling at age 12 and spent many years as a semi-professional rider, this is his first experience with the keirin.
Anything can happen. There are a lot of fast guys, but it's also a tactical game.
— Theo Bos, a cyclist from the Netherlands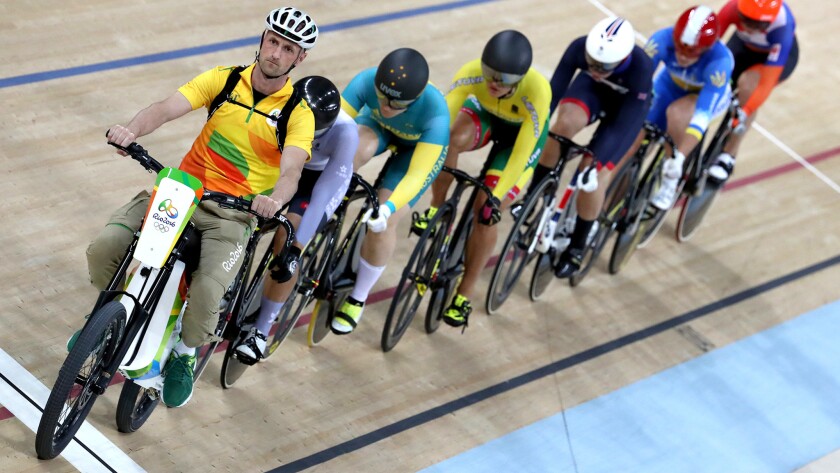 "I never imagined riding the derny," he says. "Nobody ever has a dream like that."
His unexpected Olympic encounter began several months ago when his wife was hired to work as a manager at the velodrome in Olympic Park. She heard they needed a derny driver.
Games organizers wanted someone with cycling experience, someone older who could handle the pressure. Siebert was initially reluctant because, he says, "it's a very big responsibility."
Japanese gamblers created the keirin in the late 1940s, the race's name roughly translating to "racing wheels." They wanted something exciting and unpredictable to bet on, so they stuck a motorized bicycle manufactured by Roger Derny et Fils of France in front of the cyclists.
Starting at about 15 mph, the derny driver accelerates approximately 5 mph per lap, setting a pace for racers to build speed without taxing their legs too greatly. By the time the scooter veers into the infield at about 30 mph, the field has gathered enough momentum to approach 50 mph on the final 2 ½ laps.
"Anything can happen," says Theo Bos, a rider from the Netherlands. "There are a lot of fast guys but it's also a tactical game."
Derny drivers tend to be former cyclists who know their way around a steeply banked track; the racers prefer them to be overweight so they provide more draft to glide behind.
The 6-foot-tall Siebert does not quite fit that physical profile. His body is still lean and muscular from a lifetime of racing, his head shaved clean.
Persuaded by a chance to take part in the Olympics, he arrived in Rio a week early to ride lap after lap in an empty arena.
Maintaining the regulated speed proved tricky because the curves act as a slingshot, whipping the scooter faster. Siebert learned to ease off the accelerator at just the right moment.
His posture needed to remain stiff because his backpack held a camera for the television broadcast. Steering was difficult on a not-so-high performance machine.
"It's not as good as a track bike," he says. "But it's OK."
The women's keirin on Saturday marked his first real action. With the riders waiting six abreast at the start line, he came zipping around from behind, moving along the inside edge of the polished wooden track.
The racers quickly fell into line behind him.
"I was very worried," he says. "My first lap didn't seem real."
The crowd in the stands, the announcer calling the action over the public address system — it all seemed to vanish as his focus narrowed to the 10 feet directly ahead and the speedometer attached to his handlebars.
What do cyclists want of a derny driver? Baranoski says: "We expect them to be perfect … but they never are."
Inexperienced drivers often vary their speed, causing the cyclists to waste energy speeding up and slowing down. At a World Cup competition in Guadalajara, Mexico, the guy on the scooter lost count and stayed on the track for an extra lap.
"We had to re-start because he messed up," Baranoski says.
Siebert survived his first day with no mishaps, guiding the women through a series of preliminary rounds leading to the gold-medal event.
There were three accidents on Saturday as riders hit the track hard enough to send a booming sound across the arena. Siebert got the hang of pulling aside to let the racers fly past, growing a little more relaxed with each race.
"I saw the girls on the start line and, for one moment, it was fun," he says. "For one moment."
When the men compete on Tuesday, he knows they will be a little bigger, a little faster.
Baranoski, ranked 18th in the world, has only an outside chance of medaling. Joachim Eilers, the reigning world champion from Germany, is favored to win along with Francois Pervis of France and Azizulhasni Awang of Malaysia.
"They are not just athletes, they are Olympic athletes," Siebert says. "They are semi-gods."
But, when it comes to the keirin, world-class talent is not quite enough. The cyclists need something extra to get going.
They need the man on the little green-and-white scooter.
---
Get the latest on L.A.'s teams in the daily Sports Report newsletter.
You may occasionally receive promotional content from the Los Angeles Times.