American women win first gold medal in cross-country skiing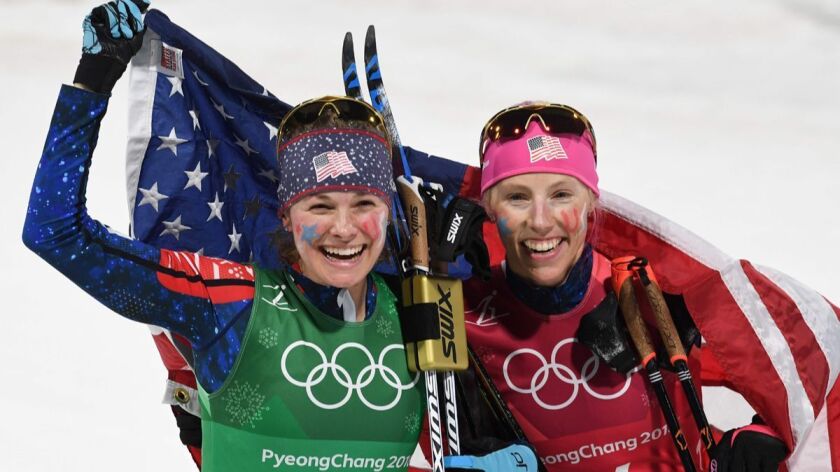 Reporting from Pyeongchang, South Korea —
In the same sprint free relay where Norway cross-country skier Marit Bjoergen became the most decorated athlete in Winter Olympics history, the U.S. women won the gold medal.
It's hard to say which is the more impressive feat.
A Norwegian woman winning 14 cross-country medals, or the U.S. women winning their first.
"I'm just so happy that we can finally get this monkey off our back," said American Kikkan Randall, 35, the only mother on the U.S. team, competing in her final race of her fifth Olympics. "It was fun to show the world that we were able to do it."
It is the first cross-country medal by U.S. women, the first gold by any gender, and the first medal of any color since Bill Koch took the silver at 30 kilometers in 1976.
It also cast a bit of sunshine on the gloomy fog that had settled over a largely underachieving U.S. team.
Luke Bodensteiner, a cross-country skier in two Olympics who now serves as chief of sport for the U.S. Ski & Snowboard Assn., watched Wednesday as Jessie Diggins stuck her left ski across the finish line .19 seconds ahead of Sweden's Stina Nilsson and nearly three seconds ahead of Norway in third. Bodensteiner dropped to his knees in the snow, a grown man crying.
"An emotional moment for everybody," Bodensteiner said. "It was a long time coming, as everybody knows."
"When I first started," Randall said, "we were excited if we got a top 30."
Randall was expected to end the drought four years ago in Sochi, and couldn't. She wanted to start a family and wanted to chase that elusive medal, so the "Kikkanimal," as she's nicknamed, did both — giving birth to a son in 2016 and training for a fifth and final Olympics. Her selection to the two-woman team for 7.5-kilometer sprint free, then, was as much for her ability to negotiate the course's lung-scorching hill as it was for the intangibles of patience and hunger.
It was her 17th Olympic event. The other 16 ended without a medal.
"I envisioned a gold in there somewhere," said Randall, who by her own admission had not skied well in Pyeongchang. "I always believed deep down it was possible. But to save it for my last Olympic race? It's crazy. It's the best ending I could have asked for, but also bittersweet because this is the one we dreamed about and it's the last one."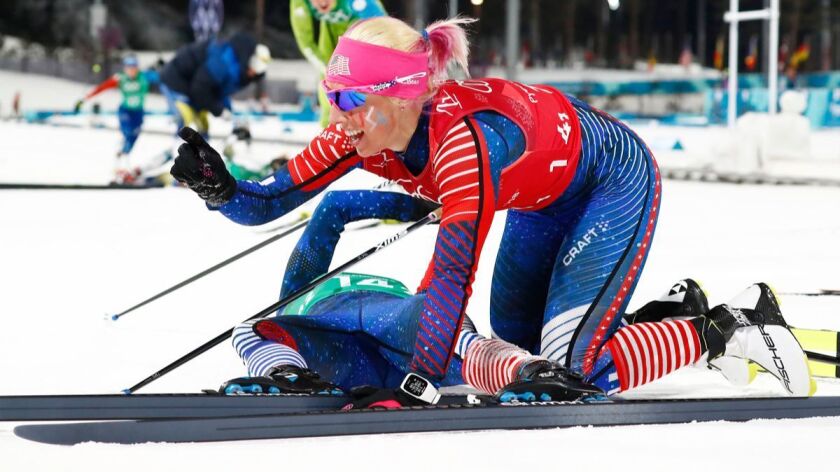 Too bad most Americans didn't see it.
When Koch won his silver in 1976, it was so unexpected that ABC had no TV cameras on the course and had to borrow footage from a foreign network just to show American viewers that, yeah, it really happened.
Because the sport is most popular in Scandinavia, the race began at 7 p.m. in Korea — late morning in Europe, when fans could watch during their lunch break. It was 2 a.m. in the Pacific time zone, 4 a.m. in Diggins' home state of Minnesota.
But word travels quickly in the small world of U.S. cross-country skiing, even to Koch, who lives in Vermont without TV or Internet. And the hope is that world will expand because of it.
"We're going to see it grow now, for sure," Bodensteiner said. "Kids are going to see this. This will create a pretty significant effect."
The significance wasn't lost on the sport's Scandinavian giants, who spent more time talking about the first American medal than the 37-year-old Bjoergen's bronze that gave her 14 over five Olympics, moving her past the 13 of fellow Norwegian biathlete Ole Einar Bjoerndalen.
"I can say I'm very, very happy for Jessie and Kikkan today," Bjoergen said. "I also think that's very important for our sport. I'm very, very happy for them."
Sweden's Charlotte Kalla: "They are so worth this gold medal."
Norway's Johannes Klaebo, who teamed with Martin Sundby to win the men's sprint free: "It's quite cool to see. And for sure, it's quite good for the sport. It's amazing. Congratulations."
Each racer skies three legs on the twisting, undulating course, and the three medalists separated themselves from the rest of the 10-team field entering the final loop. Diggins was passed by Norway's Maiken Falla and Sweden's Nilsson on the last hill, but that was almost by design. She excels on the downhill sections and wanted to draft behind them so she could "slingshot past" at the bottom.
That got her into second place behind Nilsson. Then she swung wide and began digging hard in the furious, side-by-side charge for the line.
Said Diggins, 26, who grew up idolizing Randall: "Watching Kikkan do her leg so well and getting us into a position where we were going to get a medal, I was like, 'Well, OK, we're going to try to make it a gold one then. We have nothing to lose.' I just had a lot of belief going into that last lap."
Randall was waiting for her, yelling, willing history.
"It was a nail-biter all the way up to the finish line," Randall said. "When Jesse [crossed], I looked over at the scoreboard and saw United States No. 1 and just let out a big scream and ran over and tackled Jess. And she said: 'Oh my gosh, did we just win the Olympics?'
"And I said, 'Yeeeeeaaaaaaahhhhhh.'"
A reporter from Norwegian TV noted that his nation's crown prince and prime minister had attended cross-country races in Pyeongchang, as had Sweden's king. Will we ever, he asked, see an American president at one?
"When President Obama first got inaugurated," Randall said, "I had a dream that I was sitting on Air Force One talking to him about cross-country skiing and telling him it is a really cool sport but didn't get enough attention. He said [in the dream] when he became president, he would help make cross country a higher profile."
She might not need the president's help any more. The Kikkanimal took care of that herself.
---
Get the latest on L.A.'s teams in the daily Sports Report newsletter.
You may occasionally receive promotional content from the Los Angeles Times.