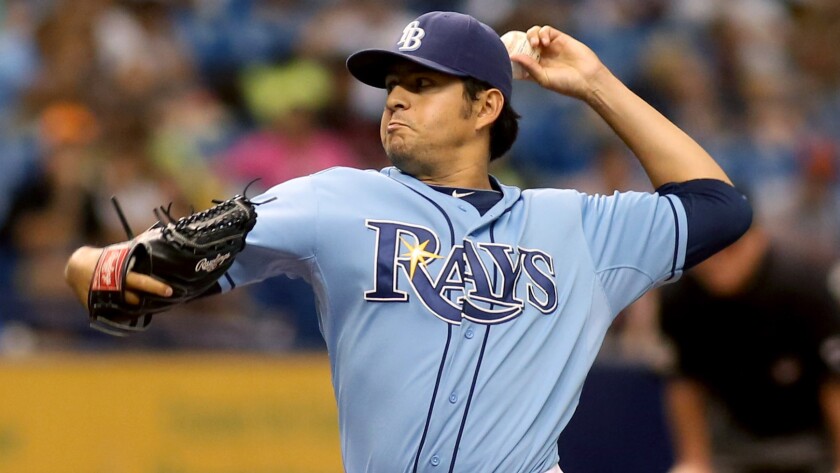 Angels General Manager Jerry Dipoto wasted no time putting his off-season plan into motion. Within two hours of trading catcher Hank Conger to Houston for two prospects on Wednesday, he acquired veteran left-hander Cesar Ramos from the Tampa Bay Rays for minor league pitcher Mark Sappington.
Ramos, 30, has pitched as a starter and a reliever, but he is expected to fill a much-needed left-handed relief role for the Angels, who spent most of 2014 without an effective left-hander in their bullpen.
A former Long Beach State teammate of Angels ace Jered Weaver, Ramos went 2-6 with a 3.70 earned run average in 43 games for the Rays last season, striking out 66 and walking 39 in 82 2/3 innings. He had a 2.92 ERA in 52 1/3 innings as a reliever and a 5.04 ERA in 30 1/3 innings as a starter.
Ramos was particularly effective in July and August, pitching to a 1.56 ERA in 17 1/3 innings, and he was tied for seventh in the American League with 13 relief outings of two innings or more.
Ramos, a first-round pick of the San Diego Padres in 2005, has a 5-11 career record and 3.90 ERA in 186 games over six seasons with the Padres and Rays. He opened last season in the bullpen, moved to the rotation in mid-April and back to the bullpen for good on May 20.
Sappington, a fifth-round pick out of Rockhurst (Mo.) University in 2012, struggled as a starter at double-A Arkansas and Class-A Inland Empire this season, going 2-11 with a 7.05 ERA, 69 walks and 65 strikeouts in 81 2/3 innings.
But he thrived after moving to the bullpen in early July, finding better command of his fastball, which sits in the 96-mph range, and the sharpness of his slider.
Sappington was 2-0 with a 3.38 ERA and a .207 opponents' batting average in 25 games as a reliever. He struck out 49 and walked 10 in 32 innings. By the end of the season, he was closing for Inland Empire.
---