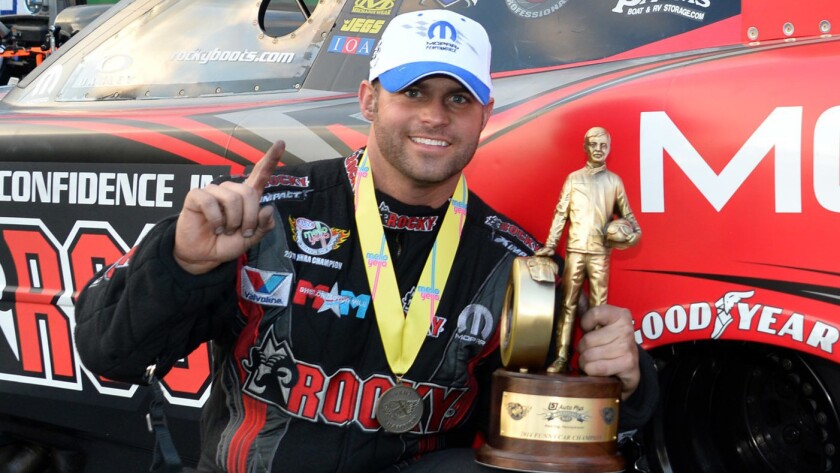 John Force kept the pressure on Matt Hagan almost until the end, but it wasn't enough to prevent Hagan from winning both the season-ending NHRA Finals and his second funny car drag racing title Sunday.
In the pro stock division, Erica Enders-Stevens also won both the NHRA Finals at Auto Club Raceway in Pomona and the season championship.
Enders-Stevens is the first woman to win a pro stock title and the third female in history to win a championship in one of the National Hot Rod Assn.'s top four pro classes. The others were Shirley Muldowney, who won three top-fuel titles (1977, 1980, 1982), and Angelle Sampey, who won three consecutive titles in the pro stock motorcycle class (2000-2002).
In the top-fuel class Sunday, Morgan Lucas — who ran only a partial schedule this season — knocked off Tony Schumacher in the final round for the event win. Lucas' winning pass was 3.704 seconds at 325.14 mph in the 1,000-foot race.
Schumacher already had clinched the top-fuel title during Saturday's qualifying sessions, his record eighth title. "It's always fun to beat the guy who won the championship," Lucas said.
Hagan entered Sunday's final eliminations with a modest 23-point lead over Force, the 65-year-old legend who was seeking a record 17th funny car title in the NHRA's Mello Yello Series.
Both won their first three rounds to set up a final-round showdown for the event win. But by that time, Hagan still had the same points lead, meaning the 31-year-old Virginian had clinched the title.
Hagan for good measure then defeated Force in the final round to secure his second consecutive NHRA Finals victory, along with the championship. Hagan's winning run was 4.076 seconds at 310.77 mph.
"I'm just very, very honored and very humbled," said Hagan, won his first title in 2011. "Force had a great car and we had a great car. It really comes down to who wakes up on the right side of the bed."
Both Hagan and Schumacher drive for Don Schumacher Racing, which is owned by Tony Schumacher's father, giving the team a sweep of drag racing's two fastest classes.
Force, who owns a four-driver team based in Yorba Linda, nearly won another funny car title despite having to deal with replacing lost sponsors all season and recently losing his veteran crew chief.
"We rallied really well," Force said. "We only lost this thing by about one round. I went out with a big old fire."
Enders-Stevens had a 19-point lead over two-time pro stock champion Jason Line entering Sunday's racing.
They also won their first three rounds and, by the time they met in the final round, it was a winner-take-all race for the title.
Line then left the starting line too soon, or "red-lighted," and Enders-Stevens, 31, had both the event win and the championship.
"To be best you've got to beat the best," Enders-Stevens said. "It all boiled down to the last round of the last race of the year with everything on the line. We were able to get it done."
In the pro stock motorcycle class, Andrew Hines won his fourth championship and his first since 2006. Hector Arana Jr. won the class' event at Pomona by defeating Eddie Krawiec in the final round.
Twitter: @PeltzLATimes
---