UCLA's football team rises to the challenge during difficult stretch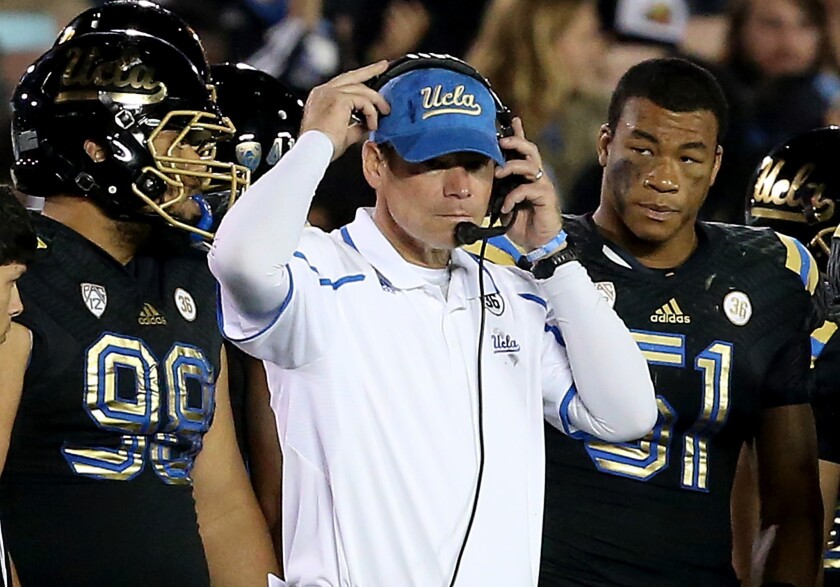 A weary and somewhat battered group of UCLA football players headed toward the student section Friday, as is the habit after Bruins victories.
They then trudged back to the locker room, probably feeling every snap from a 41-31 victory over Washington.
The Bruins are halfway through a four-game stretch that will determine their fate. Consecutive scratch-and-claw victories over Arizona and Washington have led them to a showdown with Arizona State on Saturday.
UCLA is one game behind the first-place Sun Devils in the Pac-12 Conference South Division. Another razor's edge game against USC is set for Nov. 30.
"I have been impressed with our players' focus on one game at a time," Coach Jim Mora said. "That's not an easy thing to do for young men whose minds can wander."
The Bruins beat Washington and dropped one place in the Associated Press poll, from 13th to 14th. So nothing is easy.
But UCLA prepared for this stretch with games at Nebraska, Oregon and Stanford this season.
"The beauty of going through those hard-fought contests is the huge payoff," Mora said. "You can even go back to last year with our games against Nebraska and USC. Those are moments when the team actually grows. They develop trust and mental toughness. You start believing that, when you are in a tough game, you're going to win it."
UCLA is 15-0 when leading at halftime in Mora's two seasons. The last two were a struggle.
UCLA led Arizona, 24-10, at halftime, but didn't secure the game until Ishmael Adams intercepted a pass with two minutes left. The Bruins jumped to a 27-7 lead against Washington, then were outscored, 24-14, in the last 42 minutes.
"We are having to fight," Mora said. "I think we're getting stronger as we go."
There is a price. Mora said that "everyone is banged up" at this point of the season. But the Bruins' injuries have been concentrated at offensive line and running back.
Malcolm Jones left the game Friday after taking a hit to the head. Mora said that Jones showed up Sunday feeling well. Jordon James (ankle) suited up for the Washington game but "didn't feel right," Mora said. He is expected to be ready this week.
The availability of Damien Thigpen and Steven Manfro, both out because of ankle injuries, will be determined this week.
The Bruins also have been without three of their top four tackles. Torian White (broken leg) and Conor McDermott (shoulder surgery) are done for the season. Simon Goines has sat out the last four weeks because of a knee injury.
Freshman tackle Caleb Benenoch left Friday's game, but Mora said that it was a hydration issue.
"I don't know anyone who has had to go through what we've been through," Mora said.
Child development
Of the 53 players UCLA used against Washington, 27 have been in the program two seasons or fewer.
"A lot of kids have picked up the slack," Mora said.
With linebacker Myles Jack topping that list.
Jack has 179 yards rushing as a running back the last two games. He has scored five touchdowns.
"God bless him," offensive coordinator Noel Mazzone said. "He plays every snap on defense, but every time he gets in on offense, he moves the chains for us."
Handicapping the race
There are two paths to the Pac-12 title game for UCLA.
Scenario 1: UCLA beats Arizona State and USC to win South Division.
Scenario 2: UCLA beats Arizona State and loses to USC. The Trojans would have to lose to Colorado and Arizona would have to beat Arizona State. A three-way tie for first place would go to the Bruins, who would have a better record within the division.
Arizona State wins the division by beating UCLA.
USC's only avenue to the title game is to beat Colorado and UCLA and have Arizona State lose to the Bruins and Arizona.
Game time set
UCLA announced that Saturday's game against Arizona State will kick off at 4 p.m.
Twitter: @cfosterlatimes
---
Get the latest on L.A.'s teams in the daily Sports Report newsletter.
You may occasionally receive promotional content from the Los Angeles Times.