Losses are starting to hit Steve Alford and UCLA's basketball team even before the season starts
Steve Alford provided some lighter fare to accompany the sirloin steak with Jack Daniel's peppercorn sauce and berry crisp with vanilla ice cream that was served Tuesday at the annual Southern California Basketball Coaches Tip-Off Luncheon.
The UCLA coach ribbed predecessor Jim Harrick for his return to coaching at age 80, as an assistant under Mark Gottfried at Cal State Northridge, when Harrick could be spending his days on the golf course.
Alford thanked Gottfried for mentioning that the Bruins had won only one national championship in almost 50 years, keeping fans from grousing about the lack of another banner since Alford's arrival.
The levity ceased over the final minutes of Alford's remarks inside the Los Angeles Athletic Club when the subject turned to his current players.
"We're going through a tough deal over the last 10 days," Alford said.
It had been less than 24 hours since Alford learned that a second freshman would be sidelined for the season after point guard Tyger Campbell suffered a torn anterior cruciate ligament in his left knee near the end of practice Sunday.
Power forward Shareef O'Neal recently was diagnosed with an electrical problem in his heart that will require surgery and keep him out until the 2019-20 season.
"That's not easy to talk to young men about because their love is basketball and when that's taken away, that's a hard thing to do, to tell them, 'Hey, your role changes but you're still part of the team,' " Alford said. "All that sounds great, but they don't get to do anything between the lines, so that's a difficult thing."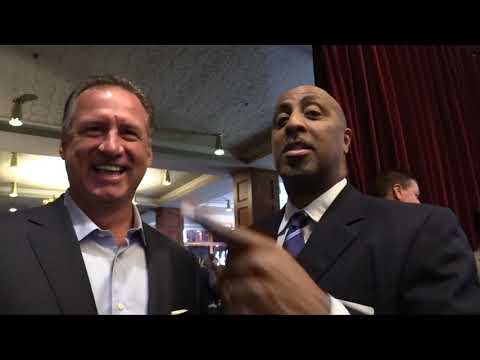 Former UCLA assistants are back in L.A. as head coaches
The loss of the 5-foot-11, 185-pound Campbell could lead to what Alford described as a point guard-by-committee approach for a team that had been widely expected to contend for the Pac-12 Conference title before the wave of injuries. The starting point guard presumably will be sophomore Jaylen Hands, with freshman wing player David Singleton and 6-9 sophomore Chris Smith also assisting with ballhandling duties.
Alford said before the luncheon that he envisioned Smith being used in a similar role as former Bruins guard Kyle Anderson, another unusually tall ballhandler.
"He's not Kyle Anderson yet," Alford said of Smith, "but he's got that makeup of 6-9 and long, so maybe using him a little bit in that position like we did with Kyle."
The biggest onus will be on Hands to play heavy minutes while becoming more of a distributor than he was in his first college season. Hands averaged 9.9 points, 2.6 assists and 1.8 turnovers per game last season as the backup to Aaron Holiday, but Alford said Hands understood the shift that would be needed in his approach this season.
"We've got to have him score," Alford said, "but his assist-to-turnover ratio has got to be two- to three-to-one, and we're seeing that in practice."
Campbell proved to be a heady playmaker while averaging 15.5 points and 7.2 assists per game and making 42% of his three-point shots as a senior at La Lumiere School in La Porte, Ind. He had reclassified before his senior season so that he could enter college this fall.
UCLA will also be without power forward Alex Olesinski for at least the season's first two months because of a stress fracture in his right foot.
Alford described the Bruins as both the youngest (eight players new to college basketball) and tallest (eight players who stand at least 6-8) roster he had encountered in his 28 years as a head coach.
Some help has arrived to shepherd the youngsters. New assistant coach Murry Bartow is primarily handling the team's defense, which has been a continuous problem since Alford's first season with the Bruins.
"We've been one of the most efficient offenses in the country and we don't want to change that," Alford said, "so [Bartow's] focus and what he's really dealing with is what we do defensively."
Alford said he was not concerned that UCLA was mentioned Tuesday in the trial of Adidas executive Jim Gatto, who faces charges of improper payments to high school players as part of the ongoing college basketball corruption scandal.
The father of prized recruit Brian Bowen II was asked whether he received an offer from club coach Tim Anderson to have his son play for UCLA but said he couldn't recall. Alford said the Bruins recruited Bowen but intimated that their interest stopped because they wanted to remain above board.
"I know how we operate things and how we go about doing things," Alford said. "It's part of the reasons of getting out of that recruitment, so we're always going to err on doing what's right and I'm very proud of my staff for that."
Bowen committed to play for Louisville but never appeared in a game because of alleged payments to his family. He now plays for the Sydney Kings of the National Basketball League.
Follow Ben Bolch on Twitter @latbbolch
Get the latest on L.A.'s teams in the daily Sports Report newsletter.
You may occasionally receive promotional content from the Los Angeles Times.