UCLA comes out strong but runs out of gas late in 38-16 loss to Colorado
Reporting from Boulder, Colo. —
The run game churned out yardage in big chunks. A long punt return sparked a breakthrough for the special teams. The defense looked sturdy for long stretches.
UCLA wasn't half bad Friday night at Folsom Field.
The Bruins played what was easily their best half of the season, parlaying a strong start against Colorado into a lead early in the third quarter.
Then things deteriorated in the time it takes Ralphie, the Buffaloes' live mascot, to stampede across the field.
The Bruins' offense and defense badly sagged in the latter stages of a 38-16 loss before a crowd of 46,814 that started to depart midway through the fourth quarter. There was not much left to see after Colorado had scored 24 unanswered points.
"Definitely not an upbeat, happy type locker room," Dorian Thompson-Robinson said after the Bruins (0-4 overall, 0-1 Pac-12 Conference) dropped their first four games for the first time since 1971. "We've got work to do."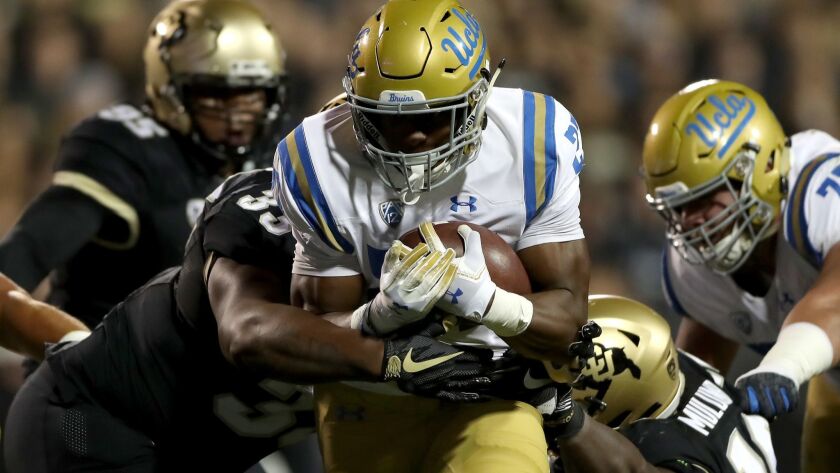 Thompson-Robinson could not sustain a strong start, repeatedly misfiring on passes late in the game. He played through referee whistles blown to end the third quarter, throwing a pass that hit receiver Kyle Philips in the back of the head after Philips had stopped running with his back turned to the play.
It was that kind of finish for the Bruins.
"It's in the details," UCLA coach Chip Kelly said when asked about his message to his team. "There are some good things that we can improve upon, but the penalties are hurting us and you can't live with those against a really good football team."
Both of Colorado's first-half scoring drives were made possible by penalties on UCLA cornerback Nate Meadors on third-down plays that gave the Buffaloes first downs.
Thompson-Robinson compiled a middling stat line for a second consecutive game, completing 17 of 35 passes for 138 yards with one touchdown and no interceptions. Kelly appeared to console the quarterback when he came off the field for the final time after a fourth-down pass fell incomplete, tenderly placing a hand on his lower back.
"My biggest goal is just to put points on the board every drive," Thompson-Robinson said. "We didn't do that, so I always feel there's some room for improvement."
There was better news in the Bruins' run game, where Joshua Kelley had 124 yards in 12 carries after not logging a single carry against Fresno State two weeks ago.
But UCLA's defense could not make nearly enough stops in the second half, when Colorado (4-0, 1-0) rolled up 281 of its 477 yards of offense. Kelly said the inability of the Bruins' offense to sustain drives contributed to the defense's wearing down.
Colorado quarterback Steven Montez completed nearly every pass he threw, finishing 22 of 26 for 237 yards with one touchdown while also running for 81 yards and two touchdowns. He eluded four tackles, including two behind the line of scrimmage, while sprinting for an 11-yard run on third and five in the third quarter.
"We may have had him sacked to get them out of field goal range and then it's a different ballgame," Kelly said, "but he shakes our guys off and stays on his feet and ends up getting a first down."
Colorado's Travon McMillan ran for a six-yard touchdown on the next play, extending the Buffaloes' lead to 28-16.
It appeared as if UCLA might be poised for a breakthrough when the Bruins took a lead in the second half for the first time this season. J.J. Molson's 40-yard field goal gave the Bruins a 16-14 advantage early in the third quarter.
The cushion was short-lived, thanks in large part to a Colorado trick play. Montez lateraled to receiver Jay MacIntyre, who fired a pass to tailback Kyle Evans for a 31-yard gain that gave Colorado first and goal at the nine. The Buffaloes eventually scored when receiver Laviska Shenault Jr. took a direct snap out of the wildcat formation and ran up the middle for a one-yard touchdown.
Colorado was just getting started in piling it on.
The Bruins showed some significant improvement in nearly every phase of the game in the first half.
Their lagging return game got a boost in the early going when Philips ran back a punt 32 yards, giving the Bruins the ball in Colorado territory.
Thompson-Robinson showed some slipperiness when he eluded three defenders to scramble 17 yards for a first down. On third and goal, Thompson-Robinson perfectly placed a pass to Michael Ezeike on a fade route. Ezeike made a leaping catch in the corner of the end zone, giving the Bruins a 7-0 lead.
But Thompson-Robinson also struggled with his touch at times, twice throwing behind an open Ezeike for incompletions. He remained resolute that things would get better.
"We clean up the little things, it will get there," Thompson-Robinson said. "We all believe in the process and we all believe in coach Kelly."
UP NEXT >>> The No. 11 Washington (3-1 overall, 1-0 Pac-12 Conference) will play host to No. 20 Brigham Young today before facing the Bruins in Pasadena for the first time since 2013.
Follow Ben Bolch on Twitter @latbbolch
---
Get the latest on L.A.'s teams in the daily Sports Report newsletter.
You may occasionally receive promotional content from the Los Angeles Times.