UCLA's Kris Wilkes has career night in season-opening blowout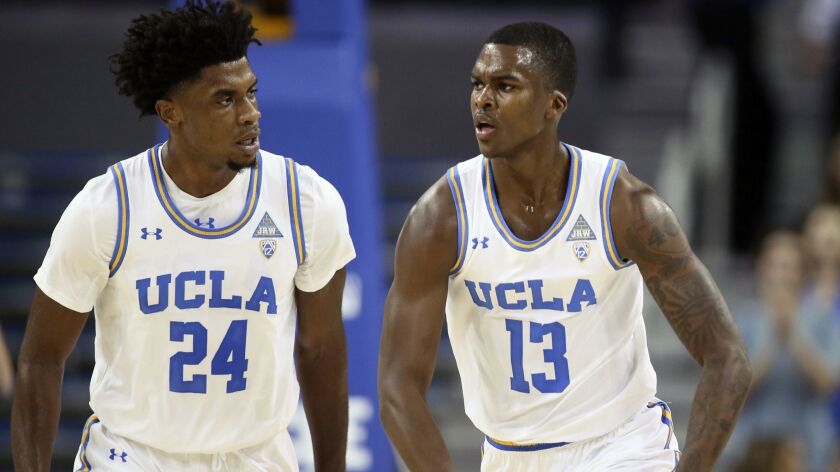 Kris Wilkes wavered over his decision last spring. He could enter the NBA draft and risk not being selected in the first round or come back to college and work his way into a surefire lottery pick.
The small forward ultimately returned to UCLA and showed Tuesday night at Pauley Pavilion how much of a jump he had made since the end of his freshman season.
There might not be any debate about his future at the end of his sophomore season.
Showing off an array of polished moves, Wilkes powered the No. 21 Bruins to a 96-71 victory over Purdue Fort Wayne in the opener of their 100th season.
He scored 19 of his career-high 27 points in the first half and finished with 10 rebounds, stirring the small crowd of 5,931 and justifying his recent selection to the preseason watch lists for both the Naismith and John R. Wooden awards that go to the best player in college basketball.
"Tonight, it was just going for me," said Wilkes, who made 11 of 19 shots and three of seven three-pointers. "It went in and I have to thank my teammates for getting me the ball and putting their trust in me to score."
The Bruins might also have a candidate for the nation's best freshman in Moses Brown, the 7-foot-2 center who bludgeoned his way to 19 points on nine-for-10 shooting to go with 17 rebounds. He became the first UCLA freshman with a double-double in his debut since Lonzo Ball and TJ Leaf both did it against Pacific in November 2016.
Brown finished with four dunks, including one that earned him a technical foul for slapping the backboard, something he said he has routinely done in practice.
"New York habit that we're trying to break," said Bruins coach Steve Alford, who briefly removed Brown from the game as punishment.
Brown also made a short trip to the locker room after losing a contact lens on his backboard-slapping dunk. It was about the only way the Mastodons could stop the domination after Alford demanded the Bruins get Brown the ball more.
"Our whole halftime talk was, Moses has to get more than five touches, three shots," Alford said. "And so it's a great credit to our guys, they found him in the second half."
Sophomore point guard Jaylen Hands was efficient in his debut as the Bruins' primary ballhandler, collecting 18 points, seven assists, two blocks and two steals to go with his two turnovers. UCLA sophomore forward Chris Smith scored 13 points off the bench and made all three of his three-pointers, an encouraging sign for someone who made only five three-pointers all of last season while shooting 17.9% from long range.
But the biggest thrills were generated by Brown and Wilkes in front of UCLA's smallest crowd at Pauley Pavilion for a season opener since 5,866 showed up to see the Bruins play Texas Tech in November 1988 in coach Jim Harrick's debut.
It wasn't a perfect performance by either player. Brown made only one of four free throws and was called for traveling three times. Wilkes missed a tomahawk dunk in the second half.
But there were highlights aplenty.
Wilkes scored the game's first points on a driving layup and never let up. He added a three-pointer, another driving layup, two free throws, a floater, a tomahawk dunk and a spinning layup after fighting for a rebound amid a scrum of bodies. He had 15 points by that point and there were nearly 11 minutes left in the first half.
Wilkes worked out for two NBA teams last spring before returning to UCLA and was told to get stronger and improve in every area. He's off to a good start.
"It's cool, but I try not to focus on any of that," Wilkes said when asked about improving his NBA standing. "Ultimately, I just want to come out here and win a game, be aggressive and lead my team to a win."
UCLA next
Friday vs. Long Beach State, 8 p.m., Pauley Pavilion, Pac-12 Networks — This will be the season opener for the 49ers, who edged Cal State Bakersfield 73-70 in an exhibition game. Junior guard Ron Freeman led Long Beach State with 17 points in the victory.
Follow Ben Bolch on Twitter @latbbolch
---
Get the latest on L.A.'s teams in the daily Sports Report newsletter.
You may occasionally receive promotional content from the Los Angeles Times.