Kicker Matt Boermeester was removed from USC after an unfair investigation, girlfriend says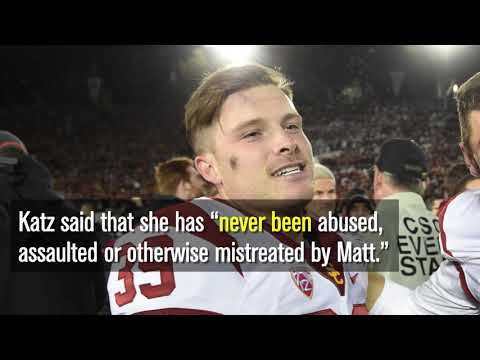 Zoe Katz said the Title IX office made her feel harassed and discriminated against. (July 31, 2017)
The girlfriend of former USC kicker Matt Boermeester said Sunday that the Title IX investigation that led to his removal from the school's football team was "horrible and unjust" to her and Boermeester.
Zoe Katz, 22, a senior, said in a two-page statement her attorney emailed to The Times that Boermeester "has been falsely accused of conduct involving me." Katz confirmed that the statement was hers. Her attorney, Kerry L. Steigerwalt, said that USC alleged that Boermeester shoved Katz outside her home.
USC suspended Boermeester in February while the school investigated what it called a "student-conduct issue."
Mark Schamel, an attorney representing Boermeester, said Boermeester was not permitted to return to USC following the school's investigation, in which USC alleged that Boermeester assaulted Katz. Katz has denied this, as did Boermeester, through his attorney.
In the statement, Katz said she and Boermeester have dated for more than a year. The Title IX investigation began, Steigerwalt said, after a neighbor witnessed Boermeester and Katz roughhousing. The neighbor told his roommate, who told a coach in USC's athletic department that Boermeester was abusing Katz. The coach then reported the incident to the Title IX office.
Katz said she was summoned to a mandatory meeting with Title IX officials, where she told investigators that the two were playing around. Katz was subsequently told that she "must be afraid of Matt," she said. She told officials she was not. Boermeester has not been arrested or charged with a crime.
"When I told the truth about Matt, in repeated interrogations, I was stereotyped and was told I must be a 'battered' woman, and that made me feel demeaned and absurdly profiled," Katz said. "I understand that domestic violence is a terrible problem, but in no way does that apply to Matt and me."
Katz said that she has "never been abused, assaulted or otherwise mistreated by Matt."
Boermeester, who kicked the game-winning field goal for USC in the Rose Bowl, was suspended from USC, then barred from campus and from meeting with USC's athletic trainers or members of the football team. The school also barred Boermeester from contacting Katz, she said.
A spokesman for USC, in an emailed statement to The Times, said that "the university has concluded its investigation. Student disciplinary records and proceedings regarding any matter of student conduct are confidential and protected by law. Per the registrar, he is no longer enrolled at the university."
Katz said the Title IX office made her feel "misled, harassed, threatened and discriminated against," and caused her to hire an attorney.
"The Title IX office's response was dismissive and demeaning," she said.
In the statement, Katz said she is coming forward now to clear Boermeester's name and lobby for change in the Title IX office's investigative procedures.
"Matt Boermeester did nothing improper against me, ever," Katz said. "I would not stand for it. Nor will I stand for watching him be maligned and lied about."
On Monday, USC issued another statement: "USC stands by its investigation and the accounts provided by multiple witnesses. As previously stated, student disciplinary records are confidential. If the students involved waive their confidentiality rights, the university will offer a detailed response."
Follow Zach Helfand on Twitter @zhelfand
ALSO
Dylan Hernandez: USC's Clay Helton is at ease on the eve of his second season — even when the subject is O.J. Simpson
Mater Dei quarterback J.T. Daniels commits to USC
Zach Helfand: USC needs to figure out its offensive line before thinking of a championship
---
UPDATES:
6:15 p.m.: This article was updated with a statement released by USC on Monday.
Get the latest on L.A.'s teams in the daily Sports Report newsletter.
You may occasionally receive promotional content from the Los Angeles Times.