Before the game, USC and Alabama are tiffing over 'Tusk'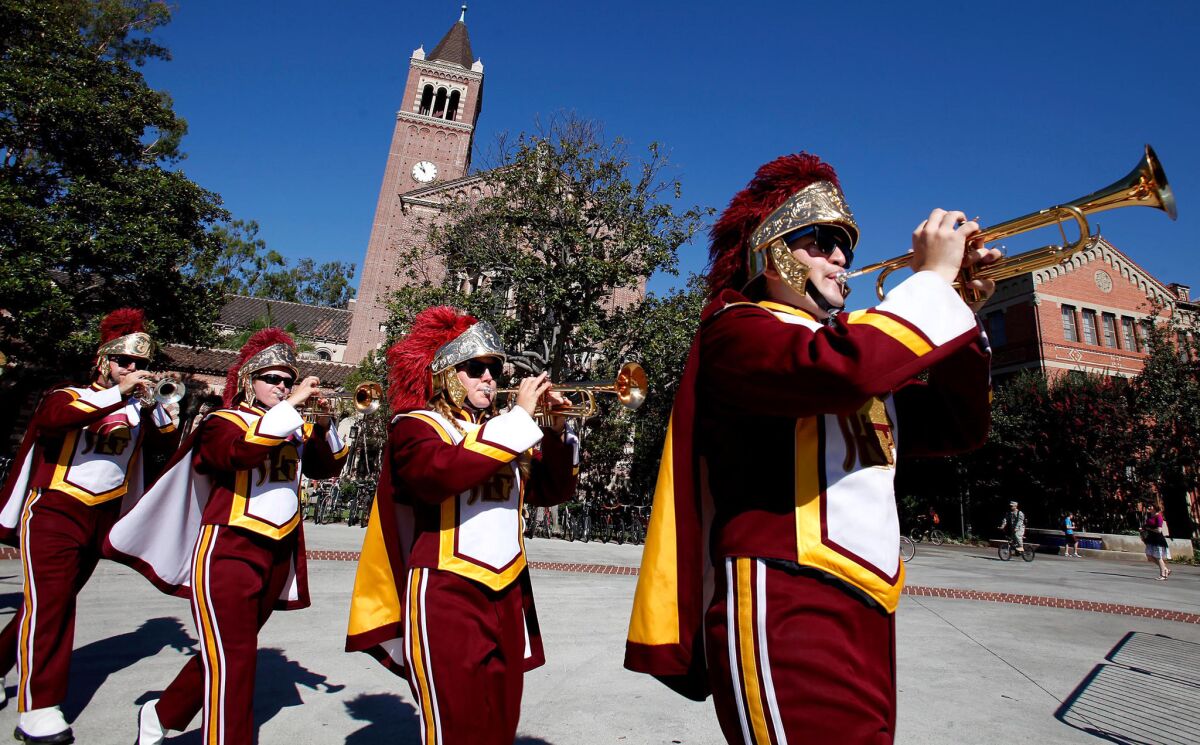 The attack was launched, as is often the case in modern college football disagreements, from an Internet comments section. A trolling Alabama fan calling himself James from Tuscaloosa crossed a line.
He went after "Tusk."
"The song 'Tusk' is about the University of Alabama Football Team," James from Tuscaloosa wrote on SongFacts.com. "The 'He' in the song refers to Paul 'Bear' Bryant and the fact that he was the winningest coach in College Football history and refused to concede his title as such to anyone else. The song is played on the University of Alabama campus daily, and is part of the rich heritage of the Alabama Crimson Tide."
The post was wildly inaccurate, but it did portend a contentious subplot to USC's opening game against Alabama: the schools and their marching bands are tiffing over "Tusk," the top-10 Fleetwood Mac hit.
The USC Trojan Marching Band views the tune as "our unofficial fight song," explained Emily Moneymaker, the band's trumpet section leader. And USC's band thinks it has a solid claim because it played on the original recording and music video with Fleetwood Mac in 1979.
Alabama is one of just two other schools that play the song as a staple. (Arkansas, with a mascot named Tusk, is the third.) Alabama's Million Dollar Band usually performs the song as the football team takes the field. The Crimson Tide's mascot, Big Al, an anthropomorphic and conspicuously tusk-less elephant, often dances along. It's a crowd pleaser.
Both USC and Alabama will bring their bands to Arlington, Texas, for the Sept. 3 season opener. Both insist "Tusk" will be played.
"It's kind of interesting," Moneymaker said. "Because, like, that's our song."
USC's affinity for the song spans decades. The possibly apocryphal origin tale is that Mick Fleetwood, Fleetwood Mac's drummer and co-founder, was staying in Germany one day when a brass band spontaneously marched past his window.
"And he said 'I love that sound,' " said Dr. Arthur C. Bartner, who is entering his 47th season as USC's band director.
Fleetwood Mac invited Bartner, his music arranger and drum instructor to their studio in Santa Monica. There, Lindsey Buckingham, Fleetwood Mac's lead guitarist and "Tusk's" songwriter, belted out a riff.
"You know, 'Buh-buh-buh-buhhh-buh,' " Bartner said, echoing the song's opening vocals. "And that's all they had was this riff."
In the studio, a wandering, savage sound took shape, the latter half dominated by the Trojan Marching Band, which sweeps across the track like a thunderstorm. The marching band's contribution was recorded at Dodger Stadium, where the music video, one of the first of its kind, was also filmed.
For Fleetwood Mac, "Tusk" became a hit and the title track of a platinum-selling album. For USC, it became a beloved addition to the marching band's oeuvre.
The song is a constant presence on campus. The band practiced it during move-in day earlier this month, the first thing students heard upon arriving through the university's northeastern gate.
At some point, USC students appended their own, unflattering lyrics directed at UCLA.
"Tusk" is played during orientation and for prospective students. The band has performed recently with both Fleetwood and Buckingham. New USC band members learn about "Tusk" before they even play a song. There's a speech and a video about "Tusk" on the first night of band camp.
"I don't think you can be in this band and 'Tusk' isn't your favorite song. I don't think that's possible," said Brianne Tabios, the band's general manager and an alto saxophone player.
She added: "I know people who listen to 'Tusk' in headphones while they bike to exams, to get themselves pumped."
Alabama's "Tusk" ties are more recent, beginning in 2007 when Nick Saban became the head coach, said Heath Nails, the band's director of operations. The band liked the title's phonetic similarity to Tuscaloosa, where the school is located, and to Big Al. The band musters to form a giant elephant on the field during its performance.
The Million Dollar Band's version is peppier, more of a marching-band sound, compared to USC's, which hews more closely to the original. For the Crimson Tide, it is a favorite, but not the favorite: that's either Green Day's "Basket Case," played before the fourth quarter, or a performance of the Rolling Stones' "Paint It Black."
Still, "Tusk" is popular enough to survive in a band repertoire that is shuffled about every other year. The band wouldn't consider not playing it. And so gamesmanship has ensued.
The Million Dollar Band won't play the song in its traditional pregame performance, Nails said, due to time constraints. Instead, he said, it'll play "Tusk" throughout the game.
USC, which typically plays the song in its postgame performance, as a celebration, has moved the number into its pregame show. Bartner said USC wants to beat Alabama to the punch.
"We want to show them that it is ours, that this is how it should actually be played," trumpeted Moneymaker, the trumpeter.
USC's indignation is tongue-in-cheek — mostly. But Alabama is aware that the Trojans might be touchy. Nails insists that Alabama doesn't view it as a competition.
"Band kids are different," Nails said. "I've heard their arrangement, and it's quite good."
The Million Dollar Band did not make its directors or any band members available for comment for this story. Buckingham did not take sides. He declined comment, through a publicist.
For his part, Bartner has been gracious.
"It's cool. I have no problem," he said. "Because it's our tune."
He's fine sharing the song. He just wouldn't say that he loves it.
zach.helfand@latimes.com
Twitter: @zhelfand
---
Get the latest on L.A.'s teams in the daily Sports Report newsletter.
You may occasionally receive promotional content from the Los Angeles Times.