USC and Ohio State will make a run for the ... Cotton?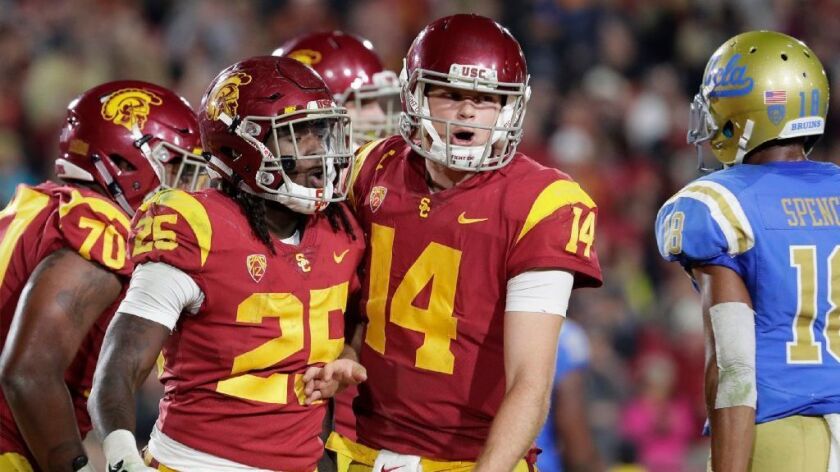 Reporting from Dallas —
Ohio State versus USC in football used to be as much a part of the New Year's tradition as "Auld Lang Syne" and Dick Clark waiting for the ball to drop in Times Square.
"Auld Lang Syne" is a rap song now, and Dick Clark is no longer with us, but Ohio State-USC is back — though Friday's game will take place in the Cotton Bowl, not the Rose Bowl, the customary gathering place for the Big Ten and Pac-12 conference champions.
It will be eighth bowl meeting between the two iconic college football programs, but the first to take place outside Pasadena. However, in keeping with tradition, both schools come in ranked in the top 10 — Ohio State at No. 5, USC at No. 8 — both have standout quarterbacks and game-breaking running backs, and both have rosters loaded with NFL prospects.
"This is going to be an electric football game," USC coach Clay Helton said. "I think about everything about this game, even our bands. You think about the tradition of how … this is just a classic, classic matchup on every level.
"How fun is that to be able to say you got to compete against Ohio State in the Cotton Bowl? It's a special thing."
The matchup required a move this time because the College Football Playoff holds a national semifinal at the Rose Bowl every three years. So with Pasadena playing host to the Georgia-Oklahoma game next week, the Big Ten-Pac-12 showdown was moved to Texas, where the game is still called the Cotton Bowl even though it will be played at AT&T Stadium in Arlington, home of the Dallas Cowboys.
"I have never been to the Rose Bowl. That's the one bowl game I've never been to," Ohio State coach Urban Meyer said. "Hopefully I get there someday.
"But this is a great bowl game. I think it's what the fans want. You're going to see the Pac-12 champion against Big Tenchampion [at] a great venue."
Only once has the winner of a Buckeyes-Trojans bowl game scored more than 27 points, but this time both teams could have that by the half.
With senior quarterback J.T. Barrett and freshman running back J.K. Dobbins, Ohio State (11-2) is averaging more than 523 yards and 42 points a game. USC (11-2), led by quarterback Sam Darnold and junior tailback Ronald Jones II, is averaging more than 489 yards and 34 points a game.
Yet, Meyer believes the outcome will ultimately be decided by the defenses.
"The best pass defense is somehow getting your hands on that quarterback," said Meyer, whose team ranked among the top 10 nationally in total defense. "[Darnold], if you give him time with the receivers they have, you won't stop it.
"It's the ability to disrupt the quarterback, make him reset his feet, make him move, get a hand on him. That's going to be key to this game."
The game could be Darnold's last in college. The redshirt sophomore, who has passed for 3,787 yards and 26 touchdowns this season, is expected to declare for the NFL draft. He is projected to be an early first-round pick, which only adds fuel to Ohio State's fire.
"You always want to hit a high-drafted quarterback," said Nick Bosa, the Buckeyes' defensive end who had 14 1/2 tackles for losses this season.
USC can bring pressure too; the Trojans' 43 sacks lead the nation. But Barrett, who ran for 732 yards in addition to passing for nearly 3,000, poses a significant challenge.
"He's very patient. When they call his number, I've seen defenses try to stop that and he'll audible to another player," USC safety Chris Hawkins said.
"Once he breaks the pocket, then you start to get worried a little bit. But I think we have some of the best edge-containing guys in college [football]. Uchenna Nwosu is one of the best players in college, period."
A win Friday would be USC's 12th, marking only the fifth time the school has won that many games in a season.
The first time it happened, in 1972, the 12th win came against Ohio State. At the Rose Bowl.
Follow Kevin Baxter on Twitter @kbaxter11
---
Get the latest on L.A.'s teams in the daily Sports Report newsletter.
You may occasionally receive promotional content from the Los Angeles Times.