After a season of few substitutions, USC's defense is learning to share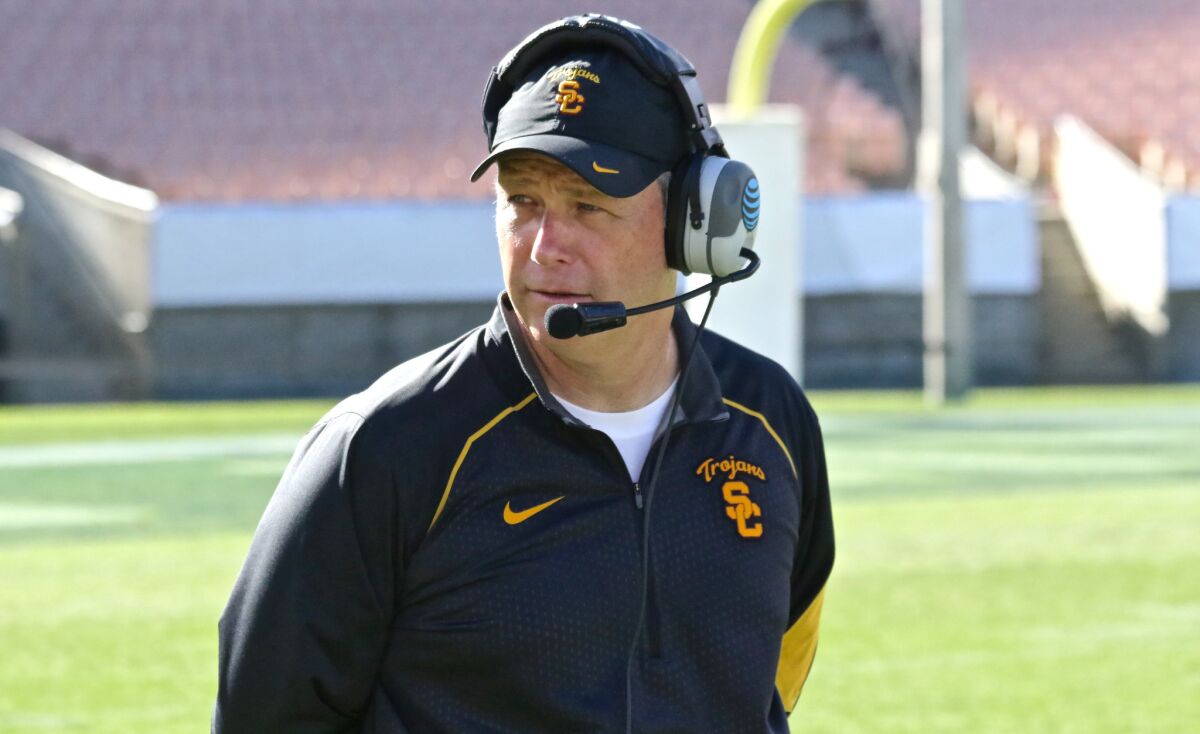 USC's defensive starters almost could've asserted squatter's rights on the Coliseum turf last season. Defensive coordinator Clancy Pendergast hardly ever pulled them off the field.
"We kind of held on for dear life with that group last year," coach Clay Helton said.
The lack of substitutions became a signature of the defense. Starters played 80% of all the team's snaps. The rate is particularly high, especially considering that includes garbage time during blowouts, when the starters don't play at all
So with most of the starters returning, will USC keep an even tighter rotation this season?
Don't count on it, Helton said. Helton and Pendergast have pledged to cycle in younger players more often.
A larger rotation usually signifies a healthy program. It shows depth. And it allows younger players to develop with precious game repetitions.
"We didn't have too many guys last year," Helton said. "Our depth has all of a sudden grown."
Helton mentioned he would like to find playing time for young players like outside linebackers Connor Murphy and Oluwole Betiku Jr., defensive backs Greg Johnson and Ykili Ross and lineman Christian Rector. Freshmen defensive tackles Marlon Tuipulotu and Brandon Pili are expected to share a hefty portion of snaps with starter Josh Fatu.
One reserve has a guaranteed clear path to the field from the start: linebacker Jordan Iosefa, who will start the first half against Western Michigan on Saturday in place of Cameron Smith, who will watch the first half on TV in Helton's office in the USC locker room, as he serves a one-half suspension for a targeting penalty in the Rose Bowl.
Helton said the short rotation last season resulted from circumstance. It was not a philosophical choice by Pendergast. This season, Helton said, there are too many promising defensive options to keep off the field.
"Clancy and I have talked about not just throwing guys out there to throw them out there, but guys that we trust that can help our football team," Helton said.
Riding, not rowing
When Western Michigan climbed to national prominence last season, its unusual motto spread everywhere. It was written on t-shirts and helmets, scrawled above the tunnel in Western Michigan's stadium, printed on notepads.
The motto was coined by then-coach P.J. Fleck: "Row the Boat."
The mantra became as famous as the team. Fleck gave out actual oars the way some people give out greeting cards. Players carried one onto the field when running out of the tunnel.
There will be no rowing when Western Michigan visits USC. Fleck left for Minnesota, and he reached an agreement with Western Michigan, which had trademarked the motto, to take the trademark with him.
The mantra meant more to Fleck than the typical marketing hook. He created it in 2011 after his newborn son, Colt, died of a heart defect. "I wanted something people can use in their everyday life," he told The Times last year. "They can use it as their never-give-up attitude for beating cancer, for losing a child, for being divorced."
This season's team has kept some of Fleck's internal slogans that the players liked, said team spokeswoman Kristin Keirns. But the players came up with a new motto. This year, it's "Let's Ride."
Hall of Fame class
USC announced Wednesday it will add 18 members to its athletics hall of fame: Wayne Black, Chris Claiborne, Sam Clancy, Kim Clark Jennings, Mike Gillespie, J.K. McKay, Ous Mellouli, Mikaela Parmlid, Troy Polamalu, April Ross, Felix Sanchez, Rod Sherman, Kevin Stadler, Tim Tessalone, Charlie Weaver, Lauren Wenger Trapani, Barry Zito and mascot Traveler.
The USC Trojan Marching Band's halftime performance Saturday will celebrate Traveler with a program that has been scheduled for months.
Quick hits
Helton said he will name a starting kicker Thursday.
Shotgun Spratling contributed to this report.
Follow Zach Helfand on Twitter @zhelfand
Get the latest on L.A.'s teams in the daily Sports Report newsletter.
You may occasionally receive promotional content from the Los Angeles Times.