No. 21 Trojans are upended by Oregon but they remain upbeat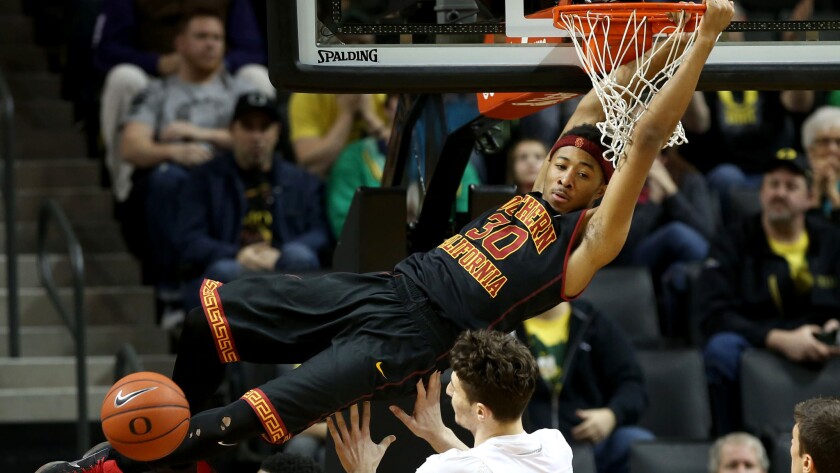 Reporting from Eugene, Ore. —
USC receives a message after each Pac-12 Conference game this season. It is a sign of how far the Trojans have come.
The coaches provide an update on the Pac-12 standings. This time last year, that could not have been less relevant.
Thursday's report, though, was not positive. Oregon sprinted past No. 21 USC, 89-81. In the locker room the players were told they had sunk to second place, tied with the Ducks and Arizona.
The bulletin was a reminder of their progress: They remain only one game out of the Pac-12 lead, behind Washington. Five more teams in the tightly packed Pac-12 are within 11/2 games of USC.
"We can still win this league," guard Julian Jacobs said.
Coming off three wins, including over Arizona and UCLA, and ranked for the first time since 2008, USC met its athletic match Thursday. Oregon blocked seven shots, disrupted USC's shooting and ran in transition.
USC (15-4, 4-2) eclipsed 80 points for the fifth time in six Pac-12 games. It speaks well of USC's potential that Coach Andy Enfield was unhappy with the offensive performance anyway, primarily because USC made only eight of 28 three-pointers.
"We didn't play our best game," Enfield said. "We missed a lot of open shots from the three-point line."
Still, the mood after the game remained cheerful. Seasons of misery have taught the Trojans perspective.
At one point, Enfield grinned before issuing a reminder. "Well, we're 4-2 in the league, 15-4 overall," he said. "We're not going to play perfect all season."
USC was perfect in the game's opening minutes. The Trojans made their first five shots and zoomed to an early lead.
Forward Bennie Boatwright enjoyed the most productive game of his freshman season. He scored 23 points with 12 rebounds, both career highs.
But he received little help. Jordan McLaughlin managed only three points, his season low, with three assists and one rebound. Jacobs scored an efficient 19 points, but the backcourt slumped to a combined five-of-19 shooting performance from beyond the arc.
Over five minutes and 30 seconds in the second half, the Trojans mustered only three points, and Oregon (15-4, 4-2) surged.
The Trojans' defense did not provide room for a lapse. Oregon shot 44.4% on three-pointers.
"We just didn't guard," Jacobs said.
Oregon's Elgin Cook led all scorers with 26 points on eight-of-13 shooting.
"Cook, man, he killed us," Jacobs said.
By the time USC finally snapped its offensive funk, it trailed by 16. USC had not trailed big on the road all season. How would it react?
The Trojans did not fold. With 2:30 left, they had wrestled the deficit down to eight.
Then USC forced a turnover. Jacobs sprung off a ball screen to a yawning opening into the lane.
He slipped, lost his balance and was called for traveling. He hurled the ball over his shoulder. The officials called a technical foul. USC wouldn't draw any closer.
"I just lost my composure," Jacobs said. "I didn't think it was a travel, but I'd have to see it again."
Enfield called it just another mistake in a less-than-sharp game, but he did not seemed too bothered.
"Hey, he's been playing terrific basketball," Enfield said. "So have all of our guys."
Follow Zach Helfand on Twitter: @zhelfand
---
Get the latest on L.A.'s teams in the daily Sports Report newsletter.
You may occasionally receive promotional content from the Los Angeles Times.