USC's Pat Haden apologizes for interacting with officials on sideline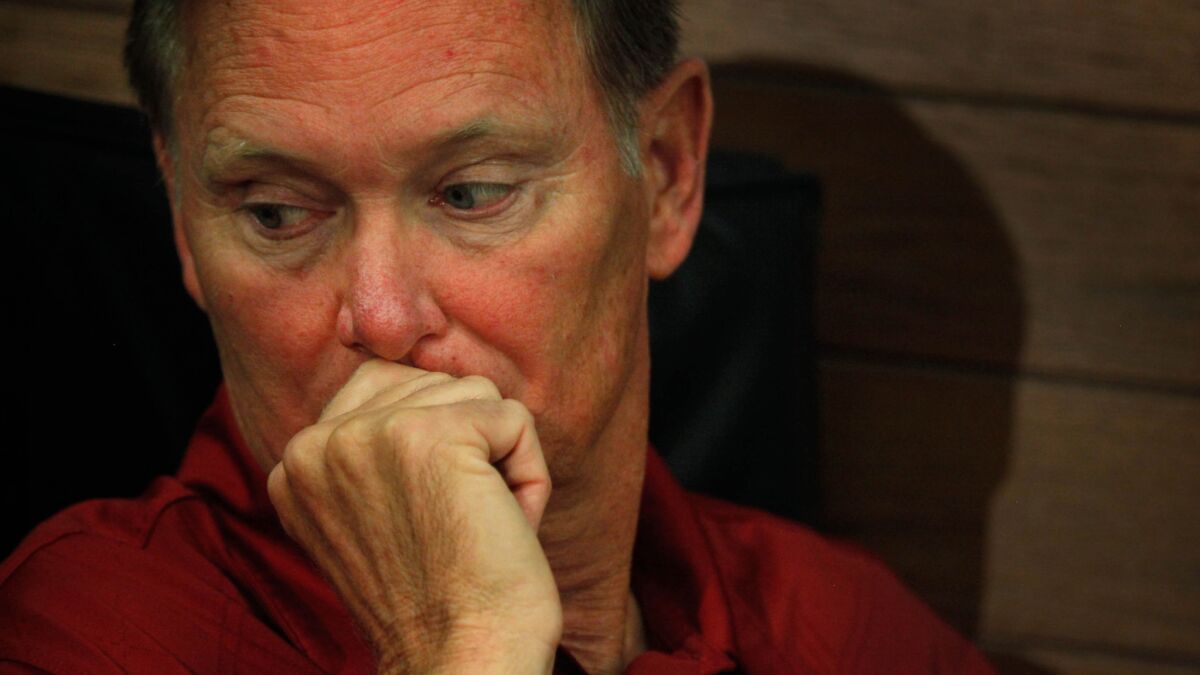 USC Athletic Director Pat Haden issued an apology Sunday night for interacting with officials on the sideline during the Trojans' 13-10 victory over Stanford.
Coach Steve Sarkisian said he summoned Haden late in the third quarter of Saturday's game at Stanford Stadium after he was called for an unsportsmanlike conduct penalty.
Haden is a member of the College Football Playoff selection committee, so his actions sparked controversy and calls for him to be removed from the position.
On Sunday, Bill Hancock, the executive director of the College Football Playoff, told The Times' Chris Dufresne, "We will not have any statement today."
In a text, Pac-12 Conference Commissioner Larry Scott told Dufresne, "Once reviews are complete we will comment."
"I apologize to Commissioner Scott, to the game officials, to Stanford and to the fans for any distraction I might have caused during Saturday's football game," Haden said in a statement. "In retrospect, I should not have approached the game officials. I should have waited until after the game and gone through the appropriate channels.
"In the best interests of our team and our coaches, I will stay off the sidelines for our next two games."
Earlier Sunday night, during a teleconference with reporters, Sarkisian said that he regretted summoning Haden.
"It was just a spur-of-the-moment gut feeling," Sarkisian said of his decision. "Looking back at it, I regret putting Pat in that situation."
After the victory, which propelled USC to No. 9 in the Associated Press media poll, Sarkisian said he was incorrect for arguing about a delay-of-game penalty, but he was concerned about drawing another penalty.
Haden said he went to the field after receiving a text from a compliance official saying Sarkisian wanted to speak with him. NCAA rules allow only for voice communication between the team area on the field and the press box.
Sarkisian said Sunday he regretted involving Haden because it was not the athletic director's job to "manage the game and the officials. That's my job to do."
Pullard's status pending
USC is awaiting word on the status of linebacker Hayes Pullard, who was ejected from the game after being penalized for targeting on a kickoff return by Ty Montgomery.
NCAA rules call for conferences to "automatically initiate a video review for possible sanctions before the next scheduled game."
"We're not sure on that," Sarkisian said of Pullard's availability for Saturday's game at Boston College. "We'll let the conference issue whatever they issue on Hayes. We have an opportunity to appeal but we don't know yet."
In 2011, USC safety T.J. McDonald was suspended for the first half against Colorado after making an illegal hit against Stanford.
Sophomore Michael Hutchings replaced Pullard after the ejection Saturday.
"He has a very high football IQ and it showed and he made plays," Sarkisian said of Hutchings.
Hutchings, who made three tackles and intercepted a pass against Fresno State, made one tackle against Stanford.
Success against Stanford
Kicker Andre Heidari probably wouldn't mind playing Stanford one more time.
The senior, who kicked another game-winning field goal against the Cardinal, has made all six of his field-goal attempts against Stanford.
Heidari made field goals from 25 and 50 yards in 2011, when Stanford defeated the Trojans, 56-48, in triple overtime at the Coliseum.
A knee injury sidelined Heidari for USC's 21-14 loss at Stanford.
In 2013, he converted a first-half kick from 23 yards before coming on to boot a 47-yarder with 19 seconds left to give the Trojans a 20-17 upset at the Coliseum.
On Saturday, Heidari was penalized for a personal foul after his second kickoff. Sarkisian said Sunday the penalty was for a late hit.
Sarkisian said the Trojans had emphasized eliminating post-whistle penalties.
"For the kicker to get one, that's not right," he said.
Last week, Sarkisian said he had counseled Heidari about forgetting about mistakes and moving on to the next situation.
Heidari made a 25-yard field goal late in the third quarter against Stanford to tie the score, 10-10.
Asked whether he hearkened to last season and was thinking, "Here we go again," as the Trojans drove into field-goal range in the fourth quarter, Heidari said, "Absolutely."
With 2 minutes 30 seconds left, he kicked a career-long 53-yarder to put the Trojans ahead.
"To Andre's credit, he responded really well this week," Sarkisian said.
Quick hits
USC's No. 9 ranking puts it back in the top 10 for the first time since Oct. 27, 2012, when the Trojans lost at Arizona and began a slide out of the top 25…. Sarkisian said the Trojans sustained no major injuries against Stanford.
---
Get the latest on L.A.'s teams in the daily Sports Report newsletter.
You may occasionally receive promotional content from the Los Angeles Times.