Tangled Los Angeles permit process has restaurant owners howling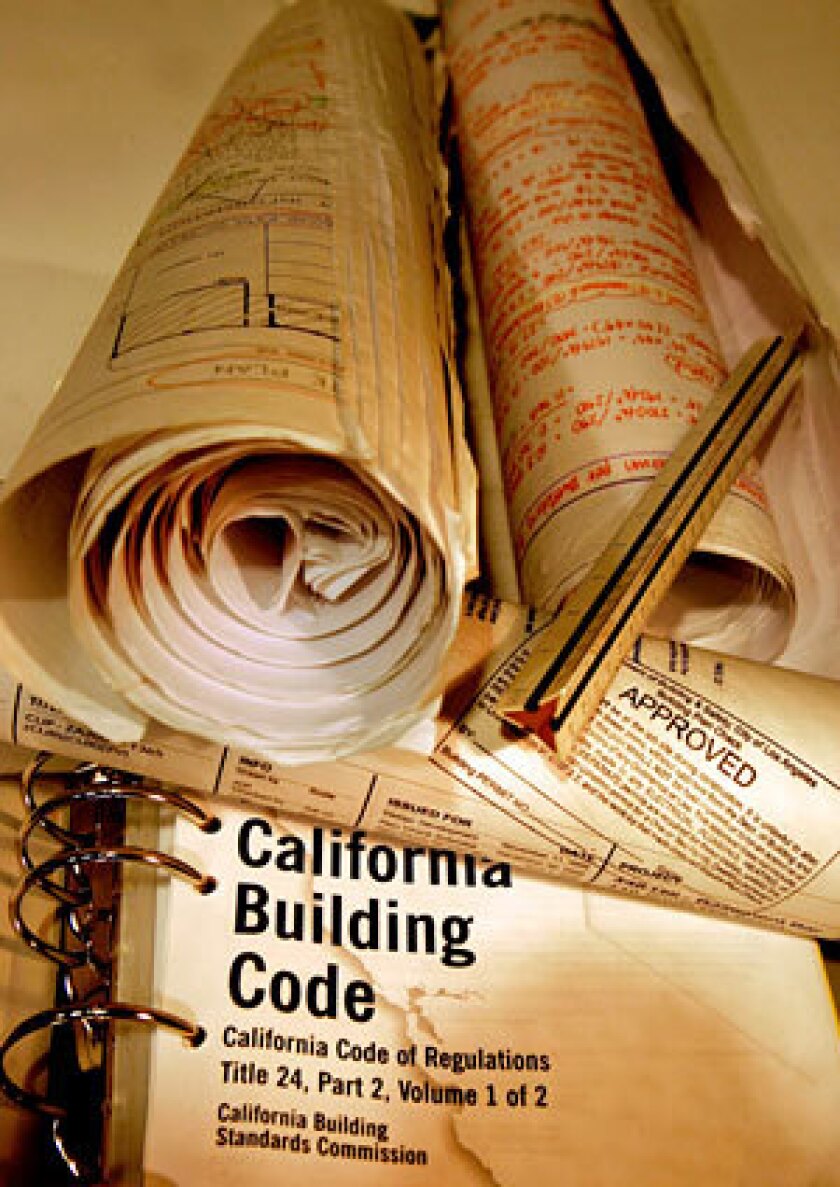 On 1,100 square feet of land, there aren't many places large enough to bury a 9,000-pound concrete box the size of a minivan. Jason Michaud knew as much when the city of Los Angeles asked him to do just that.
Michaud was in the process of opening his first restaurant, a small neighborhood joint in Silver Lake called Local. The concrete box was the housing for a 750-gallon grease trap -- called an interceptor -- and as a result of a lawsuit filed against the city in 2001 by environmental regulators and concerned environmental groups, the placement of such a device is mandatory for all new restaurants.
The space required for Michaud's own grave would be much smaller, and at times he felt as if he were digging that too, figuratively at least. The hillside behind the property has an apartment building perched at its top, and at the time, the hill was not properly retained. Michaud hired an engineer to take a look, and the engineer wrote a letter to the city saying that it wasn't safe to dig a hole that big. The city then sent out one of its own engineers, who decided that it was.
"They said I had the space, even if I had to reinforce the hill, which would have cost $300,000," Michaud says. "So we took a gamble and put the interceptor in." The hill stayed put (and Michaud's landlords eventually reinforced it), but the restaurant's opening was delayed by eight months.
Now, five months after the opening of Local (which emphasizes local ingredients and sustainable living and tries to encourage patrons to use public transit or bicycles when visiting), he is pitted in a costly battle with the city over parking spaces. Michaud says he believed that because the restaurant was counter-service only, he didn't need them. The city allowed the restaurant to open, but then came back with a later request that he offer parking.
"I need to find someone to rent me four spaces and hang a sign that says, 'Parking for Local,' " says Michaud, who estimates the spots will cost an additional $2,000 a month, and that the permitting process -- fees, the costs of architects and contractors, and rent paid before the business could open -- will set him back more than $10,000. "It's a terrible, broken system, trying to open a restaurant. It devastates people."
This sentiment is echoed by restaurant owners across the city, who say that in its quest to ensure public safety and uphold environmental standards, the local government has constructed a Byzantine system of codes, permits and inspections that has obstructed the growth of new restaurants, tied business owners' hands -- sometimes to the point where the business has to close -- and has driven developers to seek work outside city limits.
Many of those who complain about the process go to great lengths to point out that they understand why protective rules are needed. (Michaud even admits that, now that it's over, he's happy he has a grease interceptor, because it ties into the restaurant's image of sustainability.)
City regulations
Their beef is with inspectors who rigidly adhere to a one-size-fits-all application of codes and with the lack of communication between regulatory agencies. The latter can cause an inspector from the health department to sign off on, say, having an open drain behind a bar, and a plumbing inspector to demand a month later that the drain be closed.
When a business owner is faced with contradictory demands from the dozen agencies involved in the permitting process, things can get messy and expensive. (The L.A. departments of City Planning, Building and Safety, Transportation [for parking], the L.A. Bureau of Sanitation and the L.A. County Department of Public Health are the big five.)
That's not to say that codes and ordinances aren't passed with good reason. Since interceptors were required, sewer overflows related to grease have gone from nearly 300 a year to fewer than 20 in L.A.
But could there be a cheaper, less frustrating means to a similar end, especially for small restaurants?
Sherrill Bond, whose job it is to administer the fats, oil and grease program for the Bureau of Sanitation, says his opinion doesn't matter much. "I'm bound to administer the ordinance . . . I don't get an opportunity to have feelings."
That's why, City Councilman Eric Garcetti says, flexibility needs to be encouraged -- within reason and without jeopardizing public safety -- when it comes to code regulation. "L.A. has become one of the great food capitals of the world, but this has happened despite government, not because of it," he says. "Planning in L.A. is a full-contact sport."
In response to what Garcetti described as a particularly out-of-hand battle in 2006 between a tiny bakery in Echo Park and the city (which was asking the bakery to install a grease interceptor and build subterranean parking), the councilman began pushing through an initiative called "12-2," which aims to downsize the number of government agencies a new business has to interact with from 12 to two.
Within two or three months after the initiative is implemented, Garcetti says, business owners will be able to file initial paperwork online and avoid wandering the confusing maze of agency reps in Figueroa Plaza, which serves as the Los Angeles Department of Building and Safety's headquarters.
Garcetti also wants to examine and rewrite existing codes and ordinances to give discretion on issues such as parking and grease interceptors according to the type, size and location of a restaurant.
"We hope we can get our city to act together," he says. "We'd love to be part of a seamless, workable solution. Restaurants are a net positive for any neighborhood, adding pedestrian life and encouraging the growth of new business."
Still, the going has been slow. Julie Wong, a representative with Garcetti's office, says it has taken more than a year to figure out how to merge the various processes that different departments have developed over decades. (Other states and municipalities have managed to streamline their systems, Garcetti says, including Utah, Rhode Island and Culver City.)
In L.A., however, the system has grown so unwieldy that it has given birth to an entire class of operators known as expediters. Eddie Navarrette is one such person. From his headquarters in a tiny downtown office above the Wonder Bakery, which looks out on the bustle of Chinatown's Central Plaza, "Fast Eddie" represents restaurant owners in dealings with the city.
'Permit specialist'
"Seventy percent of my clients have already signed a lease and are in some sort of trouble," says Navarrette, who handles the cases of 50 to 100 restaurants per year and calls himself a "permit specialist extraordinaire." He guides his clients through the maze of requirements and represents them at the right offices.
Navarrette believes that the root of the problem lies, in large part, with the number of cooks in the kitchen, but he also says there is a hierarchy of projects that is skewed toward helping big business. "Successful restaurants can pay lobbyists money, and these guys will take city officials to lunch," he says. "There should be the same type of assistance available to small business owners."
Navarrette gives the example of a small restaurant in Highland Park called Fidel's Pizza. It has been in business for more than 40 years, during which time the zoning for the lot it occupies was changed from business to residential. Recently, the county health department threatened to shut Fidel's down because it didn't have enough storage space. The elderly couple who own it built storage on the back and were then cited by code enforcement for building an illegal structure. Then they learned they had to apply for a zoning variance. If it goes on much longer, Fidel's may have to close, Navarrette says.
Another problem is what Navarrette and many business owners consider to be the arbitrary nature of certain inspectors' requests, and restaurant owners' confusion over the meaning of those requests.
Andrew Adelman, general manager of the Department of Building and Safety, points out that case managers are available to walk applicants through the process. "The [department] strives to be transparent," he says. "If an inspector makes a call that a contractor or business owner does not agree with, they can go to the supervisor of the inspector and get a second opinion."
Jill Bigelow, co-owner of a new, upscale downtown restaurant called Provecho, counters that her contractors were terrified of the inspectors and "were upset when I called those inspectors' bosses," fearing reprisal on other projects.
In Bigelow's office, six floors above her restaurant at 800 Wilshire Blvd., mountains of digital files and stacks of printouts catalog the multi-front battle that she, her developer and landlord, and her contractors fought with the city. The process extended the opening of Provecho by five months and cost "well into the six figures," although Bigelow declines to say how much. "In some ways, that's incalculable," she says.
She attributes her problems to a disconnect between approval of a restaurant's blueprints and the on-site inspection.
"We'd get plans approved, and build it according to the approved plans -- then the inspector would come and say, 'I don't like it that way, rebuild it,' " Bigelow says.
"They don't realize -- or it's not their problem -- that when you send a change back it goes through your engineer and your architect. They're seeing it from each little department they work for, and they're not seeing the whole picture."
Adelman, of Building and Safety, says inspectors approve what they see nearly 85% of the time. He says the two usual reasons for not approving a project are that it doesn't match the blueprints or it's not built in accordance with code. Adelman also says that if inspectors are going to ask for something not on the blueprints, they have to call their supervisor first to make sure it's appropriate.
Volume of cases
And if a certain amount of inflexibility occurs, that may be understandable, given the sheer volume of cases they deal with. The Bureau of Sanitation's Bond says his agency regulates all 10,000 food-service establishments in the city. And that agency is just a small cog in a giant machine.
Still, there are times when restaurateurs feel as if they're caught in some kind of Kafkaesque comedy. Bigelow says that one time, the plumbing inspector made her go to the industrial waste unit of the Department of Public Works to get approval for the restaurant's decorative water wall. ("I printed out the definition of 'industrial waste' and said, 'What part of this is industrial waste?' They finally begrudgingly said they didn't care about the water wall.")
Another time, the city insisted that the restaurant, in the heart of downtown, was located on top of a landfill. After much time and energy, she was able to prove that there had never been a landfill underneath the restaurant.
There were more last-minute issues: fire safety, plumbing and electrical. But what pushed the situation to the point of absurdity in her eyes was a health department inspector's demand that she tear out an already completed bathroom because, after eyeballing the dark-brown tiles, the inspector decided they didn't have the required reflectivity ratio, meaning a health inspector might not be able to tell whether they were clean enough. To avoid wrecking the bathroom, Bigelow had to remodel a bathroom on another floor of the building for the staff to use.
"How can a government agency pick your color scheme?" Bigelow asks.
---
The essential weekly guide to enjoying the outdoors in Southern California. Insider tips on the best of our beaches, trails, parks, deserts, forests and mountains.
You may occasionally receive promotional content from the Los Angeles Times.