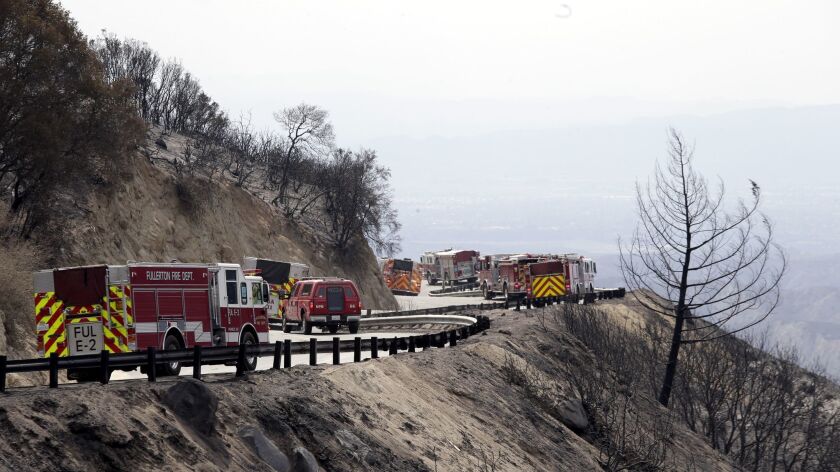 The Palm Springs Aerial Tramway reopened Monday after a four-day closure due to the Cranston fire. Visitors can once again ride the tram to a high point at Mt. San Jacinto State Park. However, back-country camping and wilderness trails remain closed.
As of Monday, only the short Desert View and Nature trails in Long Valley were open. The longer, popular route to the summit of 10,000-foot-plus Mt. San Jacinto remains off limits. Wilderness areas that hikers access from fire-damaged Idyllwild, where evacuation order were issued, also remain closed.
Also, Idyllwild and Stone Creek campgrounds are still closed to visitors.
The tram's Mountain Station at 8,500 feet closed Thursday and reopened 10 a.m. Monday. At the top, there are two restaurants, a bar, observation decks as well as theaters showing videos about the state park and construction of the tram.
Evacuation orders for mountain areas — Pine Cove, Fern Valley, Cedar Glen and parts of Idyllwild — have been lifted, the U.S. Forest Service said in a statement. The Cranston fire started Wednesday and grew to more than 13,000 acres; it was 82% contained as of late Monday.
Parts of California 243 and 74 in the area remain closed.
Authorities say nine separate fires were started in the Idyllwild area. Brandon N. McGlover of Temecula has been charged in the case. He has pleaded not guilty to 15 felony counts.
Info: Palm Springs Aerial Tramway, Mt. San Jacinto State Park
Twitter: @latimestravel
---