Dare to spend the night at a former hospital (or insane asylum?) in Jerome, Ariz.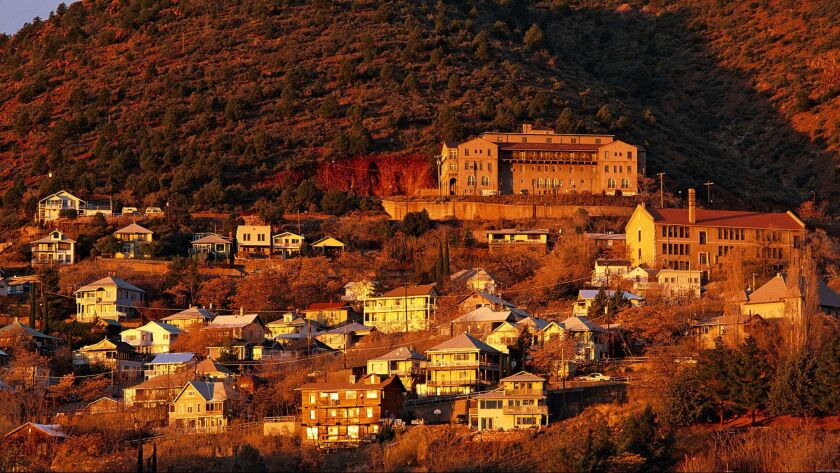 The winding drive into Jerome had me clutching the sides of my car seat while wondering how the town's ancient buildings remained standing on such startlingly steep slopes. Jerome, an atmospheric former copper mining town in central Arizona, is high anxiety, an acrophobe's nightmare. The cool town (population about 450), built in the 1800s, is packed with history and tales of rip-roaring saloons and bordellos. There are historical sites, including a red-light district known as "Husband's Alley," cute shops, galleries (today, Jerome is an artists' colony) and restaurants housed in the original buildings and an old hotel rumored to have been an insane asylum. The tab: Rooms at the Jerome Grand Hotel start at $165 a night; my husband and I spent $50 for lunch at the Asylum Restaurant and $14 for admission to Jerome State Historic Park.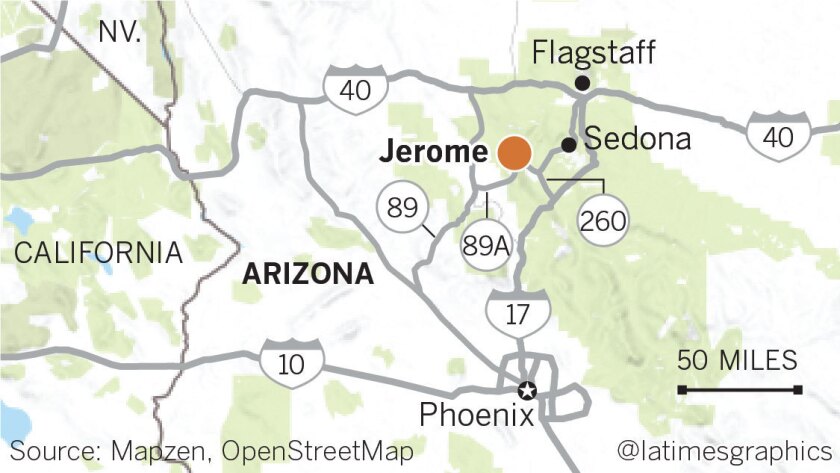 THE BED
It seems that talk of the Jerome Grand Hotel once being an insane asylum is just that — talk. But it's something to think about when you visit. It contributes to the character of the eerie lodging, originally a hospital that closed in 1950 and sat vacant until the 1990s when it became a hotel. Today it's a magnet for ghost hunters. Overnight guests report numerous incidents of ethereal figures and sounds that, well, spooked them. Parts of the hotel are firmly stuck in the past; the original Otis elevator still works, steam heat is used in some areas, and there's even a working telephone switchboard. The rooms have upgraded amenities: queen-size beds, satellite HD-TVs and Wi-Fi; there's a range of room types and sizes, some with view balconies.
THE MEAL
The good times continue at the hotel's Asylum Restaurant. It goes full tilt for the theme with such cocktails as the Screaming Bloody Mary, Mad House Margarita and Liquid Valium. We had a great bird's-eye view of Jerome and the Verde Valley below from our window table. Our meal included roasted butternut squash soup, a turkey sandwich with chipotle apricot chutney, and the veggie-loaded Gardening Naked Sandwich with Muenster cheese and ranch dressing on marble rye, all certifiably yummy.
THE FIND
Puscifer the Store is not your average tourist gift shop. It's a side project of rock star Maynard James Keenan (Tool) named after another of his side projects, the band Puscifer. The first floor has band merch (clothing, posters and accessories), and a barbershop and records are for sale downstairs. The adjacent Caduceus Cellars tasting room features wine from Merkin Vineyards, another Keenan side project.
THE LESSON LEARNED
The best way to orient yourself is to stop first at Jerome State Historic Park to visit its museum in the converted Douglas Mansion. Mining magnate James S. Douglas built it on a hill above his Little Daisy Mine in 1916. Highlights include a video presentation, a 3-D model of the town and its underground mines, and photo exhibits and mining artifacts. The picnic area has stunning views of the Verde Valley.
If you go
Jerome State Historic Park, 100 Douglas Road; (928) 634-5381. Open 8:30 a.m. to 5 p.m. daily. Admission $7 for ages 14 and older, $4 for ages 7-13.
Jerome Grand Hotel, 200 Hill St.; (928) 634-8200. Wheelchair accessible.
Asylum Restaurant, 200 Hill St.; (928) 639-3197. Wheelchair accessible.
Puscifer the Store, 140 Main St.; (928) 639-3516
Caduceus Cellars tasting room, 158 Main St.; (928) 639-9463
---
Get inspired to get away.
Explore California, the West and beyond with the weekly Escapes newsletter.
You may occasionally receive promotional content from the Los Angeles Times.