National parks saw a record-setting number of visitors last year. Were they too much of a good thing?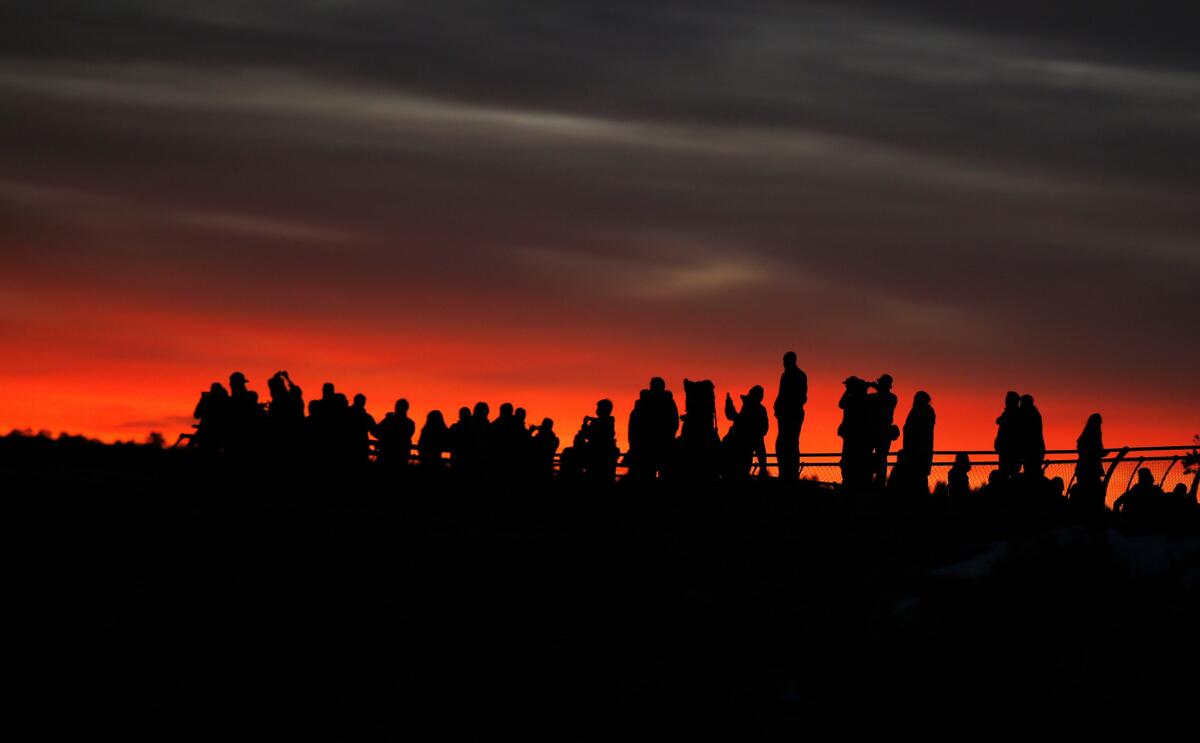 Death Valley, Joshua Tree, Sequoia and Yosemite national parks all set attendance records in 2016 — as did the park system nationwide, recording more than 330 million visits during its centennial year.
A new tally shows 330.97 million recreational visits to national parks last year, a 7.72% increase from the year before.
The Find Your Park marketing campaign, designed around the 100th anniversary of the NPS' creation, built on a five-year upswing in visitation nationwide, said Jeffrey Olson, a National Park Service spokesman.
In Yosemite, which has been counting visitors since 1906, rangers tallied 5.03 million last year. That broke the previous record of 4.15 million visitors in 2015.
In Joshua Tree, where counting began in 1941, rangers totaled 2.51 million visitors in 2016. That surpassed the previous record of 2 million in 2015.
In Death Valley, where visitors have been counted since 1933, rangers tallied 1,296,283 visitors, up from 1.15 million in 2015.
In Sequoia, where record-keeping began in 1906, rangers counted 1.25 million breaking the old record of 1.14 million in 1987.
The NPS' 2016 marketing effort included the Every Kid in a Park campaign, led by the White House, which set a goal of getting every fourth-grader in the U.S. to visit at least one park between Sept. 1, 2016, and Aug. 31, 2017.
Moreover, gasoline prices remained generally low, and many regions had mild springs and falls — "great park-visiting weather," Olson said.
Though the surge in visits spells good news for those eager to bring parks to a wider audience, the numbers also indicate uncomfortably large crowds at the most popular parks.
The park system includes more than 400 units, but for many years, Olson said, the 25 or 26 busiest parks (including Yosemite) have accounted for half of all national park visits.
In many of those parks, crowded trails, jammed parking lots and backed-up up traffic have been reported, especially in summer months.
Nationwide, the busiest park unit was the Blue Ridge Parkway, which covers 469 miles through Virginia and North Carolina. Rangers there counted 30.4 million recreational visits in 2016, far surpassing runners-up Great Smoky Mountains National Park (in North Carolina and Tennessee); Natchez Trace Parkway (in Alabama, Mississippi and Tennessee); and Gateway National Recreation Area (in New Jersey and New York).
The Grand Canyon drew 5.97 million visitors, its highest attendance in 97 years of record-keeping.
In other California national parks:
At Channel Islands, rangers counted 364,807 visitors, the most in 10 years but short of the early 2000s, when counts of more than 500,000 were common.
At Golden Gate National Recreation Area, which includes parts of San Francisco, Marin and San Mateo counties, rangers counted 15,638,777 visitors. That's the recreation area's biggest total since the 1980s (when every year was more than 16 million).
At Kings Canyon, where counting began in 1904, the 2016 tally of 607,479 was up from 468,106 in 2015 but well short of the park's many million-visitor years in the '70s, '80s and '90s.
At Pinnacles, where counting began in 1923, rangers tallied 215,555 visitors, up slightly from the year before but short of the 393,219 visitors it drew in 2011.
At Redwood, where counting began in 1971, rangers tallied 536,297 visitors, the park's biggest year since 1995.
ALSO:
12 adventures in America's national parks
America's country road, the Blue Ridge Parkway
Off-the-grid at Point Reyes National Seashore
Confronting our history and 'unspeakable acts' at the site of the Sand Creek massacre
christopher.reynolds@latimes.com
Follow Reynolds on Twitter: @MrCSReynolds
Get our L.A. Goes Out newsletter, with the week's best events, to help you explore and experience our city.
You may occasionally receive promotional content from the Los Angeles Times.