Here's what I found on America's favorite country road, the Blue Ridge Parkway
Reporting from THE BLUE RIDGE PARKWAY —
Here's how not to start a road trip.
First, at the Alamo rental car counter at Ronald Reagan Washington National Airport just over the line from Washington, D.C., discover that your driver's license is missing. Search and swear for two hours. Then find it in your left shoe.
Second, when the Holiday Inn clerk asks what brings you to town, tell him you're kicking off a big fall foliage road trip: all 105 miles of Skyline Drive in Shenandoah National Park in Virginia, then all 469 miles of the Blue Ridge Parkway in Virginia and North Carolina.
"You and 70,000 other cars," the clerk will say. "It's bad."
SERIES: Celebrating our national parks »
Third, get lost in Dismal Hollow.
That's how my Blue Ridge adventure began last October. Without giving away too much, I can tell you I did escape Dismal Hollow (outside Front Royal, Va.), and I didn't have traffic troubles.
Also, as a Californian, I must admit that Appalachian fall foliage is to California fall foliage as a full orchestra is to two oboes, a bassoon and some guy banging on a rusty triangle.
For four days I could almost hear the swelling violins as I zoomed under leafy canopies of red, orange and gold; hiked along creeks, lakes and ridge lines; listened to plenty of bluegrass and blues; and gave thanks to the National Park Service for bringing together so much beauty and so much blacktop.
Haw Creek Valley overlook along the Blue Ridge Parkway near Asheville, N.C. The parkway stretches 469 miles.
(Mike Belleme / For The Times)
The idea behind the Blue Ridge Parkway, authorized in 1936, was to sculpt an epic country road that would unfurl amid the knobs, hollows, notches and gaps of Virginia and North Carolina.
This view looks toward Linville Gorge near Marion, N.C.
(Mike Belleme / For The Times)
Linville Falls can be found on a short detour off the Blue Ridge Parkway in Linville, N.C.
(Mike Belleme / For The Times)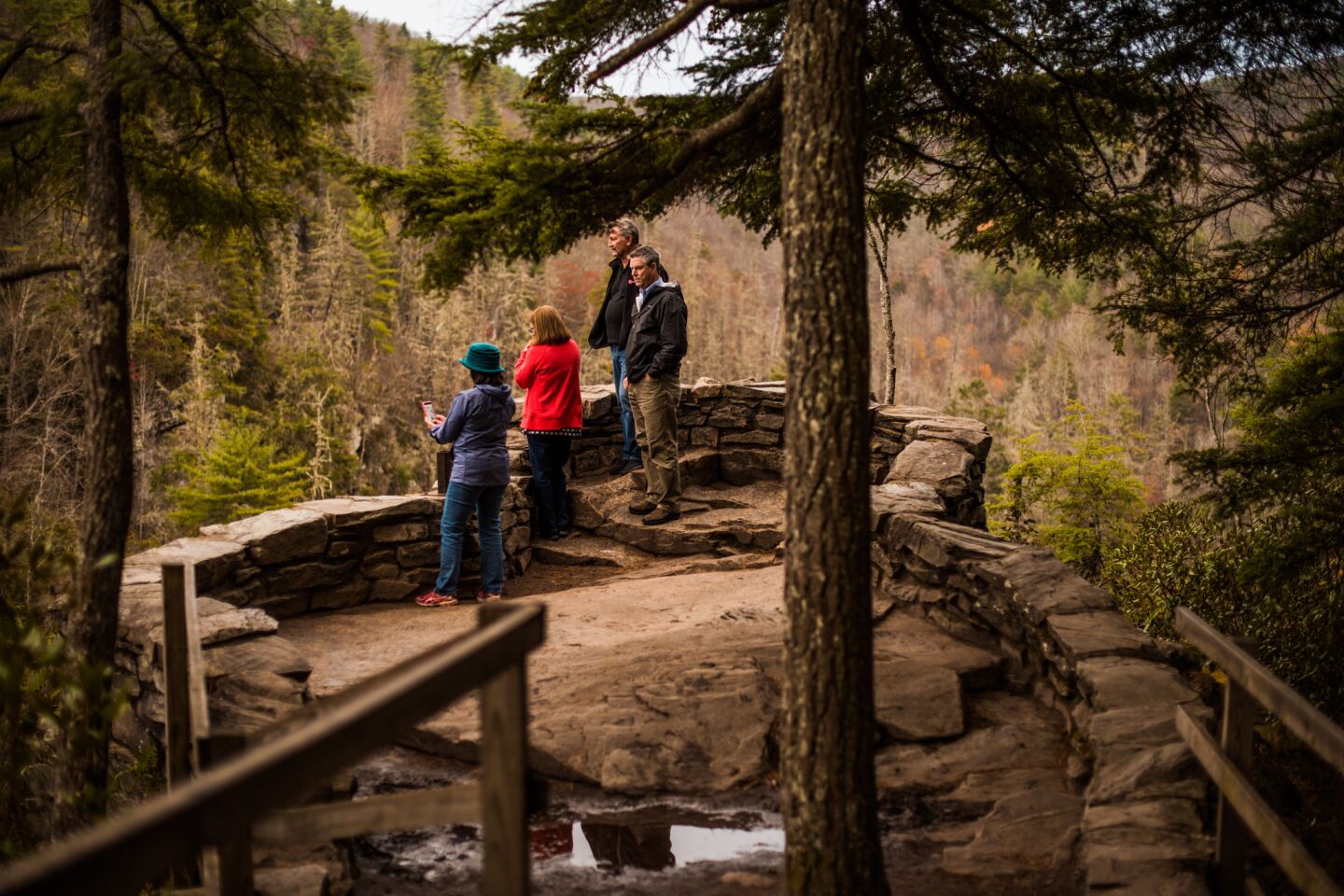 From left, Lisa Tami, Linda Widmer, David Widmer and Patrick Tami take in the view of Linville Falls in North Carolina.
(Mike Belleme / For The Times)
Deer roam along the Blue Ridge Parkway near Linville, N.C.
(Mike Belleme / For The Times)
Taylor Medlin of Raleigh, N.C., visits the Orchard at Altapass in Spruce Pine, N.C., to pick apples.
(Mike Belleme / For The Times)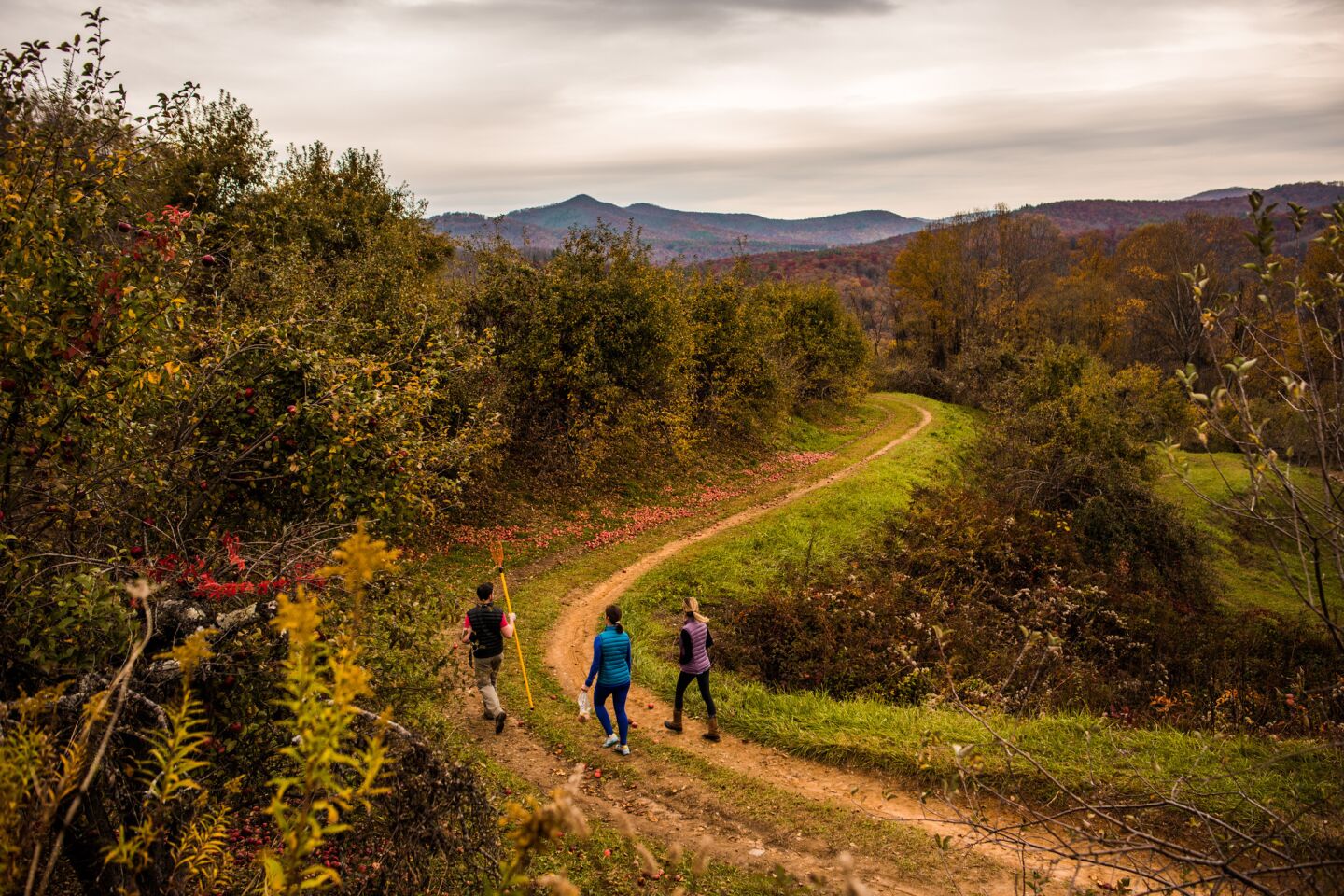 Visitors walk along a path at the Orchard at Altapass in Spruce Pine, N.C.
(Mike Belleme / For The Times)
Hikers hit a trail at Crabtree Falls near Marion, N.C.
(Mike Belleme / For The Times)
Laura Connor, center right, takes in the view of the Haw Creek Valley with her family along the Blue Ridge Parkway near Asheville, N.C.
(Mike Belleme / For The Times )
Fall colors paint the Blue Ridge Parkway.
(Mike Belleme / For The Times)
Abbott Lake, near Peaks of Otter Lodge, along the Blue Ridge Parkway, Bedford, Va.
(Christopher Reynolds / Los Angeles Times )
Abbott Lake, near Peaks of Otter Lodge, along the Blue Ridge Parkway, Bedford, Va.
(Christopher Reynolds / Los Angeles Times)
Linn Cove Viaduct, Grandfather Mountain, along the Blue Ridge Parkway in North Carolina.
(Christopher Reynolds / Los Angeles Times )
A shot of the Blue Ridge Parkway near Alligator Back, Cranberry, N.C.
(Christopher Reynolds / Los Angeles Times )
The Biltmore Estate in Asheville, N.C., is a popular stop near the Blue Ridge Parkway.
(Christopher Reynolds / Los Angeles Times )
Mabry Mill along the Blue Ridge Parkway in Meadows of Dan, Va.
(Christopher Reynolds / Los Angeles Times )
Inside Mabry Mill along the Blue Ridge Parkway at Meadows of Dan, Va.
(Christopher Reynolds / Los Angeles Times )
A section of the Blue Ridge Parkway in North Carolina.
(Christopher Reynolds / Los Angeles Times)
We don't consider road-building a prime task of the park service these days. But the NPS, born just eight years after the Model T, spent its first decades building some of the most gorgeous drives in North America.
Other NPS parkways that carry the "national" designation: George Washington Memorial Parkway (District of Columbia, Maryland and Virginia); Natchez Trace (Alabama, Mississippi and Tennessee); and John D. Rockefeller Jr. Memorial Parkway (Wyoming).
The Blue Ridge Parkway, authorized in 1936, has been all about the automobile from Day One.
Both the parkway and Shenandoah National Park were Depression projects intended to create jobs in a desperately poor region. For the parkway, the idea was to sculpt an epic country road, a black ribbon that would unfurl seamlessly amid the knobs, hollows, notches and gaps of Virginia and North Carolina.
The work took decades, but now the road's shoulders are graced with overlooks, its straightaways unsullied by billboards, commercial trucks or service stations. (There are also plenty of hiking trails along the route, including the 2,180-mile Appalachian Trail.)
To get gas or find most hotels, you exit the parkway and reenter the real world. The parkway speed limit is 45 mph, which means that when red leaves drift in the breeze or a deer pauses in a meadow, you're moving slowly enough to notice.
For most of the last 50 years, including 2015, the parkway has been the most-visited unit in the park system. Last year its rangers counted 15 million visitors, who spent an estimated $950 million.
The tourist tides seem to include more bicyclists every year, which is tricky on its narrow roads. October is as busy as the summer months, in some places busier.
Still, if you visit from California and you're lucky enough to be driving on weekdays, not weekends, the parkway is nice work.
Skyline Drive was my prelude. Light traffic. A bounding stag at Hog Wallow Flats. A treed bear at Bootens Gap. At Lewis Mountain, I checked out cabins that until about 1950 were set aside for "colored" visitors.
By 5 p.m., I reached Rockfish Gap, Va., where Skyline Drive ends and the Blue Ridge Parkway begins.
Milepost zero
The parkway rises, falls, bends and straightens, following the crest of the Blue Ridge Mountains with no commercial buildings or truck traffic, cushioned by a buffer zone of landscaping that alternates between narrow and wide, semi-wild and manicured.
Stanley W. Abbott, the Blue Ridge Parkway's first landscape architect and first superintendent, was in his 20s when he laid down the route details and guiding principles. He was looking for variety, he said, and "evidences of a simple homestead culture and a people whose way of life grew out of the land around them."
The scenes I glided through were not quite natural; they were more orderly than that. But they were unfailingly pretty. And the weekday traffic was light. (The Virginia part of the parkway has about half the traffic of the North Carolina part.)
At Milepost 86, soon after dark, I pulled off the parkway and checked in at the Peaks of Otter Lodge, at the edge of manmade Abbott Lake.
This 1964 hotel, full of modernist touches, is where you might film the very special "Waltons" episode in which the "Mad Men" guys show up. (It's also the only lodging on the parkway that's owned by the NPS and managed by concessionaire Delaware North.)
Instead of Don Draper and company, I encountered guitarist David "Alabama" Frank and fiddler Nancy Reid, who filled the Lake View Dining Room with rustic ballads and blues.
The next morning was even better. In the chilly early hours, I prowled the edge of Abbott Lake with my camera, hunting vivid leaves and reflections in the still water.
There are more than 100 species of trees along the parkway. Beech, birch, chestnut, dogwood, elm, fir, hickory, maple, oak, sassafras, walnut, and on and on.
Milepost 165
At Tuggle Gap, about Milepost 165, I made a little detour — six miles west — because I had a hunch about the town of Floyd, Va. (population 425). Or, as one local sign would have it, the Republic of Floyd.
This was a good move.
Floyd is tiny but artsy and lively, with coffeehouses, art galleries, a farmers market and especially the Floyd Country Store (wood floor, tin ceiling), which offers home goods, sandwiches, books, music lessons, a pulse-quickening inventory of Appalachian CDs ("Flatt & Scruggs at Carnegie Hall") and live acts on weekends. The store's Friday Night Jamboree, a four-hour acoustic music session, costs just $5.
Traditional music "is probably what saved the town and kept it alive through the hard times," Avis McCutchan, owner of Notebooks, just downstairs from the Black Water Loft coffeehouse, told me.
And that's just one measure of the music's power. After a quick stop at Mabry Mill, whose working waterwheel at Milepost 176 might be the most photographed spot on the parkway, I reached the Blue Ridge Music Center in Galax, Va. There, at Milepost 213, I was just in time to catch Bill and Maggie Anderson singing and picking "Wildwood Flower" on Dobro and guitar.
In the building next door, an NPS interpretive team had laid out a series of exhibits to tell the story of Appalachia's musical heritage, including the long-ago arrival of English, Irish, Scottish, Welsh and African influences (the banjo, for example, was an African contribution) and Bill Monroe's creation of the bluegrass genre in the 1940s.
Ranger Janet Bachmann told me how a music lover named Joe Wilson (who died in 2015) crusaded for creation of the Music Center and promoted the Crooked Road, a trail of traditional music venues in Virginia that includes Floyd and Galax.
You can find a jam session "every night of the week" within 20 miles, Bachmann told me.
From Galax it's about two hours to Blowing Rock, N.C., a sophisticated tourist town at Milepost 292 that's built around a jutting rock atop a cliff where the wind blows hard and often. Just so you know, people who live in Blowing Rock are known as Blowing Rockers.
Blowing Rock is where I spent my second night on the parkway. And it's where, standing in the motel lobby, I had no choice but to hear my host berating his mother over the miserable behavior of her grandchildren (his kids).
The expletives flew. First chance I got, so did I.
Milepost 294
At Milepost 294, I browsed the Moses Cone Manor House, a.k.a. Parkway Craft Center, a 1901 textile baron's 13,000-square-foot mansion now run as a regional art and craft gallery. It's surrounded by 3,600 acres of parkland, but the parking lot is gridlocked on some October days.
At Milepost 304.4, I scrambled up a boulder to better appreciate the last piece of the Blue Ridge Parkway puzzle: the elegantly curving Linn Cove Viaduct, which was completed in 1987.
At Milepost 316, I hiked into a deep, rocky gorge and got my feet wet at Linville Falls.
Now I was heading into the busiest stretch of the parkway, the area around Asheville, N.C., where rangers counted 42,520 vehicles passing through in October, the month of my visit — almost three times the traffic tallied at the Peaks of Otter.
It was easy to see why. I happened to hit this stretch within a few days of peak color. In the hour before sunset, about Milepost 360, the scene turned surreal as the road carried me through tree tunnels of flowing orange and flaming red, then luminous yellow-green.
At Milepost 382 (about five miles outside Asheville) is the Southern Highland Folk Art Center, with more quality and less quantity than the craft center at Milepost 294, I thought.
At Milepost 384, there's a big Blue Ridge Parkway Visitor Center, where volunteers gave me good itinerary advice.
In Asheville itself, you may be overwhelmed with urban options, beginning with its prosperous downtown and burgeoning restaurant scene.
I had dinner at the Smoky Park Supper Club, a strikingly modern structure built from 19 shipping containers in a formerly grim, industrial part of the city at the edge of the river. While I sat there, two of the restaurant's first kayak customers paddled up.
The city's biggest tourist ticket is the Biltmore Estate, which you can tour for $55-$75 per adult, depending on how far ahead you book and the day of the week.
I spent the night at the Asheville Holiday Inn and was at the Biltmore Estate when it opened at 8:30 the next morning. (It was 43 degrees, but who's counting?) Even before you get to the château-style mansion's 250 rooms, the 8,000 acres of grounds may amaze you.
It was gorgeous, all right. And it was good to be reminded that Frederick Law Olmsted was at the apex of his career when he designed these grounds in the late 19th century, having shaped the landscapes of Central Park and Stanford University. All the more reason to appreciate Stanley Abbott.
87 miles to go
Once you're done with the Biltmore Estate, you're just 87 miles from the end of the road.
Now, here's how not to end a road trip:
On the last day, after covering 87 miles of parkway, push yourself to cover 170 more miles to the Atlanta airport. With a final sprint into the teeth of that city's rush hour, you might make your 6:35 p.m. flight. Or not.
For hours, the resolution was in doubt. Around noon I passed Mt. Pisgah. About 1 p.m., I crossed the Oconaluftee River, which signals the end of the parkway and the beginning of Cherokee, N.C.
Suddenly, the roadside was alive with commerce — a mini-golf course, factory outlets, boiled-peanuts-for-sale signs. Then came four hours of untamed southwestern North Carolina and northern Georgia, including a wrong turn or two. I made the airport with 15 minutes to spare.
RELATED: What to know and where to go on your Western road trip »
During that white-knuckle day I realized several things:
►If you want time to relax and improvise, a Blue Ridge drive needs at least seven days, not the four I gave it.
►The greatest roadside peril may be in the parkway's overlooks and turnouts, where drivers do a lot of improvising in close quarters. Navigate those ins and outs with great care.
►I'd have had fewer headaches if I had reversed my itinerary and done most of the driving in the morning. Driving from northeast to southwest in late afternoon, I found myself squinting through overmatched sunglasses into the low, bright sun.
►Mid- to late October is prime time for Appalachian foliage. But there's no point obsessing over when leaf-peeping will peak. The weather will vary. Different species of trees will turn at different times. And trees will turn first at highest altitudes (such as Mt. Pisgah, N.C., 6,047 feet above sea level).
After a few billion leaves, they do begin to look alike. But don't worry. Other things will stay with you. My stop at Milepost 323, for instance.
That's Bear Den Overlook, where I ran into Dan Vance, age 83, wearing a white hat and a big grin. He stood by a low wall, looking out over the valley. He lived a few miles away, he said, and was on the way home with a tub of Kentucky Fried Chicken in the car.
"Don't get no prettier than this," he said. "See the white building right-cheer They dance on weekends. And clog."
I told him I liked the sound of that, but it was time for me to go.
"Take your time," he told me. "Don't be in no hurry."
Tips for visitors
How to get here. Airports in Richmond, Charlottesville and Roanoke, all in Virginia, are within 100 miles of the parkway's northeastern part. If you'd rather aim for the southwestern portion of the parkway, North Carolina's Greensboro, Charlotte and Asheville airports are similarly close. To make your road trip longer and more scenic, fly into Ronald Reagan Washington National Airport in Arlington, Va., 70 miles east of Front Royal, Va. Once at Front Royal, drive the 105-mile Skyline Drive through Shenandoah National Park, then drive the 469-mile Blue Ridge Parkway. Driving the parkway is free no matter where you start.
Accessibility: If you can get into a vehicle and look out the window, the parkway will work for you.
How to visit: You'll probably need a rental car. I picked up an Alamo car at Reagan airport, dropped it off five days (and about 800 miles) later at the Atlanta airport and paid about $520, with no drop-off fee.
Sleep: Peaks of Otter Lodge, 85554 Blue Ridge Parkway, Bedford, Va.; (866) 387-9905. Rooms for two as low as $119 a night in summer, $159 in October. Weekends book up fast.
Eat: Smoky Park Supper Club, 350 Riverside Drive, Asheville, N.C.; (828) 350-0315. A hip restaurant made out of shipping containers. Main dishes $15-$28.
Tour: Biltmore Estate, Asheville, N.C.; (800) 411-3812. Adult admission $55-$75, depending on day and season, advance purchase.
More info: Blue Ridge Parkway and Blue Ridge Parkway Assn.
Seasonal Blue Ridge Parkway foliage and flower report: (828) 298-0398, option 3.
Fall leaf viewing
The best time to visit is usually mid-October for fall color, but it depends on the weather and your altitude. (Leaves change earlier at higher elevations.).
NPS spokeswoman Leesa Sutton Brandon in Asheville, N.C., said much of August was hot and dry — conditions that, if they persist, could dull fall colors.
But she also said the parkway's varied altitudes mean that throughout October, there's almost always good leaf-peeping somewhere on the route.
Blueridgeparkwaydaily.com, a good source of tips for photographers, advises that "dogwood, sourwood and blackgum trees turn deep red in late September.
"Tulip trees and hickories turn bright yellow, sassafras a vivid orange, and red maples a multitude of colors. At the end of the season, oaks add russet and maroon."
The pines, hemlock, spruce and fir remain green.
Follow our adventures: Facebook | Twitter | Pinterest
Follow Reynolds on Twitter: @MrCSReynolds
See travel videos by Reynolds from around the world.
MORE NATIONAL PARKS
Think you know the Statue of Liberty? Think again
Discover our desert national parks and rediscover yourself. You can start with Joshua Tree
Unplugging at Point Reyes National Seashore, home to a famous lighthouse, pristine beaches and off-the-grid peace
Get our L.A. Goes Out newsletter, with the week's best events, to help you explore and experience our city.
You may occasionally receive promotional content from the Los Angeles Times.