Big power play for Putin: Government shake-up and proposed constitutional changes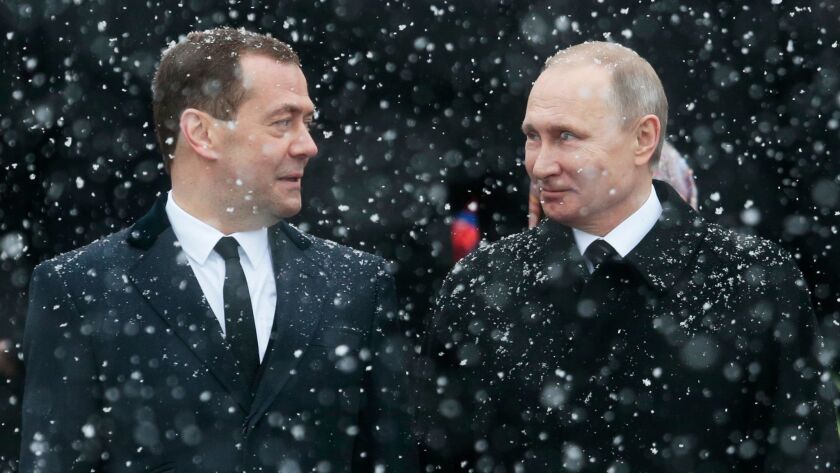 MOSCOW —
Keeping the top Kremlin perch for two decades is no easy feat. But Russian President Vladimir Putin made it clear Wednesday that he has his eye on an even longer game.
In his annual state-of-the-nation address, Putin called for sweeping constitutional changes that could ultimately consolidate his long-term grip on power — a dramatic step that was swiftly followed by the resignation of the prime minister and his entire government.
Analysts widely read the Russian leader's proposals — which would include an expansion of parliamentary powers and other significant shifts of authority among branches of government — as a maneuver to ensure that Putin's influence will not end when his presidential term does, four years from now.
"Here's Putin's opening move for staying in power past 2024: changing the constitution, which has always been the most straightforward path of least resistance," Alina Polyakova of the Brookings Institution wrote on Twitter.
Putin accepted the resignation of Prime Minister Dmitry Medvedev and appointed him to a newly created position: deputy head of the National Security Council, which oversees the country's powerful security apparatus. The president nominated as Medvedev's replacement a relatively low-profile bureaucrat, Mikhail Mishustin, who for the last decade has served as the head of the Tax Service.
Putin previously made Medvedev, 54, his partner in a pas de deux that allowed the Russian leader to maintain his authority in the face of term limits or other constraints. In 2008, Putin reverted to prime minister, with Medvedev elected as president, but Putin continuing to wield real authority. Then, when they swapped jobs again in 2012, the power again flowed to Putin.
The effects of Wednesday's shake-up were seen by many observers as far-reaching, but also somewhat nebulous, at least for the moment.
Sam Greene, who directs the Russia Institute at King's College London, called it an "exercise in keeping all options open" for the Russian leader.
"The debate over the constitution will almost inevitably devolve into a debate about Putin," he wrote in a post on his Moscow-on-Thames blog. "Institutions and roles and provisions will be defined with a particular occupant in mind."
But few believe that the 67-year-old Putin, a wily onetime KGB officer who has been in power for two decades, would allow himself to be pushed aside or his powers prematurely diminished. What's not clear is exactly how he will ensure that does not happen.
"The million-dollar question is what has prompted him to do this, and how does he create a position to extend his rule?" said William E. Pomeranz, deputy director of the Kennan Institute at the Wilson Center, a Washington think tank.
The president's actions, he said, show that "Putin wants to remain in control of the process, and he wants to have time to implement the changes so that if something unforeseeable happens, he still has time to fix it."
The top-level changes came hours after Putin made the annual address to his Cabinet ministers, members of Russia's parliament and regional leaders — a lengthy and often-somnolent affair that was far more attention-getting this year.
The broad changes outlined by Putin would give the State Duma, or parliament, the right to name prime ministers and Cabinet members. Currently, the Russian president appoints the prime minister and his Cabinet, while the Duma votes on whether to approve them.
The Russian leader also called for expanding the powers of a relatively obscure advisory body called the State Council, which Putin heads. Some analysts suggested he could make that a new base of power once he is out of office — a maneuver similar to one by former Kazakh President Nursultan Nazarbayev.
Nazarbayev stepped down last year as president but remained head of the Security Council, allowing him to retain authority in a different capacity.
Putin promised to put the proposed changes, which he said would be "key to the progressive development of society," to a popular vote.
The Russian Constitution restricts presidents to two consecutive terms. Putin's remarks largely put to rest rumors sparked last month during his annual marathon news conference when he suggested that wording in the constitution — on the president being limited to serving two terms "in a row" — could be changed.
With Wednesday's proposals, Putin has launched his version of the transition of power, said Alexei Makarkin, the deputy director of the Center for Political Technologies, a think tank in Moscow. It also gives the Russian leader the ability to point to upcoming reforms to quell public signs of discontent, he said.
"The Medvedev government was unpopular due to pension reform and a stagnant economy," Makarkin said. "Putin has a calculation that the new government will become popular." That in turn would give the Kremlin a chance to put forth a well-liked but malleable prime minister as a presidential candidate later.
Putin's power-shift proposal comes after a series of large anti-government protests during the summer in Moscow and other cities. Demonstrators objected to the Central Election Commission's refusal to register opposition candidates in September's regional elections, most notably in Moscow's city council.
Police arrested and beat thousands of demonstrators. Russian courts later sentenced about 20 protesters to jail for mass rioting and other charges.
The protests showed growing frustrations in Russia over a lack of tolerance for political expression and accusations of government corruption. Russia's economy has stagnated under lower global oil prices and the impact of Western sanctions imposed after the Kremlin annexed Ukraine's Crimean peninsula in 2014. Russians are feeling the economic pinch as inflation rises and real incomes decline.
"It looks very much like Putin is preparing to leave the presidency (whether that will take place in 2024 or even earlier), and is currently trying to create a safety mechanism for his successor in case of conflict," Tatiana Stanovaya, an analyst and founder of the think tank R.Politik, wrote on her Facebook page. "At the same time, he is getting rid of Medvedev, who has become toxic for the elite and the population at large — this should make the transition period smoother."
Special correspondent Ayres reported from Moscow and Times staff writer King from Washington.

---
Must-read stories from the L.A. Times
Get the day's top news with our Today's Headlines newsletter, sent every weekday morning.
You may occasionally receive promotional content from the Los Angeles Times.