Asia's newest drug war leaves more than 90 people dead in less than two weeks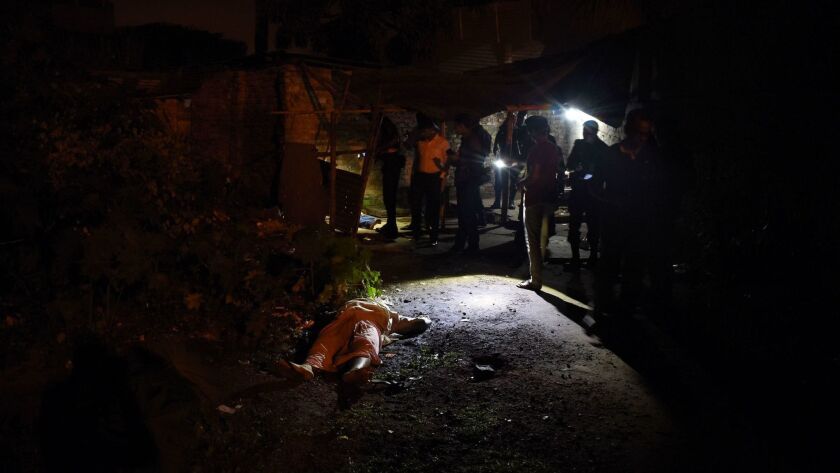 Reporting from Dhaka, Bangladesh —
A sweeping crackdown on alleged drug dealers has left at least 91 people dead in less than two weeks in Bangladesh, sparking fears of a Philippines-style "drug war" marked by extrajudicial killings.
Most of the deaths have occurred in what the Bangladeshi news media have referred to as shootouts or gunfights, although the families of several people killed have said they were arrested by police and died while in custody.
Since the operation began May 15, the death toll has ticked higher every day, the names and whereabouts of those killed filling newspaper columns but with few details of the evidence against them. Odhikar, a human rights advocacy group, said Sunday that it had counted 91 people killed in 13 days.
"There seems to be no end in sight," began a front-page story in the Daily Star, a leading English-language paper.
Many of the dead appear from news accounts to be small-time addicts and peddlers killed in cities and far corners of the country, sometimes accused of carrying small stashes of drugs and light weapons.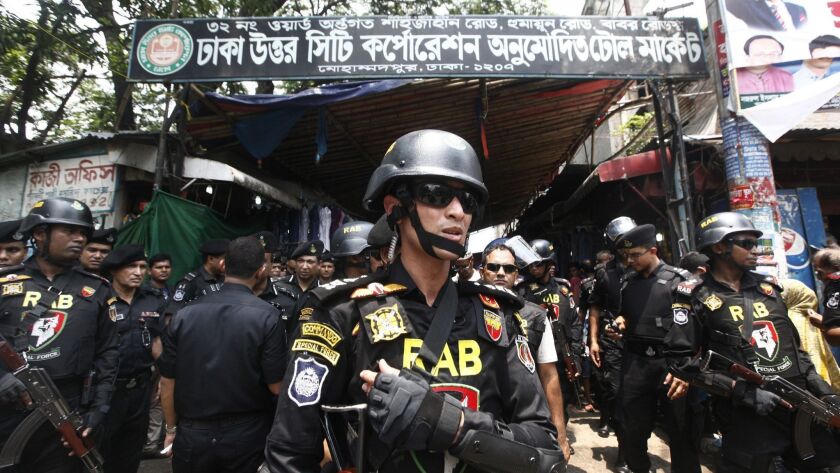 One was 35-year-old Kamrul Islam, described by his wife as a former drug seller who left the trade 10 years ago and was earning a meager living running a food stall at a bus station in Dhaka.
His wife, Taslima Begum, who lives with her parents while Islam worked in the capital, said in an interview that his phone had been switched off since Wednesday. When relatives went to look for him at the food stall, they were told he'd been picked up by plainclothes officers.
On Friday, Begum learned from television news that Islam had been killed in what was described as a shootout with members of the Rapid Action Battalion, or RAB, the elite counterterrorism squad leading the operation.
"After we got married, my husband left his previous lifestyle. I know that he is completely innocent now," she said.
The drug war is the latest severe move by Prime Minister Sheikh Hasina's increasingly authoritarian government, which has faced criticism for stifling journalists, jailing political opponents and allowing law enforcement agencies to detain, torture and kill suspected Islamist militants.
By denying drug suspects due process, it has drawn comparisons to President Rodrigo Duterte's notorious drug war in the Philippines, a shoot-to-kill campaign that has left more than 12,000 people dead in two years. Bangladeshi authorities have denied carrying out extrajudicial killings.
In launching the crackdown this month, Hasina invoked her anti-terrorism policies – the toughest of which were implemented after a 2016 attack on a Dhaka cafe that killed 23 people – and said that no offender would be spared.
"We will rescue the country from the clutches of drugs just as we did in clamping down on militancy," she said.
Although Hasina's government has not echoed some of Duterte's most violent rhetoric – the Philippine leader once said, "Shoot [the drug dealer] and I'll give you a medal" — some officials have called for a zero-tolerance policy.
One police official wrote on his Facebook page that authorities should "take the law into our own hands" and suggested punishing drug peddlers by pouring feces on their heads. (He later clarified that he wasn't speaking literally.)
Bangladeshi police estimate that 7 million of the country's 160 million people are addicted to drugs, most commonly yaba, a pill that contains caffeine and methamphetamine. Although the drug is not produced in Bangladesh, authorities say that more than $40 million worth of yaba pills enters the country every year from neighboring Myanmar.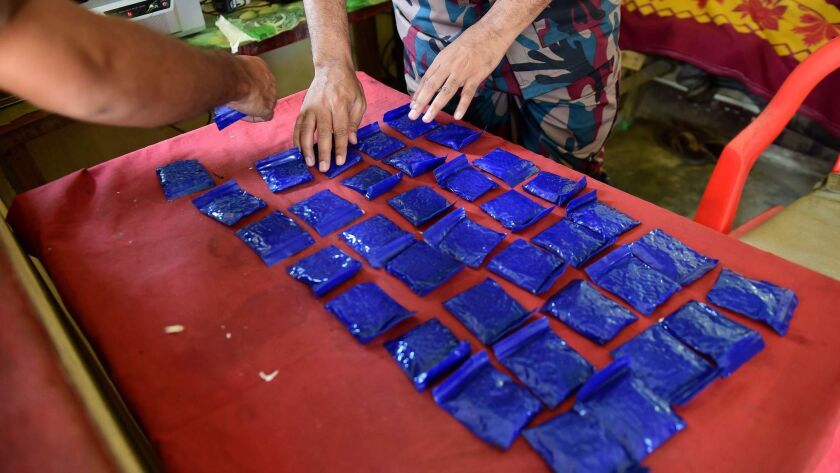 Bangladesh has adopted a tougher stance against yaba since last summer, when hundreds of thousands of Rohingya Muslim refugees began streaming into the country to escape deadly attacks by Myanmar security forces. Officials have arrested hundreds of refugees, or traffickers posing as refugees, on drug-related offenses.
Domestic and international human rights groups say the government is sweeping up minor offenders while ignoring the leaders of smuggling networks, including government and security officials believed to be involved in the trade.
"Instead of taking effective measures to clean up law enforcement and patronage networks and go after the kingpins, they have suddenly started this war against the little ones," said Badiul Alam Majumdar, a human rights activist and co-founder of Shujan, a civil society organization.
"Anybody could be picked up tomorrow and branded a drug pusher. No one is safe if there is no rule of law."
Media reports say that thousands have been arrested. On Saturday morning, hundreds of RAB personnel raided the Geneva Camp neighborhood in Dhaka, a cramped warren of concrete tenements and shops, going house-to-house with drug-sniffing dogs.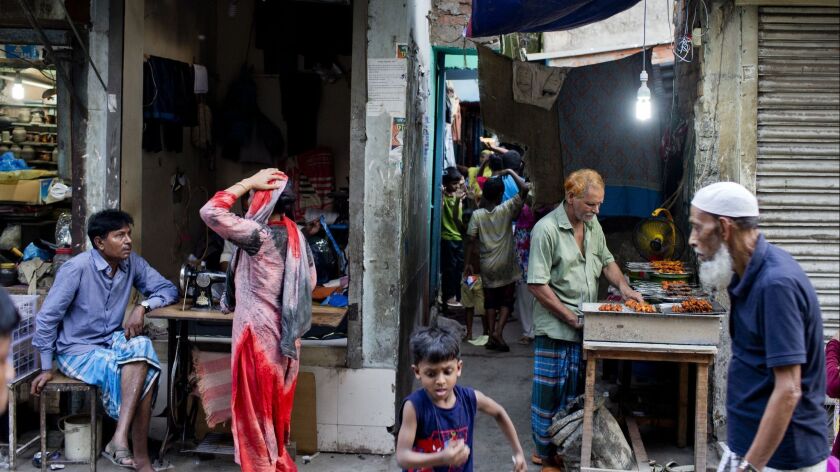 Mohammad Saeed, a 42-year-old cook, was standing outside a public bathroom when he was arrested, he said Sunday. He was released a few hours later without being questioned, but only after he was made to sign two blank sheets of paper.
"Who knows if that will be used against me in the future," Saeed said. "People are scared."
Mohammad Raju, 25, said his older brother Tajun was arrested in the sweep and within hours sentenced to six months in prison by a "mobile court," a fast-track legal process that affords defendants few protections. He said that Tajun, a 30-year-old electrician with a wife and two kids, was not a drug user.
"We support getting rid of drugs," Raju said. "But the government should be careful that innocent people don't suffer."
Hasina's government came to power in 2009 pledging to end Bangladesh's long history of human rights abuses by law enforcement, but advocacy groups say the violations have increased. From January 2009 through last month, Odhikar recorded 429 cases of enforced disappearances and 1,528 extrajudicial killings.
New York-based Human Rights Watch has described RAB, in particular, as a "death squad" and called for it to be disbanded.
"So terrible is the record of security forces like RAB and others that 'crossfire' has become a widely accepted euphemism for extrajudicial killings," said Meenakshi Ganguly, Human Rights Watch's South Asia director. "Bangladesh authorities, regardless of the party in power, have denied such violations and refused to ensure accountability. There should be an impartial investigation into the recent killings, and if there is a violation by a member of the security forces, they should be held to account."
Special correspondent Syed Zainul Abedin contributed to this report.
Shashank Bengali is South Asia correspondent for The Times. Follow him on Twitter at @SBengali
---
Must-read stories from the L.A. Times
Get the day's top news with our Today's Headlines newsletter, sent every weekday morning.
You may occasionally receive promotional content from the Los Angeles Times.