Here's who carried out the Bangladesh attack: Mostly students from middle-class families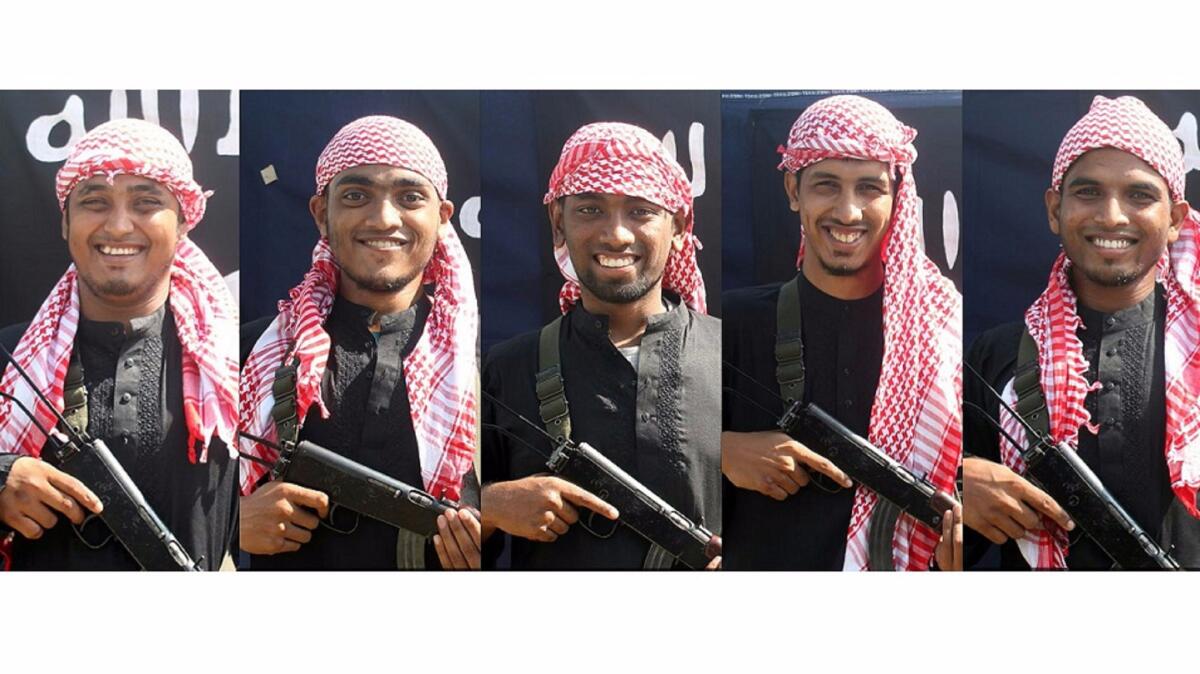 Reporting from Dhaka, Bangladesh —
Rohan Imtiaz epitomized Bangladesh's new urban middle class. The son of a politician, he was a business student at one of the best private universities in Dhaka. His future appeared bright.
But when his parents returned Jan. 1 from a medical visit to India, Imtiaz was missing. Although his father, S.M. Imtiaz Khan Babul, a mid-level official in the governing Awami League party, filed a police report and met with various law enforcement agencies, six months passed with no trace of his son.
Imtiaz finally surfaced over the weekend in a shocking way: He was identified as one of five suspected Islamist radicals who stormed a Dhaka restaurant, took patrons hostage and methodically killed 23 people, most of them foreigners, in an attack that was claimed by Islamic State.
"Rohan rarely used to get free time from his studies to do anything," said a woman who answered the door at the Imtiaz family's home in Dhaka and identified herself as his aunt. "We just don't know when someone else motivated him to do this."
The deadliest assault by far in more than a year of militant violence in Bangladesh has sent this South Asian nation of 160 million reeling, not only over its brutality but also over the identities of the suspected killers — mostly middle-class, educated men in their 20s who did not outwardly seem prone to radicalism.
Bangladeshi officials said Tuesday that they had identified the five suspects who were killed in the attack, describing them as members of banned domestic Islamist radical organizations. Their names were first reported after the Amaq news agency, which is affiliated with Islamic State, released photos of the men following the attack, allowing friends to identify them on social media.
Authorities, who also released photos of the deceased suspects from the crime scene, said their families were notified as of Tuesday.
"They are all Bangladeshis," Home Minister Asaduzzaman Khan Kamal said.
According to the reports, most belonged to well-off families and studied at some of the city's top Western-curriculum schools before going missing earlier this year. They were said to have frequented restaurants such as the Holey Artisan Bakery in the upscale Gulshan section of the capital, which was packed Friday night with Bangladeshi and expatriate diners during the Muslim holy month of Ramadan.
One was a chef at the restaurant, identified as Saiful Islam Chowkidar by a co-worker who escaped the siege and spoke to reporters.
Chowkidar's wife, who is seven months' pregnant, said he had spent 10 years in Germany before returning to Bangladesh and had been working at the restaurant about one and a half years, the daily Amader Shomoy reported Monday.
As authorities question family members and some of the hostages who were freed when army commandos raided the restaurant Saturday morning, the backgrounds of the young men offered insight into the reach of Islamic State's extremist propaganda.
"If you look at the profiles of many militants, those who have gone from Europe or Canada or the U.S. to fight [with Islamic State] in Syria, many if not most have come from middle class, established families," said Ali Riaz, a professor at Illinois State University who studies radical Islamism in South Asia.
Meer Same Mubashher, 18, went missing Feb. 29 from his home in the Gulshan area of Dhaka, authorities said. His father, Meer Hayet Kabir, filed a missing persons report. During the investigation, police found security camera video showing Mubashher, who was believed to be going to see his private tutor, leaving his car during a traffic jam, the Prothom Alo daily newspaper reported.
Another suspect was identified through social media as Nibras Islam, described as a young man from an upper-class family who studied computer science and played for his university's soccer team.
Bangladesh police said another gunman, Shafiqul Islam Uzzal, 25, hailed from the northern district of Bogra. Local media reported that he had left home six months ago for an Islamic proselytizing mission, and his parents identified him after they were shown photographs.
The attack killed nine Italians, seven Japanese, one Indian, three Bangladeshis and one Bangladeshi-born American citizen. Two Bangladeshi police officers also were killed.
Witnesses said several smartly dressed men in their 20s, all of whom were believed to be Bangladeshi, entered the restaurant with a burst of gunfire. They appeared to single out non-Muslims, telling one Muslim patron, "You people don't have to be afraid."
Army commandos rescued 13 hostages from the restaurant after killing five gunmen. One suspected attacker survived and was in custody, police said.
It was by far the most complex militant attack in Bangladesh, following more than a year of targeted killings of secular writers, gay activists, foreigners and religious minorities. More than two dozen of the attacks were claimed by Islamic State or Al Qaeda. The Bangladeshi government has blamed the violence on homegrown Islamist radicals and has downplayed the threat that they could be inspired by international organizations like Islamic State.
"The government is determined to stop militancy," Kamal said, adding that "there should be a social movement involving everyone in the country" to tackle the problem.
Critics say Prime Minister Sheikh Hasina's government has accelerated a crackdown on Islamist opposition politicians, media organizations and human rights groups, creating a climate that encourages radicalism.
Odhikar, a leading Bangladeshi human rights group, issued a statement Tuesday saying "that a regime that denies human rights of its citizens, [gags] freedom of speech… and does not cease torture, extra-judicial killings and enforced disappearances… will inevitably trigger a counter-reaction."
Special correspondent Khan reported from Dhaka and Times staff writer Bengali from Mumbai, India.
ALSO
Islamic State shifts strategy from building territory to spreading terror worldwide
'We came here to kill the non-Muslims,' gunmen told Bangladesh hostages
Turkish officials identify two of three suicide bombers in attack at Istanbul airport that killed 44
Sign up for Essential California for the L.A. Times biggest news, features and recommendations in your inbox six days a week.
You may occasionally receive promotional content from the Los Angeles Times.