Brown's first stops in China are in cities that look a lot like California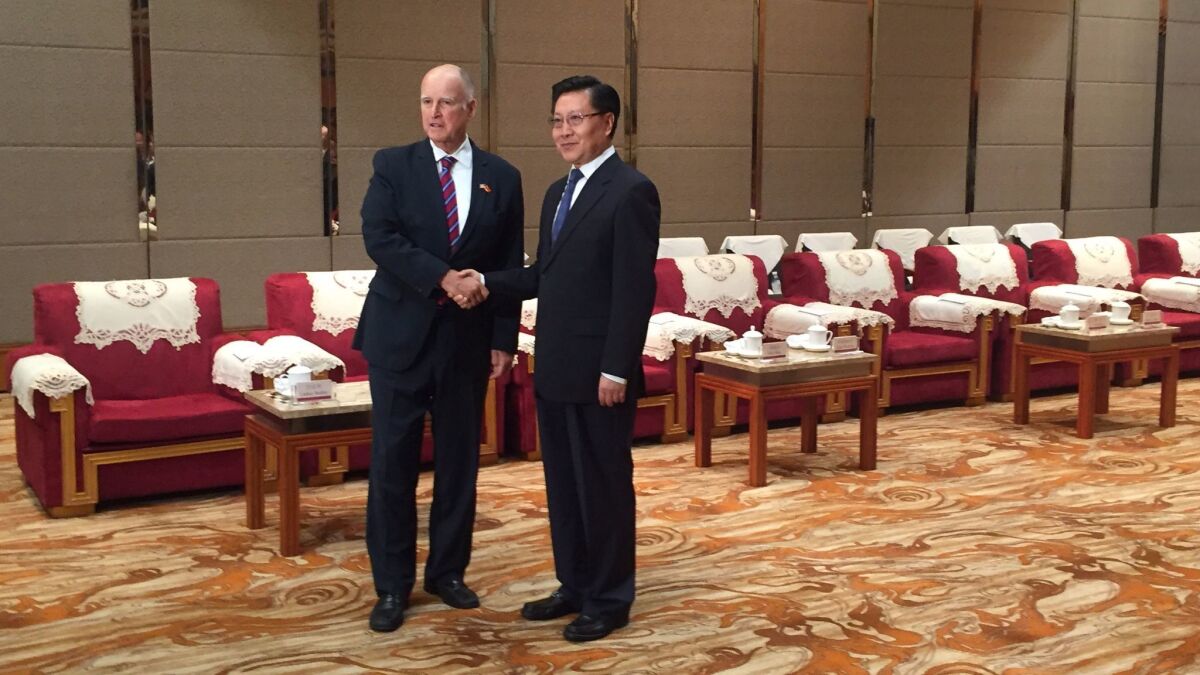 Chengdu, China —
A shaded promenade traces the river in this southern Chinese city that — when the smog blows away — fills with couples dancing to the sunrise. Nearly 900 miles east, leafy boulevards and mountainside parks cover the former imperial capital of Nanjing.
The first two stops on Gov. Jerry Brown's China tour are places that envision themselves as California sees itself — progressive and green.
Brown's meetings began Sunday in the Sichuan provincial capital of Chengdu, part of a weeklong trip hinged on his mantra of climate change collaboration. Sichuan's rivers and steep terrain have helped make it a hub for hydropower. Nanjing's Jiangsu province, which he will visit on Monday, aims to position itself as a leader on renewable energy.
These local stops take on greater significance amid President Trump's decision Thursday to pull the U.S. from a historic Paris climate accord led by China and the Obama administration. Officials are reinforcing regional partnerships — with the economic links they provide — in a quiet effort to ensure continued ties.
"As I see many problems in the world, many tensions and disruptions, I see a growing importance of partnerships such as the one we are building," Brown told Sichuan Communist Party Secretary Wang Dongming, as the two regions prepared to sign a sister agreement.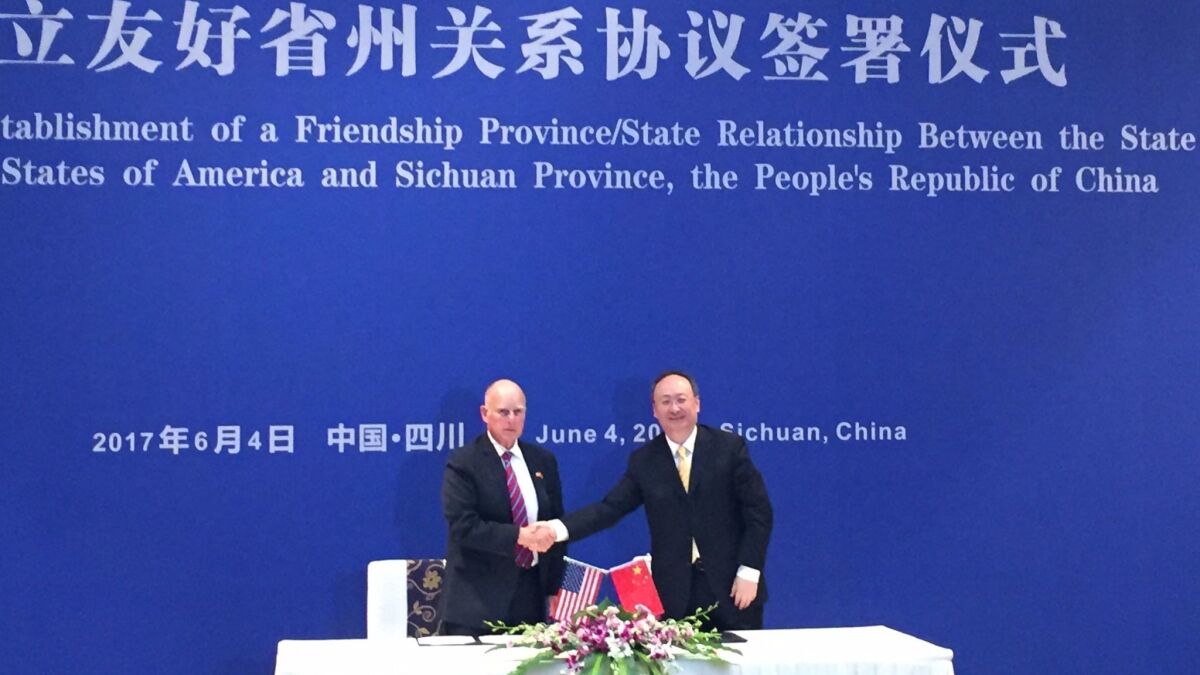 Chinese background music accompanied the ceremonial signing in a high-ceilinged hotel conference room. Wang called it " a very important visit."
Brown led a delegation of nearly 100 business and government officials when he visited China four years ago. This time, he arrived with a crew of 10 and a more focused mission: to affirm a global obligation to green growth.
"The consistency of commitment and the consistency of relationships is important," said Isabel Hilton, founder of Chinadialogue, a website that focuses on environmental issues. "Why would you invest, at this point, in the federal government level with a Trump administration that is killing off all your partnerships?"
Sichuan and Jiangsu were the first Chinese provinces to join an international coalition Brown helped create, which aims to keep the increase in global temperatures below 2 degrees Celsius from pre-industrial levels — the point at which the potential for irrevocable consequences begins.
Brown will co-host a forum on Wednesday with Sichuan officials in Beijing, where state and provincial members of the so-called Under2 Coalition will plot reductions in greenhouse gas emissions. He'll also participate in a conference with global energy ministers. (His daylong Chengdu visit included a quick stop at the popular panda center, where he noted they slept a lot.)
"I've been around so long that when I was governor the first time I welcomed the father of President Xi [Jinping] to California in 1978," Brown told a row of suited Chinese delegates before the signing ceremony.
His long tenure, he said, means "I'm getting very impatient. I want to see things accomplished."
He's looking to an unusual partner. China is the world's leading greenhouse gas polluter and the largest global funder of new coal power projects. More than 60% of its energy use is still tethered to the fossil fuel. A cloak of haze greeted Brown on his arrival in Chengdu.
Washington and Beijing decide the policy level. The actual investment projects ... happen in the states and provinces.
— He Weiwen, senior fellow at the Center for China and Globalization
But the country is also the biggest investor in renewable energy and a leading advocate of climate change action. Beijing shut its last coal-fired plant in March and has plans to launch a national carbon emissions trading market this year.
China is on track to reach the point where its emissions peak and start declining before a 2030 deadline. Officials spent $88 billion last year on clean energy sources such as wind and solar power, according to market analyst Bloomberg New Energy Finance, more than the GDP of Ethiopia.
Even with China's top-down approach, little happens without buy-in from the provinces.
"Washington and Beijing decide the policy level," said He Weiwen, senior fellow of the Beijing-based Center for China and Globalization and a former economic counselor at the Chinese consulate in San Francisco. "The actual investment projects on trade and other activities happen in the states and provinces. That's why it's so important to work with them."
Sichuan, known for its mouth-numbing peppercorns, plays a role in the country's attempt to transmit electricity from the west to the urban east. But much of it has been wasted due to bad planning and insufficient grid capacity. Officials are scouting out ways to best use their hydropower abundance.
"There is an esprit de corps in these more isolated southwestern provinces where there is money flowing in for infrastructure and development, and they are very open for ways to innovate with the resources they have," said Daniel Schwartz, director of the Clean Energy Institute at the University of Washington, who has worked with the province.
Sichuan's population is more than twice California's, making it an opportune place to conduct business. Sacramento-based California Center, an organization that connects companies across the Pacific, opened an office last November in the heart of Chengdu's towering new high-tech hub.
Brown told reporters he wants to work with the province on electric vehicle production. The Bay Area Council, an advocacy group for the region's companies, will also travel to China during Brown's visit to look for economic opportunities in clean energy.
California shares an even longer relationship with Nanjing, another sister state. Sandy beaches rub up against Jiangsu province's hundreds of miles of coastline, a Californian companion minus the Pacific Coast Highway.
Brown visited Nanjing on his last visit, and signed agreements on renewable energy, biomedicine and high-tech agriculture.
The province launched China's first provincial renewable energy association more than a decade ago in a region rich in wind energy potential. Analysts question whether it has made the best use of this opportunity. But the manufacturing hub now counts hundreds of clean energy-related companies, from biofuels to solar panel production.
California has long offered regions guidance on environmental issues — from zero-emission vehicles to air pollution control. Chinese officials recently turned to the state for assistance with the planned emissions trading system, which they're piloting in several provinces.
Brown's trip now represents a "tidal shift" of power from Washington to subnational leaders, said Orville Schell, director of the Asia Society's Center on U.S.-China Relations in New York, who penned a 1978 biography of Brown and has written 10 books about China.
It's a "slow melting away of Washington as the epicenter of American global leadership."
These regional visits, above all else, send a signal to Chinese leaders about the seriousness of California's intentions.
"The key to Paris was President Xi and President Obama meeting together," Brown said. Now "it's up to President Xi to advance the ball. We want to stand behind him and make that possible."
Meyers is a special correspondent.
Nicole Liu and Gaochao Zhang in the Times' Beijing bureau contributed to this report.
Twitter: @jessicameyers
ALSO
Gov. Jerry Brown, America's unofficial climate change ambassador in the Trump era, heads to China
Trump quits the Paris climate accord, denouncing it as a violation of U.S. sovereignty
China is getting serious about fighting climate change at home. Abroad, its investments tell a different story
Must-read stories from the L.A. Times
Get the day's top news with our Today's Headlines newsletter, sent every weekday morning.
You may occasionally receive promotional content from the Los Angeles Times.