A mysterious death in China raises suspicions of police brutality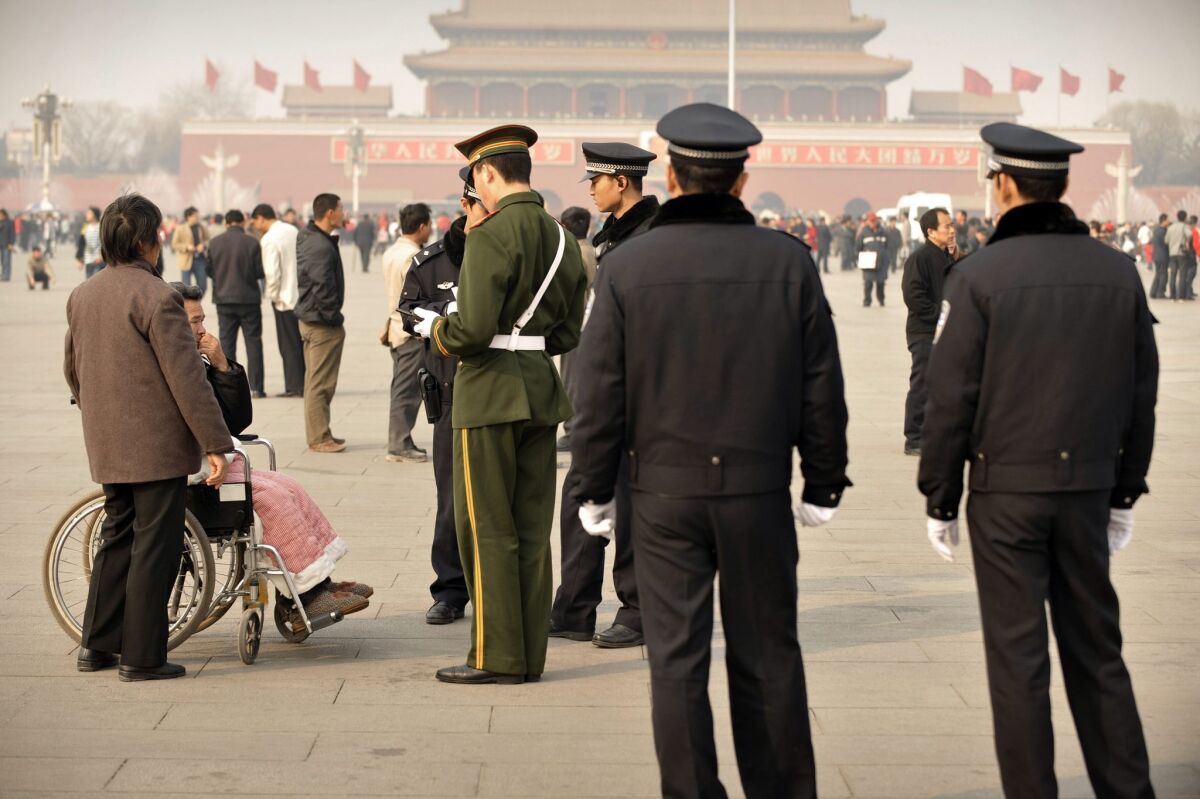 Reporting from Beijing —
Lei Yang left his Beijing home between 8:30 and 9 p.m. Saturday to pick up a relative from the airport. Shortly afterward, he was detained by police. By 10:09 p.m., he was dead.
The exact circumstances of Lei's death remain unknown. Yet the question of what transpired in that short window blazed across the Internet in China on Tuesday, raising suspicions of police brutality and underscoring a widespread lack of faith in the country's law enforcement.
Lei, 29, a native of central China's Hunan province, seemed to be doing well, according to an anonymous online post by Lei's university classmate. In 2009, he had earned a master's degree at Renmin University, one of the country's top schools. Prior to his death, he was celebrating his three-year wedding anniversary; two weeks before that, his wife gave birth to a girl. The relative arriving at the airport was coming into town to see her, according to the online post, which was widely cited by Chinese media.
See more of our top stories on Facebook >>
Lei's university classmate, posting anonymously, said that he or she spoke with Lei's family after his death, and that family members had tried calling him at 11:30 p.m. but couldn't get through. The family received a call from police at 1 a.m. and hurried to the station.
What police told them didn't add up: Lei had visited prostitutes, was detained in a bust and died of a "heart attack" while on his way to the station.
The family arrived at the hospital at 4 a.m. to see Lei's body and found his arms and forehead covered in bruises. Police prevented them from taking photos of the body.
The online post has since been deleted.
On Monday night, police in Changping, an exurban Beijing district, posted a divergent narrative on their official Sina Weibo microblog, China's version of Twitter. The post said that Lei visited a brothel fronting as a foot massage parlor. Police staged a sting and arrested six people, including Lei.
NEWSLETTER: Get the day's top headlines from Times Editor Davan Maharaj >>
When Lei "was brought back to the local police station for further investigation, he resisted law enforcement and attempted to flee," the post said. "Police took measures to forcefully constrain him. During the investigation, he suddenly fell ill. Police immediately sent him to the hospital, and he died at the hospital."
A doctor at the Changping Hospital of Integrated Chinese and Western Medicine told CCTV, China's state broadcaster, that Lei entered the hospital at 10:09 p.m., dead on arrival.
The Changping police department's post received more than 15,500 comments, many of which expressed skepticism at the official version of events. The police never mentioned the name or location of the foot massage parlor, web users noted. Many questioned why police waited for two hours before informing Lei's family of his death.
"I just wanted to ask, why didn't you contact his family when you sent him to the hospital?" wrote one user. "Why did you only contact them when Lei died? Give me an answer!"
Police brutality — and impunity — is a major issue in China, where the Communist party exercises absolute control over not only the police, but also the courts and media.
Officials have given several unlikely explanations for "accidental" deaths in police custody in recent years. In 2009, police in southwest China arrested a man on suspicion of illegal logging, and he died in jail; police said he died while "playing hide and seek." (Later, an investigation found that another prisoner beat him to death; the term "playing hide and seek" has become a euphemism for police brutality cover-ups).
Also in 2009, police in Jiangxi province said a prisoner died "after having a nightmare." Family members later saw his body and noted bruises on his forehead.
Occasionally, public outrage over such incidents yields results. In 2003, police in the southern city of Guangzhou detained Sun Zhigang, a 27-year-old college graduate, for not carrying a residence permit and beat him to death. The incident triggered public outrage, leading the government to abolish a draconian, 21-year-old "custody and repatriation" system, which allowed police to detain people for not carrying proper residence papers.
"Individuals' fears of going out will not be assuaged until the death of Lei Yang is thoroughly investigated and clearly explained," said Yin Hong, deputy dean of Tsinghua University's School of Journalism and Communication. "If officials fail to clarify [what happened], it will be unavoidable that people will question the government's authority."
ALSO
North Korea ruling party gives Kim Jong Un a grander title: Chairman
North Korea's big parade: 'We have displayed the power of our military state'
Just how far has North Korea gotten in developing long-range nuclear weapons?
Yingzhi Yang and Nicole Liu in The Times' Beijing bureau contributed to this report.
Must-read stories from the L.A. Times
Get the day's top news with our Today's Headlines newsletter, sent every weekday morning.
You may occasionally receive promotional content from the Los Angeles Times.