Donald Trump Jr. comes to India to hawk apartments, and quickly edges into politics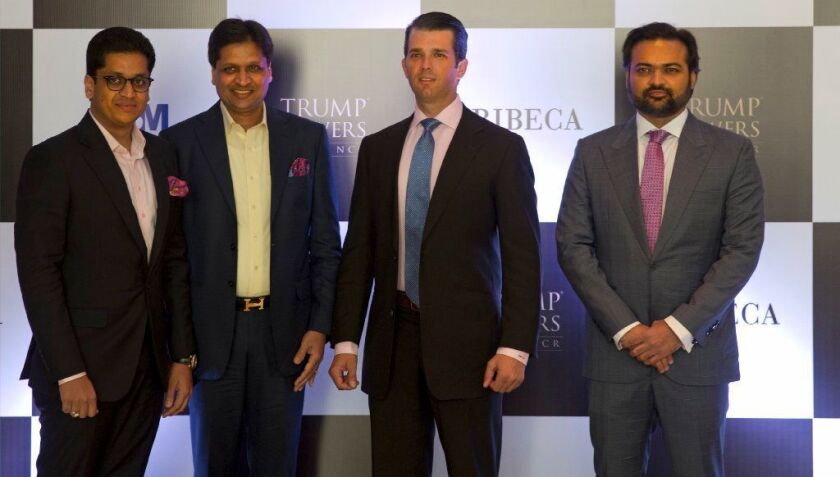 Reporting from Mumbai, India —
Landing in New Delhi on Tuesday to begin what was billed as an unofficial tour to promote his family's real estate interests in India, Donald Trump Jr. wasted little time before veering into international politics.
Some of Trump Jr.'s first statements in India could be seen as crossing the line into geopolitics, showing how difficult it is to focus solely on business when you're the son of the U.S. president and you haven't been exactly shy about defending his political views, statements and policies while running his business empire.
Asked to compare India with China as a place to invest, President Trump's eldest son — and acting head of his business empire — told journalists: "As a businessman, I feel things here are substantially more aboveboard."
"I think the mentality of the people is the same," the Press Trust of India quoted Trump Jr. as saying. "I think there is probably little bit more honesty."
The comparison undoubtedly flattered his Indian hosts, who view China as a strategic rival in Asia, but illustrated what many U.S. critics described as the ethical and political quandaries surrounding Trump Jr.'s multicity tour of the country this week.
Trump Jr. has described this as purely a business trip to boost sales in four luxury real estate projects in India that have the Trump name attached. A fifth, commercial property is in the works outside New Delhi, making India the Trump Organization's most active overseas market.
But Trump Jr. could hardly avoid politics completely.
He is scheduled to deliver a policy address on Friday at a business summit in New Delhi, with the topic listed as "Reshaping Indo-Pacific ties." The conference brings together executives and policymakers, and organizers say it will "showcase India's rise in world affairs."
On the website of the summit, sponsored by a leading Indian newspaper, Trump Jr. received second billing among the speakers, after Indian Prime Minister Narendra Modi and ahead of the country's finance minister, Arun Jaitley.
And he was due to attend at least two dinners to thank buyers of apartments in Trump-branded properties, including in the New Delhi satellite city of Gurgaon, where a pair of 600-foot towers will house deluxe apartments priced from $750,000 to $1.5 million.
Trump's Indian partner, Tribeca, launched the Gurgaon project last month and promised any buyer who put down a 30% deposit an invitation to dinner with Trump Jr. In recent days, glossy wraparound advertisements have run in major Indian newspapers reading: "Trump is here. Are you invited?"
The dinners gave the appearance, to some ethics experts in the U.S., that the Trump Organization was selling access to a member of the president's inner circle. A representative of Mumbai-based Tribeca who was not authorized to speak to the media said the dinner would be a "meet-and-greet" and "nothing at all about politics."
Late last year, President Trump's daughter Ivanka Trump led the U.S. delegation to a global entrepreneurship summit in the southern Indian city of Hyderabad. Unlike his sister, Trump Jr. has no official White House position.
"By American standards, it's very unusual to have a presidential family member coming ostensibly on a business visit and talking about things that are not about business," said Dhruva Jaishankar, a foreign policy fellow at the Brookings India think tank in New Delhi.
U.S. State Department spokeswoman Heather Nauert said Tuesday that the Secret Service was providing protection and other services for Trump Jr. in India. Though he is traveling as a private citizen, she said, he is among those connected to the president who qualify for such protection.
The Trump Organization has not invested any money in the Indian projects but licensed the use of its name and stands to reap an undisclosed amount of royalties based on sales. Tribeca said this month that sales in the Gurgaon towers — where the apartments are said to feature floor-to-ceiling windows and private elevators — had topped $78 million in the first 30 days, making it the fastest-selling Trump property in India.
Others include twin residential towers in the western city of Pune, a skyscraper with a golden facade being built in the commercial capital, Mumbai, and a 38-story residential tower in the eastern city of Kolkata. The projects are lavish by Indian standards, some advertising valet service, lap pools and designer interiors.
The Trump Organization does not disclose its income from the licensing fees, but according to President Trump's 2017 financial disclosure report filed with the U.S. Office of Government Ethics, his company earned up to $1 million in royalties from the Kolkata project.
As president, Trump said he would not conduct any new business abroad, but deals that were struck before his election were not paused. Speaking to an Indian news channel, Trump Jr. lamented the fact that the company could not do more in India, where it signed its first licensing deal in 2011. (That project, in Mumbai, was ultimately scrapped.)
"When people talk about it these days, it's like, 'profiteering from the presidency' and all this nonsense," Trump Jr. told India's CNBC channel. "But wait a minute. I can't do deals. I've spent over a decade creating relationships to now, where we have given incredible deals that are all active, and we could do so many more."
Trump Jr.'s positive reception in India was due in part to his father's warm relations with Modi, who also developed a strong working relationship with then-President Obama. Trump has pleased many Indians with his tough stances against Pakistan and China, and in a phone call last month, said the U.S. "considers India a true friend and partner in addressing challenges around the world."
Speaking about his father, Trump Jr. told the Economic Times newspaper: "You have someone now … who'll say what he's thinking and then actually implement it, not just tell you what you want to hear and do nothing. And that's kind of important and I think you may be experiencing something a little similar here" with Modi.
It was striking, to some observers, that Trump Jr.'s visit was receiving more favorable media attention than that of Canadian Prime Minister Justin Trudeau, who has been snubbed by top officials during a visit to India this week due to his perceived outreach to members of a Sikh religious separatist movement who live in Canada.
"It's not as if people in the Indian government are going to go by anything that Trump Jr. says, because there are many other official channels to the White House," Jaishankar said. "But if he develops a more favorable impression of India, that can only be a good thing."
Shashank Bengali is South Asia correspondent for The Times. Follow him on Twitter at @SBengali
Staff writer Tracy Wilkinson in Washington contributed to this report.
---
UPDATES:
7:12 p.m.: This article was updated with a statement from the State Department.
This article was originally published at 9:10 a.m.
---
Must-read stories from the L.A. Times
Get the day's top news with our Today's Headlines newsletter, sent every weekday morning.
You may occasionally receive promotional content from the Los Angeles Times.