It looks like the glass ceiling in Japanese politics will hold firm again
Reporting from Tokyo —
Three months ago, Yuriko Koike's star appeared to be on an inexorable upward trajectory.
A year after becoming the first female governor of Tokyo, her new Tokyoites First party had just drubbed the Liberal Democratic Party (LDP) of Prime Minister Shinzo Abe in local assembly elections. A shell-shocked LDP, which has ruled Japan almost continuously since World War II, saw its seats slashed from 60 to 23, just four ahead of the Communist Party.
Koike appeared to be on a path to become the first female prime minister of Japan, a remarkable prospect in a country where women have struggled to gain a foothold in politics and corporate board rooms.
But heading into Japan's general election on Sunday, Koike has found herself plummeting back to earth.
With opinion polls pointing to a likely landslide for Abe's LDP, Koike has ruled herself out as a candidate, leaving voters unclear about who would be prime minister in the unlikely event that the new party she established eked out a victory. Her rapid fall from grace spotlights the higher standards that women in politics are held to in a society still uncomfortable with those perceived as overly ambitious. Fewer than 10% of the lawmakers in the lower house of parliament are female, a proportion that places Japan 165th out of 193 democracies.
She talks big, but what is the substance? I don't know if we can trust her.
— Ayaka Fujino, a Tokyo office worker
A fluent Arabic speaker, Koike studied in Cairo, working as an interpreter and journalist before becoming a TV news anchor. She was first elected to the upper house of parliament in 1992 on the ticket of the now-defunct New Japan Party, one of the many breakaway groups from the LDP. Working her way through three similar parties over the next decade, she eventually joined the LDP in 2003, and was appointed environment minister soon after.
Koike served as defense minister in Abe's first administration for less than two months in the summer of 2007, resigning ostensibly to take responsibility for an information leak. The scandal-hit administration itself lasted less than a year, and many say Koike resigned over an internal squabble. In July 2016, she was elected governor of Tokyo, despite a lack of LDP backing, promising to get the capital in shape for the 2020 Olympics. She later launched the Tokyoites First party.
In September, just two days after Abe called a snap election, Koike, 65, launched a new, nationwide Party of Hope. The following day, the centrist opposition Democratic Party effectively dissolved itself and backed Koike. It appeared she might shake up the old boys' club of Japanese politics.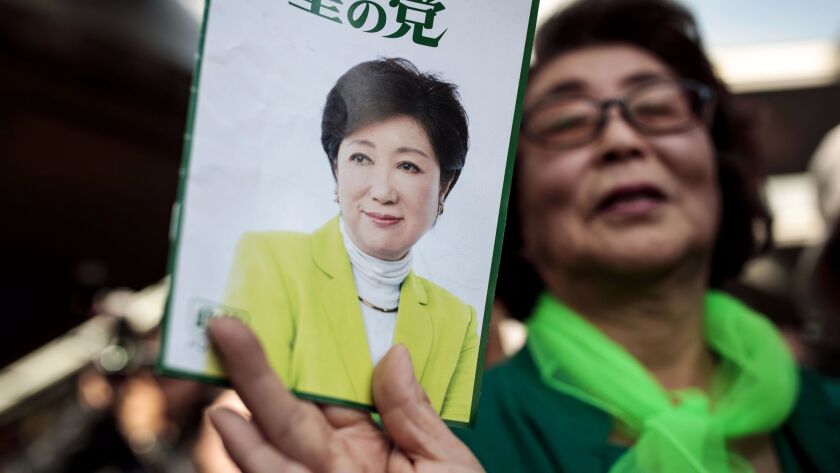 But her campaign soon foundered, and she insisted that she was not a candidate. Voters perceived her refusal to let left-leaning Democratic candidates run on her ticket as arrogance and the whole merger as a cynical grab for the opposition party's campaign funds and organizational structure. Such maneuvering is the kind of politics that Koike had pledged to break from — although male politicians face few negative consequences for similar behavior.
"She's a very ambitious lady who has changed parties a few times, but been successful, like taking advantage of the situation to become Tokyo governor. She talks big, but what is the substance? I don't know if we can trust her," said Ayaka Fujino, a Tokyo office worker in her 40s. "I can't see any political principles anymore, and I don't see her as a supporter of women's issues. I think she just wants to be prime minister."
Even the prospect of a female leader in male-dominated Japan is not enough for many female voters.
"She just hasn't been effective as governor. She made a big show of saying she was going to take care of everything for the Tokyo Olympics and relocating the Tsukiji fish market, but she hasn't followed through," said Tamiko Mizune, a resident of the capital's western suburbs in her 80s. "Even though we're both women, I don't want to see her as prime minister. The merger with the Democrats left me wondering what she believes in."
This will be the first election for the more powerful House of Representatives in which 18- and 19-year-olds can vote, but Koike has also failed to excite younger voters. The Party of Hope Twitter account has just 12,000 followers, compared with more than 180,000 for the Constitutional Democratic Party, the new party formed by left-leaning Democratic lawmakers who rejected the merger.
Jun Okumura, a visiting scholar at the Meiji Institute for Global Affairs, said the agreement with the Democratic Party had made Koike and her party look like an unprincipled version of the LDP, with which it shares many key policies. "That really took the wind out of her sails, along with the fact that she is not standing," Okumura said.
Another casualty of the rushed launch for the Party of Hope has been a coherent policy platform.
"On a lot of issues, she is actually to the right of Abe, including being more of a hawk. But in the campaign, she's been talking about a commitment to pacifism," said Stephen Nagy, senior associate professor of politics at Tokyo's International Christian University. "Yet she wouldn't even talk about the Korean massacre."
Thousands of Korean residents of Tokyo were killed by angry mobs in the aftermath of the huge 1923 earthquake over false rumors they had poisoned water supplies. The Tokyo governor has traditionally sent a message of condolence for the Sept. 1 anniversary, but Koike declined to do so this year.
In an apparent attempt to put some distance between herself and Abe in the form of a snappy manifesto, on Oct. 6 the Party of Hope issued a list of "12 Zeros" for Japan. The weightier pledges range from zero nuclear power by 2030 to eliminating corporate political donations. At the other end of the spectrum are promises for zero crowded train carriages, no extermination of stray pets and an end to hay fever.
Disillusionment with Koike, dissatisfaction with Abe and the dissolving of the Democrats has left many wondering who to vote for on Sunday, including Fujino, the office worker.
"If you don't vote, you're effectively supporting the LDP. I don't want Abe to have so much power. If he goes too far to the right, who can stop him? You need a balance in politics," Fujino said. "Maybe I'll just decide on the day."
ALSO
Japan considers more muscular military role to counter North Korea
China's Communist Party elders picked Xi Jinping because they thought they could control him. They were wrong
In the ashes of post-war Japan, a young Prince Akihito broke with tradition for an interview with an American
Blair is a special correspondent.
---
Must-read stories from the L.A. Times
Get the day's top news with our Today's Headlines newsletter, sent every weekday morning.
You may occasionally receive promotional content from the Los Angeles Times.