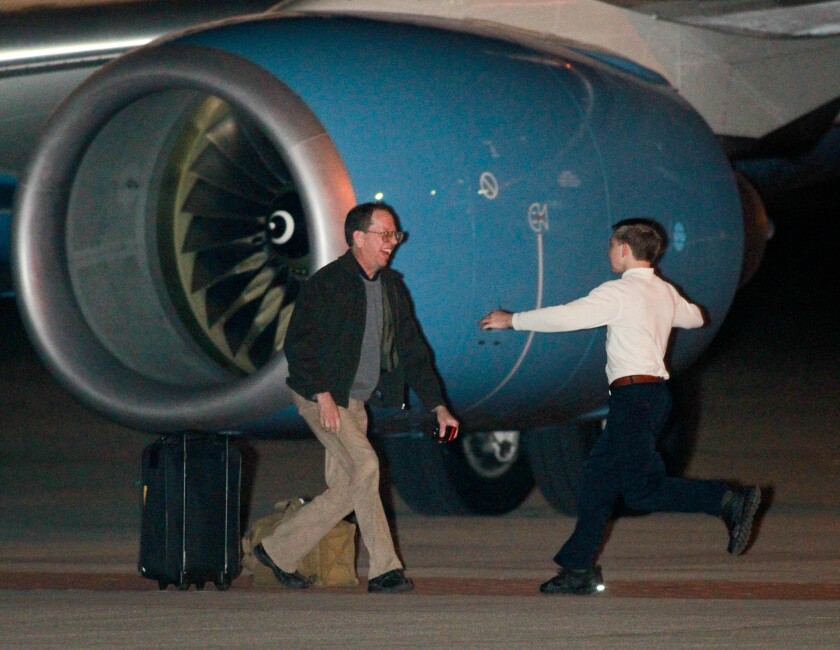 Reporting from Washington —
Jeffrey E. Fowle, an American imprisoned in North Korea for six months, was freed Tuesday in an unexpected move that raised hope for the release of two other Americans.
Fowle, 56, an Ohio municipal worker who was arrested after leaving a Bible in a hotel, was turned over to U.S. officials by authorities in Pyongyang, the North Korean capital. He boarded a U.S. government aircraft sent to retrieve him. A medical examination found him healthy, U.S. officials said.
Fowle reached his first stop, the U.S. military base on Guam, on Tuesday, but officials declined to say when he would arrive in his hometown of Miamisburg, north of Cincinnati.
Obama administration officials said they were pressing for the release of the two other Americans detained in North Korea: Matthew Miller, 24, of Bakersfield and Kenneth Bae of Lynnwood, Wash., a suburb of Seattle.
Miller has been imprisoned since April and last month was sentenced to six years of hard labor. Bae, a Korean American missionary and tour operator who had visited North Korea several times, was jailed in November 2012 and sentenced six months later to 15 years of hard labor for proselytizing.
"While this is a positive decision by [North Korea], we remain focused on the continued detention of Kenneth Bae and Matthew Miller," said Josh Earnest, the White House press secretary.
The three cases pointed to the insular North Korean government's sensitivity to what it considers threats to its authority.
North Korea permits a certain level of tourism so as to generate hard currency, but it tries to strictly control visitors' movements and exposure to North Koreans and has banned religious proselytizing.
North Korean officials had indicated they planned to put Fowle on trial for "perpetrating hostile acts." Miller was convicted of a similar charge after he allegedly ripped up his tourist visa and sought asylum.
The detainees' families, U.S. officials and Swedish diplomats, whose government acts as an intermediary for the United States with North Korea, had been pressing for the men's release. But Pyongyang had given little sign that it would grant the request.
When U.S. officials offered to send Robert King, a special envoy for human rights, to North Korea to discuss the cases, North Korean officials said they wanted a higher-level figure, such as former President Clinton.
"The North Koreans basically weren't picking up the phone," said Victor Cha, a Korea specialist at the Center for Strategic and International Studies and Georgetown University. "So this is a surprise."
North Korea's next move is hard to predict, Cha said, because the government has been behaving erratically, which could indicate an internal struggle among the elite.
Pyongyang has exchanged fire with South Korea at one moment and appeared conciliatory with its neighbor the next. The recent monthlong absence of leader Kim Jong Un raised more unanswered questions about who is in control, Cha noted.
North Korea, in Cha's view, was not seeking concessions in holding the three, but wanted instead to deter future intrusions.
"They're worried that their system isn't as sealed off as they'd like it to be," he said.
U.S. officials, who declined to provide details of the diplomacy, acknowledged that they couldn't explain the timing of the release.
Fowle, who entered on a tourist visa, said in interviews in September that he had been allowed to contact his wife and three children, but had then not spoken with them for three weeks. He also said he had signed a confession and "requested forgiveness" from the government.
Fowle's employer, the city of Moraine in Ohio, dismissed him from his job last month because of his prolonged absence and gave him a severance package worth $70,000, city officials said. But in a statement, the city manager said the city would now welcome him back.
"He will have the opportunity to return to work with the city of Moraine at his former position, should that be his desire," City Manager David Hicks said.
Times staff writer Christine Mai-Duc in Los Angeles contributed to this report.
---