South Korea says natural earthquake detected in North Korea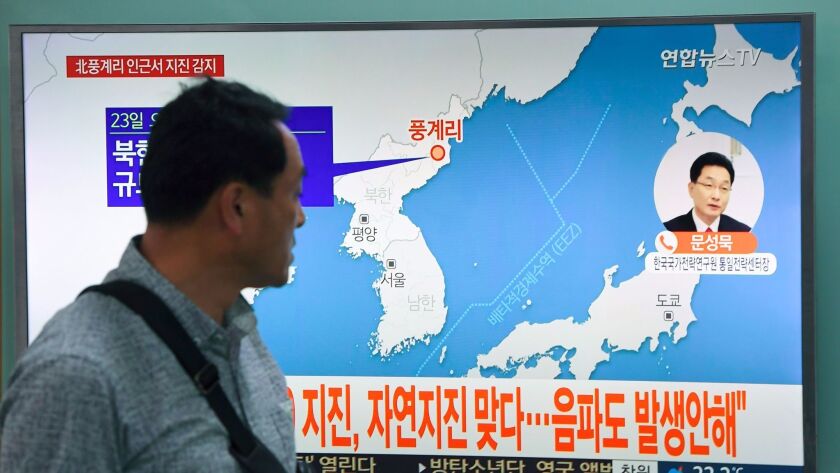 Reporting from SEOUL, South Korea —
South Korea's weather agency said a magnitude 3.2 earthquake was detected in North Korea on Saturday close to where the country recently conducted a nuclear test, but it assessed the quake as natural.
The quake was detected in an area around Kilju, in northeastern North Korea, just 3.7 miles northwest of where the North conducted its sixth and most powerful nuclear test on Sept. 3, according to an official from Seoul's Korea Meteorological Administration.
The area isn't where natural earthquakes normally occur. A South Korean expert said the quake could have been caused by geological stress created from the recent nuclear explosion. Other possible causes include landslides or the collapsing of test structures such as tunnels, said Hong Tae-kyung, a professor at the department of Earth System Sciences at Yonsei University.
"It could be a natural earthquake that really was man-made, as the nuclear test would have transferred a lot of stress," he said. "The quake is small enough to suspect that it could have been caused by a tunnel collapse, and satellite data shows there have been many landslides in the area since the nuclear test."
China's official Xinhua News Agency said earlier that the country's seismic service detected a magnitude 3.4 quake in North Korea and saw the likely cause as an explosion. But the official from the South Korean agency said the analysis of seismic waves and the lack of sound waves clearly showed that the quake wasn't caused by an explosion. She spoke on condition of anonymity, citing office rules.
Another Korea Meteorological Administration official, who also didn't want to be named, said the agency saw the possibility of the earthquake being caused by a tunnel collapse as low.
The U.S. Geological Survey said that it detected a magnitude 3.5 quake in the area of previous North Korean nuclear tests, but that it was unable to confirm whether the event was natural.
North Korea's weakest nuclear test, its first one, conducted in 2006, generated a magnitude 4.3 quake. The USGS measured this month's nuclear test at magnitude 6.3.
Analysts examining satellite images of North Korea's mountainous test site after the latest nuclear test said they spotted landslides and surface disturbances that were more numerous and widespread than what was seen from any of the five previous tests.
North Korea has been maintaining a torrid pace in nuclear and weapons tests as it accelerates its pursuit of nuclear weapons that could viably target the United States and its allies in Asia.
North Korea said its recent nuclear test was a detonation of a thermonuclear weapon built for its developmental intercontinental ballistic missiles. In two July flight tests, those missiles showed potential capability to reach deep into the U.S. mainland when perfected.
ALSO
Trump announces new sanctions against North Korea, but China's role remains key
Aides warned Trump not to attack North Korea's leader personally before his fiery U.N. address
'Dotard' rockets from obscurity to light up the Trump-Kim exchange, sparking a partisan war of words in U.S.
---
UPDATES:
11:15 a.m. This article was updated with South Korea adjusting magnitude, location of earthquake
4:25 a.m.: This article was updated with a comment from the U.S. Geological Survey.
This article was originally published at 3:10 a.m.
---
The stories shaping California
Get up to speed with our Essential California newsletter, sent six days a week.
You may occasionally receive promotional content from the Los Angeles Times.