'Dotard' rockets from obscurity to light up the Trump-Kim exchange, sparking a partisan war of words in U.S.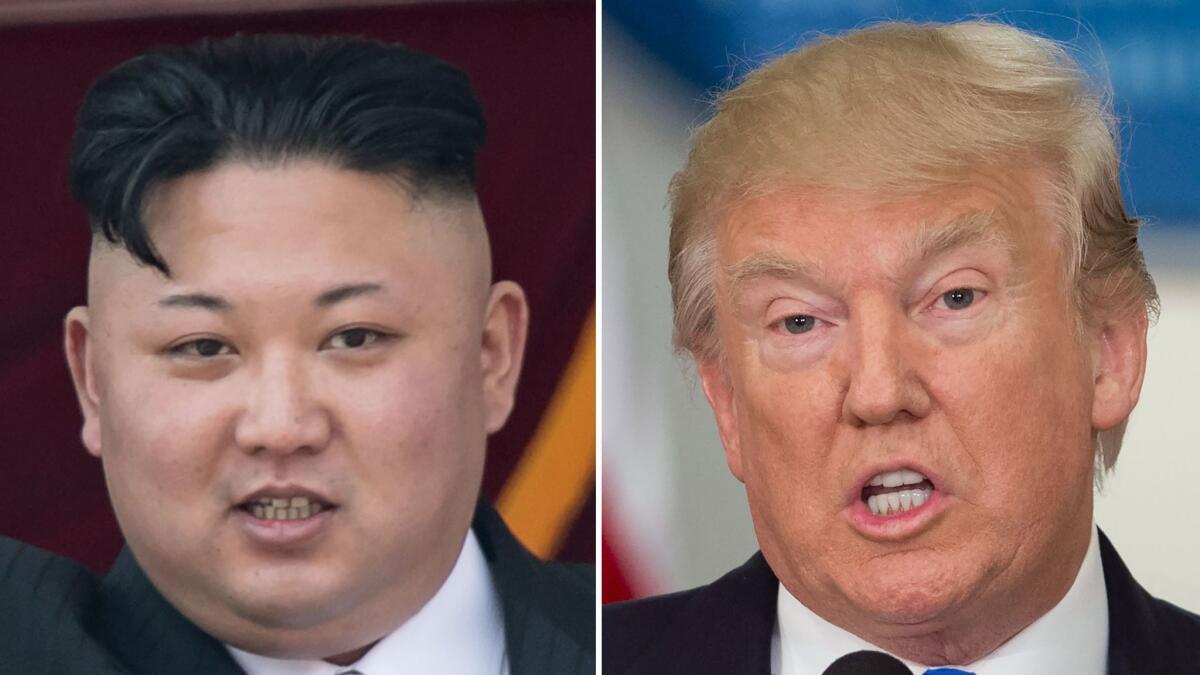 President Trump fired off "Rocket Man."
North Korean dictator Kim Jong Un, the target of that verbal missile launch, shot back a flurry of taunts, calling America's leader "a rogue," "a frightened dog," a "gangster fond of playing with fire."

For the record:
6:30 p.m. Sept. 22, 2017
A previous version of this article incorrectly rendered Jean H. Lee's first name as Joan.
But it was one word that lighted up social media, sent countless masses thumbing through dictionaries (or the online equivalent), one word that turned the back-and-forth between brinksmen into a teachable moment: "dotard."
"Now that Trump has denied the existence of and insulted me and my country in front of the eyes of the world and made the most ferocious declaration of a war in history … we will consider with seriousness exercising of a corresponding, highest level of hard-line countermeasure in history," Kim said Thursday in a rare first-person response to Trump's belligerent remarks this week at the United Nations.
"Action," Kim went on, "is the best option in treating the dotard who, hard of hearing, is uttering only what he wants to say."
Dotard, as many were soon to learn per Merriam-Webster, means "a person in his or her dotage," which is "a state or period of senile decay marked by decline of mental poise and alertness." The pronunciation is DOE-terd.
It was fashionable centuries ago, turning up in literary giants such as Chaucer — "olde dotard shrewe" — and Shakespeare — "I speak not like a dotard nor a fool." The word, rooted in Middle English, immediately gained new currency, lofted by Kim's ballistic rejoinder.
Puzzlement quickly gave way to partisanship, as Trump foes delightedly seized on the insult.
Which, naturally, resulted in a flurry of Trump supporters returning fire.
The president, inevitably, weighed in Friday morning with a tweet of his own.
The Korean equivalent of dotard is "neukdari," which is a derogatory term for an old person.
One possible explanation for Kim's antiquated insult, as rendered by the official translation, came from Jean H. Lee, who covered North Korea for the Associated Press. She said on Twitter that she had visited the offices of the government's propaganda arm, the North Korean state news service, and "found the agency using very old Korean-English dictionaries for their translations."
All of which briefly diverted attention from the existential threat of a series of schoolyard slanders escalating into nuclear war and a holocaust that could obliterate much of mankind.
Covfefe, anyone?
ALSO
Kim Jong Un says 'mentally deranged' Trump will 'pay dearly' for threat against North Korea
In first U.N. speech, Trump derides Kim Jong Un as 'Rocket Man' and threatens to 'totally destroy' North Korea
Read President Trump's full remarks at the U.N. General Assembly, annotated
---
UPDATES:
9:25: This article was updated with details about a possible explanation for Kim Jong Un's word choice.
This article was originally published at 8:55 a.m
Get our Essential Politics newsletter
The latest news, analysis and insights from our politics team.
You may occasionally receive promotional content from the Los Angeles Times.