A reporter's chance to shout questions at a dictator and witness history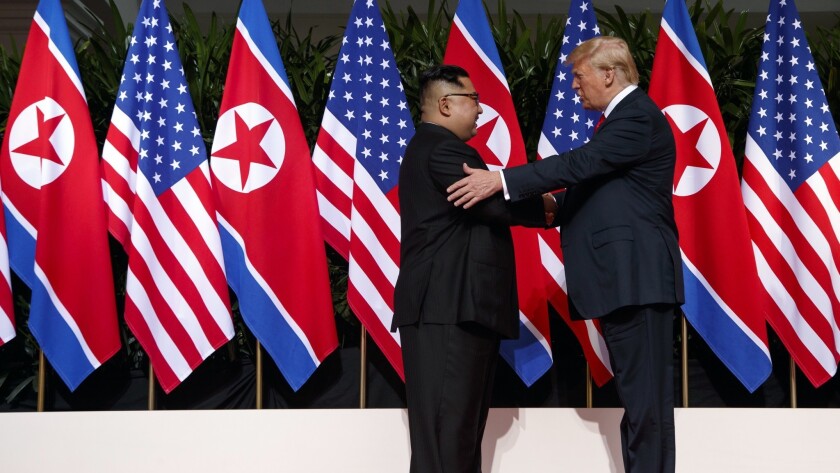 Reporting from Singapore —
It was as good a moment as any. Rivers of sweat rolled down my face amid Singapore's searing heat and 75% humidity.
I was separated by a moat from President Trump and Kim Jong Un as they walked easily along a white tropical breezeway of a resort hotel, pausing to smile, make small talk and look out at the photographers snapping their pictures.
"Chairman Kim, will you denuclearize?" I yelled.
No luck.
But it may have been the first time a reporter has shouted a question at the autocrat, giving the mysterious and repressive leader a glimpse of what it's like to be challenged by a free press, even a rude one.
I had other questions saved up — about the killings of his family members, the mass incarcerations, the terrible poverty in his society while he spends billions for nuclear arms — but time was short and the distance was great.
So I asked the same thing again, as did CNN correspondent Jim Acosta: "Mr. Kim, will you give up your nuclear weapons, sir?"
Kim ignored us.
The main reason reporters flocked to Singapore by the thousands was to figure this out, whether Kim was serious about denuclearization. Trump said he would be able to size Kim up within a minute. That's about how much time we had in most of our encounters.
But there was another goal, the rare opportunity for an in-the-flesh view of the most cartoonishly defined dictator of our era.
Kim compared the spectacle Tuesday to a science fiction movie, but he did not look overwhelmed by the attention. No, he looked pleased.
The hair. The neck roll. But more important, the eyes.
They opened brightly when he smiled at us from the balcony of the colonial-style Capella Singapore hotel but betrayed little. He looked pretty regular for a murderous strongman.
One Korea expert told me to expect that before I traveled here. He said Kim — like his father and grandfather who ruled before him — has used his reclusive and odd reputation to mesmerize Americans.
Americans expect to find a madman or a monster. And when they find a charming guy who talks about NBA basketball and getting rid of his nukes, they come back excited, losing their reservations and their negotiating leverage.
Kim has milked this coming-out party for maximum impact back home, where Rodong Sinmun, the official newspaper of the North Korean Workers' Party, devoted its entire front page to adoring coverage of Kim's day on the global stage.
And at least some of the crowds here seemed to forget his horrific record of human rights abuses as they clamored to snap pictures of him and chanted his name during his unexpected night on the town Monday.
I got my look at him through a bit of luck. White House reporters take turns serving in a small group called the pool, recording and dispersing information about events for thousands of colleagues who could not possibly fit in some of the president's more intimate events, including meetings with foreign leaders.
My turn came up on Tuesday to serve as the second newspaper reporter in a pool of 14 journalists that also included a television crew, a radio reporter and three wire service reporters.
The primary print slot went to Politico's Eliana Johnson, which made a difference because the White House acceded to North Koreans' demands to limit the number of reporters allowed to witness several portions of the meetings between Kim and Trump.
The smaller group was weighted heavily toward photographers, given both leaders' interest in creating a photo op for a meeting that may produce few if any tangible results.
Indeed, if the White House wanted to show Kim what an open democracy looks like, it left a lot on the table. No reporters at all were let into one of the bigger events of the day, an elaborate lunch of mixed Western and Korean dishes that was televised by Singapore's government TV station and sent to other networks.
"Getting a good picture, everybody, so we look nice and handsome and thin?" Trump said during the lunch. "Perfect."
The press restrictions also left me on the outside or farther away than other reporters for several other pooled events.
When Kim and Trump began their brief summit with a ceremonial handshake, I had to jockey for space on a viewing balcony with a North Korean television photographer. He continually demanded that I get out of his way, swiveling his camera so he could bump me if I stood next to him. I refused, but I did give a little ground. If only the other negotiations were so easy.
The setting here only added to the disconnect, a tropical island resort with fancy topiaries and towering ferns as the backdrop for grave negotiations over Kim's large cache of nuclear, biological and chemical weapons.
Of course, these moments, the staged pictures and walks, are never all they are cracked up to be. But our minds often seize on them as we attempt to take measure of history in real time.
Through a fugue of sleepless nights and tight deadlines, we do our best to make sense of it all.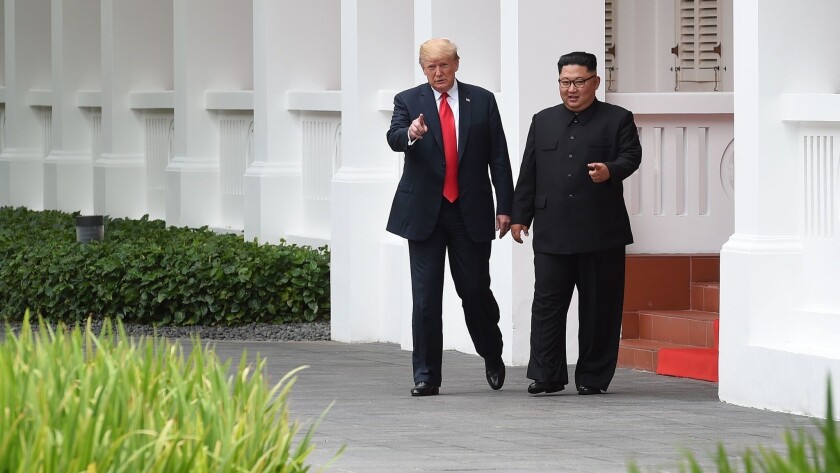 noah.bierman@latimes.com | Twitter: @Noahbierman
---
Must-read stories from the L.A. Times
Get the day's top news with our Today's Headlines newsletter, sent every weekday morning.
You may occasionally receive promotional content from the Los Angeles Times.