25-year-old Duke of Westminster to inherit $12-billion fortune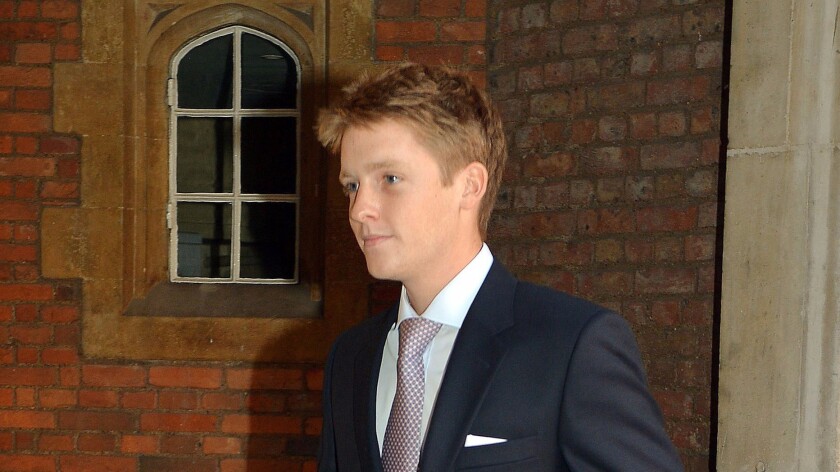 Reporting from London —
He is just 25, but Hugh Richard Louis Grosvenor will soon inherit a fortune worth nearly $12 billion.
It is not a windfall that the young man would have wished for so soon, and follows the sudden death of his father, the sixth duke of Westminster. The late duke was the third richest man in the country and 68th in the world, according to the Forbes billionaires list.
Gerald Cavendish Grosvenor became unexpectedly ill on Tuesday on one of the family's estates near Lancashire in the north of England. He died later in the hospital at the age of 64.
The younger Grosvenor will now inherit a portfolio of properties that span vast swaths of central London's most exclusive neighborhoods, including Belgravia and Mayfair. He is the third of four siblings but the only son in the family, making him the heir to the family empire under the now-defunct law of primogeniture, which means men can supersede women to inheritance, regardless of age.
Until now, the new billionaire has managed to live his life largely out of the public spotlight despite being born with the title of earl. He is not well known to the British public, and one of the only times he made headlines was for his lavish 21st "black tie and neon"-themed birthday party at the family's main ancestral home, Eaton Hall. It reportedly cost around £5 million ($6.5 million) and was attended by 800 guests, including Prince Harry, who were asked to make a contribution to the young man's wine collection instead of a birthday gift.
He attended Newcastle University, where he studied countryside management and earned a reputation among friends for being down to earth. Photos have appeared in the British press in recent days showing him partying with friends much like any other young man. In one image he is wearing a pink teddy bear onesie at a costume party.
After graduation, he first worked in estate management for the family company, the Grosvenor Group, then took up his current job as an account manager at bio-bean, a coffee recycling firm that turns waste coffee grounds into advanced biofuels.
Despite attempts to lead an ordinary life, the family moves in some of Britain's most aristocratic circles and has strong ties to the royal family. Grosvenor's mother, Natalia, is godmother to Prince William and he was named godfather to Prince William and Kate Middleton's firstborn, Prince George, in 2013.
"I do feel sorry for Hugh," Prince William said. "He will be under enormous pressure. He's a lucky boy to be given all the material things in life, but he'll need to be robust mentally to survive. There are many pitfalls, when one inherits such an enormous amount of money, especially in adolescence."
Grosvenor's parents did not like the British private school system and the four children were given a different upbringing than many of Britain's wealthiest young people. They were not sent to exclusive private boarding schools like Eton or Harrow but attended a state primary school followed by a private day school.
The late duke of Westminster was well known for his philanthropic acts and charitable values, which he actively sought to instill in his children. During an interview with Britain's Independent newspaper in 1992, he spoke about the responsibilities his then 17-month-old son would have to deal with. Now his son will oversee the Westminster Foundation, which is the grant-making body that looks after the estate's philanthropic giving. It has handed more than £40 million ($52 million) in grants to more than 1,500 charitable organizations since 1974, a legacy that the young man will have to strive to live up to.
"My main object will be to teach him self-discipline and a sense of duty," the late duke said of his son. "He's been born with the longest silver spoon anyone can have, but he can't go through life sucking on it. He has to put back what he has been given. He has to see himself as a caretaker, keeping the estates in good shape in his lifetime."
Boyle is a special correspondent.
MORE WORLD NEWS
'Burkini' day at French swimming pool canceled after outcry
She's 'old, for a woman': Media around the world condemned for sexist Olympics coverage
Battle over women praying at Jerusalem's Western Wall continues as compromise stalls
---
Must-read stories from the L.A. Times
Get all the day's most vital news with our Today's Headlines newsletter, sent every weekday morning.
You may occasionally receive promotional content from the Los Angeles Times.