3 million across France march in solidarity against terrorism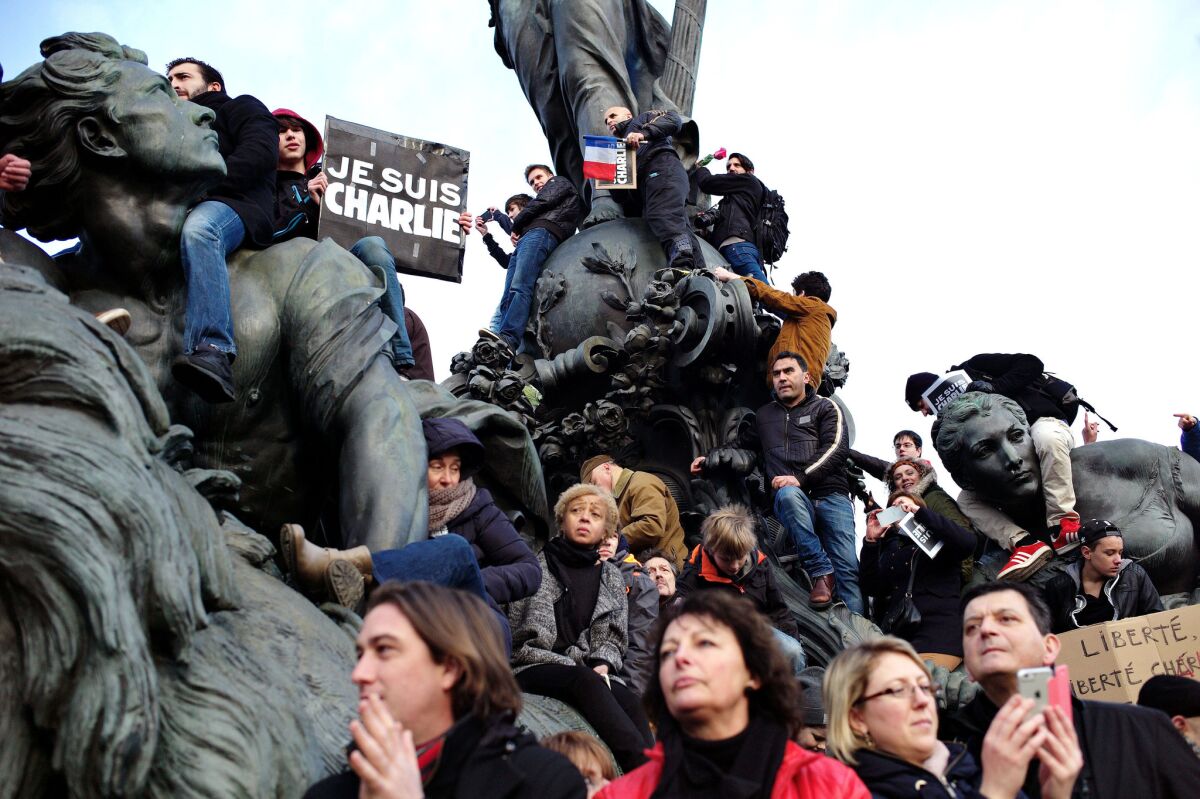 Reporting from Paris —
More than 1 million people filled the boulevards and avenues of central Paris on Sunday, marching arm in arm in a display of national unity after a string of attacks that killed 17 people and dramatized France's vulnerability to terrorism.
About 50 world leaders led the procession, walking at the head of a march that began at the Place de la Republique, the symbolic heart of French democracy, and quickly became so large that it paralyzed the heart of the city and took on a life of its own.
"Paris is today the capital of the world," declared French President Francois Hollande.
News agencies reported that more than 3 million across France participated in marches, described as some of the largest demonstrations in the nation's recent history. Rallies held in sympathy were reported in dozens of cities around the world, including Berlin, London, Buenos Aires, Madrid and Brussels.
Among those joining the procession in Paris were Israeli Prime Minister Benjamin Netanyahu, Palestinian Authority President Mahmoud Abbas, British Prime Minister David Cameron and German Chancellor Angela Merkel. Ambassador Jane Hartley represented the United States, the American Embassy told Agence France-Presse news service.
Hollande and Netanyahu later attended a ceremony at Paris' Grand Synagogue to commemorate the victims of an attack Friday at a kosher grocery that left four hostages dead, one of three strikes last week. The other victims were 12 people killed Wednesday at the offices of Charlie Hebdo, a satirical magazine, and a policewoman killed in southern Paris on Thursday.
The massive march in Paris was both a robust repudiation of terrorism and a ringing endorsement of freedom of expression and the craft of journalism.
French people from all walks of life participated in the highly symbolic gathering, standing in solidarity against an assault that shocked the nation and highlighted the threat of Islamic terrorism across Europe. Some have called last week's attacks France's Sept. 11.
"We came here to defend the fundamental values of France and to display to the world our rejection of barbarism," said Elisabeth Pilate, a Parisian grandmother present with her daughter and several grandchildren. "France rejects terrorism completely."
At the march, thousands of "Je suis Charlie" — I am Charlie — signs were hoisted in commemoration of the attack on the offices of Charlie Hebdo, site of the initial violence. The magazine apparently was attacked because of its mocking caricatures of Islam and the prophet Muhammad, among the irreverent publication's many targets.
But there were also large numbers of placards and signs declaring "Je suis Juif" — I am a Jew — in recognition of the grocery store attack and others that stated "Je suis policier" — I am police.
Citizens marched holding hands with their children and pushing them in strollers.
"This was a grave wound for France, but the country will come back," said Nicolas Barioz, who marched with his wife and three children. "This act was a blow against the dark forces of terrorism and obscurantism."
Residents with homes overlooking the main route threw open their shutters and took photos of the scene below. Some played loud music, lending to a party atmosphere.
A few attached banners to their balconies: "Ici c'est Charlie" — Charlie is here — one read.
On Boulevard Beaumarchais, where dozens of students from the Sorbonne University were gathered, a young violinist climbed on a friend's shoulders and began playing the French national anthem, "La Marseillaise," as the crowd joined her in song. The stirring ballad repeatedly broke out spontaneously among the throngs of participants, many of whom were stuck in the crowd for hours and unable to move.
"It is the heart that is speaking today," said teacher Veronique Mantaux-Pitaval, who wore a white cutout of a dove and affixed several colored crayons to her side in honor of the slain caricaturists.
Many people hoisted large stylized pencils in the air or donned writing implements on their hats or other items of clothing. All week, mourners have been leaving writing implements at makeshift shrines for those killed in the magazine office massacre.
"Ink is stronger than blood," declared one of the many handwritten placards hoisted above the crowd.
French politicians had urged people to "come in numbers" to pay tribute to the 17 victims slain over three days and show defiance against the three Islamist gunmen who carried out a campaign of violence. The three men — brothers Said and Cherif Kouachi, who attacked Charlie Hebdo, and Amedy Coulibaly, who is believed to have killed the policewoman Thursday and the four hostages he took at the kosher grocery the following day — were killed in near simultaneous police raids Friday.
As the rally was getting underway, a video emerged appearing to show Coulibaly pledging allegiance to the militant group Islamic State, which has engaged in a violent insurgency in Iraq and Syria. Coulibaly reportedly told journalists and his hostages that he had acted on behalf of the Islamist extremist group.
Police found Islamic State flags, automatic weapons, detonators and cash in Coulibaly's apartment in the Paris suburb of Gentilly, France's Radio RTL reported, citing unnamed sources.
Atty. Gen. Eric H. Holder Jr., in Paris for an international meeting on terrorism, nonetheless told ABC's "This Week" that "at this point, we don't have any credible information that would allow us to make a determination as to which organization was responsible" for the attacks.
The scale of Sunday's rally posed a mammoth security challenge in a capital still noticeably on edge after the bloodiest week in recent history. Security was ramped up across Paris and thousands more police officers and soldiers were mobilized. But the day appeared to pass peacefully and without incident.
Despite the cold and occasional drizzle, the crowd remained in good spirits, chanting "Char-lie, Char-lie" in unison, moving aside to let people and ambulances pass and waiting patiently at bottlenecks.
"We have a tradition of protest in France that comes from the revolution," said professor Josiane Pinault, 64, from Paris. "From time to time there is one event which unites all the people through one idea."
She said the message unifying everyone Sunday was the "defense of freedom."
"All freedom," she added. "But especially freedom of expression."
The route of the march began at Place de la Republique, one of the many places where people have been gathering to lay flowers and light candles since the attack on the Charlie Hebdo offices. Several people scaled the giant statue in the middle of the plaza, shouting: "You are who? You are Charlie! We are not afraid! France is not afraid!"
The main rally was to end at Place de la Nation, but when the streets became so packed that people could not move forward, a breakaway march moved in the opposite direction, toward Place de la Bastille.
Paris art student Christine Lorrain said she joined Sunday's demonstration to pay homage to the slain Charlie Hebdo journalists but also because the events of recent days had given her a personal wake-up call.
"It made me realize that I had taken for granted the values of my country," she said. "And I had taken for granted having these [Charlie Hebdo] guys in my life."
"I wasn't always in agreement with these guys," she added. "But I was in agreement with their right to say it."
As France mourned its losses, a woman who is believed to have been an accomplice to at least one of the gunmen remained at large.
Authorities were searching for Hayat Boumeddiene, 26, described as Coulibaly's girlfriend. Sources told French media that Boumeddiene may have left for Syria days before the terrorist attacks, and officials believe she is "armed and dangerous."
Boyle and O'Brien are special correspondents.
Twitter: @mcdneville
Must-read stories from the L.A. Times
Get the day's top news with our Today's Headlines newsletter, sent every weekday morning.
You may occasionally receive promotional content from the Los Angeles Times.