Cambodia's banned opposition party calls for boycott of 'sham' election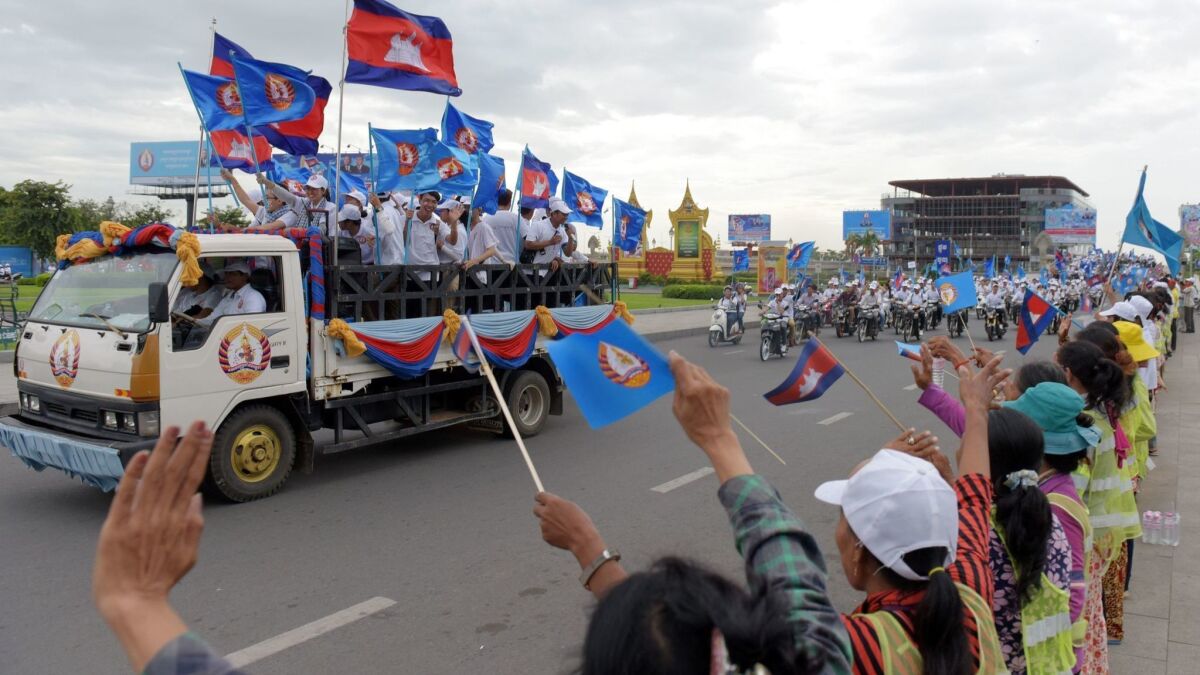 Reporting from PHNOM PENH, Cambodia —
There may be 20 political parties competing in Cambodia's general elections Sunday, but for opposition supporters such as Sin Chan Pov Rozeth, there really is no choice at all.
Rozeth, a former rising star in local politics who now runs a noodle shop in Battambang province, is preparing to heed a call from exiled opposition leaders to boycott the vote, which has been described as "undemocratic" and a "sham" by critics.
"It is my right to go to vote, but when there is no party that I love, I don't necessarily need to go," she says. "I'd prefer to stay home."
Opposition leader Kem Sokha was jailed late last year after being accused of plotting with the U.S. to topple the Cambodian government, and his Cambodia National Rescue Party was dissolved by a court controlled by allies of Hun Sen, the country's authoritarian prime minister.
The government crackdown, which also silenced independent media and was strongly criticized by human rights groups, prompted dozens of National Rescue Party lawmakers to flee abroad, in effect crushing Cambodia's increasingly popular opposition movement.
With most senior opposition figures now banned from politics for five years and no realistic prospect of minor parties mounting a serious challenge, the ruling Cambodian People's Party appears set to secure an easy victory in the national balloting.
Yet it seems that extending Hun Sen's 33 years in office — he is one of the world's longest-serving leaders — may not be enough. In response to the boycott calls, the Cambodia People's Party has repeatedly warned that it is "illegal" to not vote, even though voting is not compulsory. That warning means voter turnout will probably be seen as a barometer of the party's legitimacy.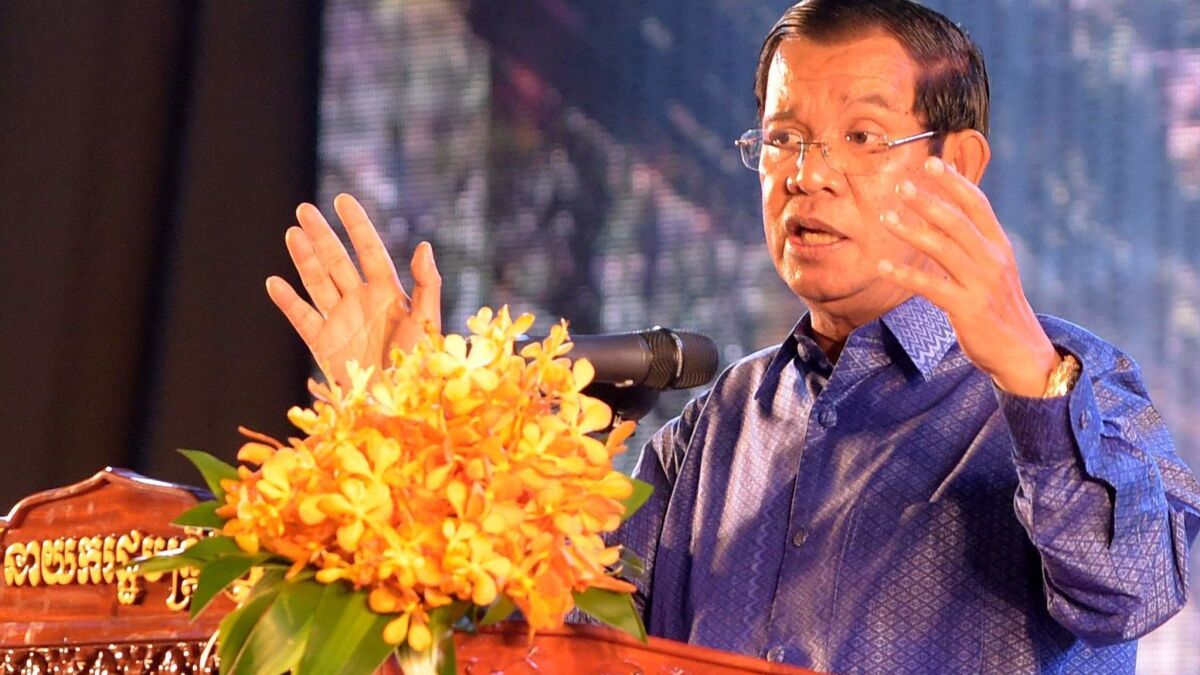 Amid a climate of fear that has swept the country, outspoken National Rescue Party loyalists who are supporting the "clean finger" campaign — a reference to the purple ink used to stain the index finger of those who cast a ballot — are finding themselves under pressure.
Rozeth says she is regularly harassed at her noodle shop by men on motorbikes who yell at her. "I'm so used to it now," she says. And several other activists in Battambang are facing incitement charges after posting photographs on Facebook showing their inkless index fingers raised proudly.
Sam Rainsy, who resigned as a National Rescue Party leader under government pressure in early 2017 before going into exile, said in a call from Paris that supporters who are scared to boycott the vote could still show up at the polls and simply deface their ballots so they couldn't be counted.
"I think the consequences would be very bad if we endorse a fake election by taking part in [it] — you just legitimize an illegitimate election, an illegitimate leadership," Rainsy said, deriding the minor parties – most of which were created in the months before the election – as creating an "illusion of competition.
"When we were dissolved, the voice of half the electorate was suppressed. We cannot participate in a farce."
During the election campaign, which began July 7 and ends Friday, only the Cambodian People's Party has been able to draw sizable crowds at political rallies, with well-organized but subdued processions of tuk- tuks (three-wheeled motorized rickshaws) and motorbikes winding through the streets of Phnom Penh. Many participants, though, said they were paid to participate.
Hun Sen, a former Khmer Rouge commander who defected to Vietnam in 1977, is seen by many followers as a strong leader who helped bring down the murderous regime in 1979 and is credited with shepherding in an era of rapid growth and development. In speeches, he often warns that Cambodia would backslide into war and chaos without his guiding hand.
"The party liberated me from the Pol Pot regime," said Chum Sarin, 62, at a rally in Phnom Penh last weekend. "I want Hun Sen to lead the country forever and I will support him until he dies."
The international community is less impressed, however. Rhona Smith, the United Nations special rapporteur on human rights in Cambodia, said voter intimidation in the lead-up to the elections had created "a climate of fear and confusion."
The U.S. and European Union have pulled election funding and did not send observers to monitor the vote. Reuters reported Wednesday that Japan, another major donor that did offer financial support for the vote, decided to not send observers.
Instead, observers will come from 52 other organizations and countries including China, Myanmar and Indonesia, according to the National Election Committee. Some contend that oversight from such countries will carry little weight.
Lee Morgenbesser, an academic at Australia's Griffith University who studies authoritarian regimes, said that some of the organizations listed, including the Shanghai Cooperation Organization and the International Conference of Asian Political Parties, are "shadow" observer groups whose role is only to make it appear that the elections are competitive and fraud-free.
In a WhatsApp message, Cambodia People's Party spokesman Sous Yara defended the election observers as independent and said their assessment should be trusted rather than those of "a small number of traditionally negative thinkers toward Cambodia and our people."
Still, in a country rife with corruption and increasing inequality, many Cambodians say they are holding out for political change.
"Now, the weak and the poor always lose and the rich and the strong always win," said 48-year-old Rescue Party supporter Vor Kimsum, who attended the CPP rally last weekend on the promise of cash. "I want that to change. I want justice."
Holly Robertson is a special correspondent.
---
Must-read stories from the L.A. Times
Get the day's top news with our Today's Headlines newsletter, sent every weekday morning.
You may occasionally receive promotional content from the Los Angeles Times.