Palestinians launch hundreds of rockets into Israel after raid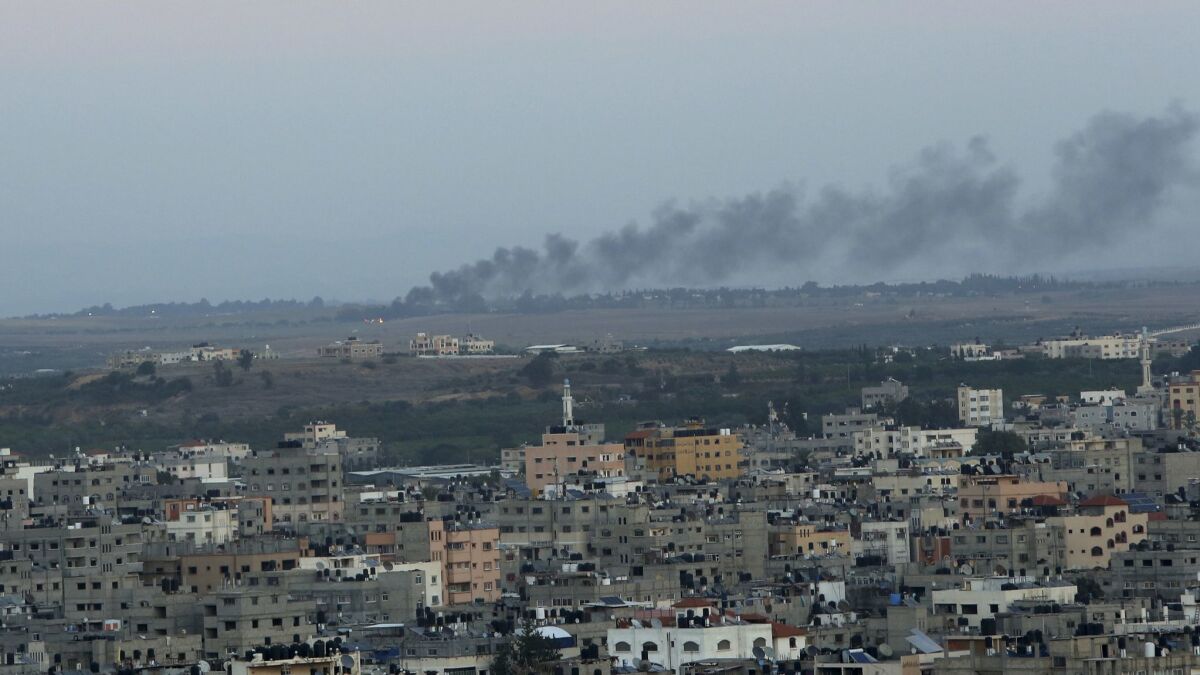 Reporting from Jerusalem —
Nearly four hundred rockets and missiles were launched from the Gaza Strip into Israel on Monday in a lengthy barrage that followed a night of renewed combat in which seven Palestinians, including a Hamas commander, were killed in a firefight that also took the life of an Israeli special forces officer.
Four rockets struck residential buildings in the southern Israeli city of Ashkelon, where a 40-year-old man was found dead in the rubble of one home, becoming the first Israeli civilian fatality in this round of fighting. One woman was rescued in critical condition from another demolished home.

For the record:
1:45 p.m. Nov. 14, 2018This article incorrectly states that civil servants in the Gaza Strip were not paid their full salaries because of Israel's blockade. The Palestinian Authority, not Israel, cut funding for salaries in Gaza.
Monday's fighting began when an Israeli bus was hit by an antitank missile launched by Hamas, the Islamist militia that rules Gaza, severely injuring an Israeli soldier.
The Israeli air force struck back against more than 70 "terror targets," according to the army, hitting military compounds, observation posts, weapon manufacturing sites and launch sites belonging to Hamas and the Palestinian militant group Islamic Jihad. The building housing Al Aqsa TV, Hamas' television station, was demolished. Occupants were warned to evacuate several other Gazan buildings before they were bombed.
The Health Ministry in Gaza reported three Palestinian militants were killed in the airstrikes.
The Israeli army said it activated its Iron Dome antimissile defense batteries in response to the incoming salvos, intercepting more than 60 rockets. Still, about 30 Israelis were injured.
Schools will be closed Tuesday on both sides of the border.
As sirens wailed in southern Israel, an Israeli army spokesman warned that "in the coming hours Hamas will feel the full force of the Israel Defense Forces' response."
The latest escalation was sparked by what Israeli army sources describe as a botched intelligence operation. The Israeli military downplayed the significance of the operation, which it did not describe.
Hamas said its forces had intercepted an Israeli vehicle almost two miles into Gazan territory and claimed it was carrying a hit team planning an assassination.
Hamas said that Nur Barakeh, 37, the commander killed in the firefight, was responsible for an area east of the Khan Yunis refugee camp that lies along the border with Israel. He was also involved in developing Hamas' network of tunnels into Israel, three of which were obliterated by the airstrikes.
Israel denied its forces intended to assassinate any Hamas figures.
Briefing media, Israeli army spokesman Lt. Col. Jonathan Conricus said the operation was "part of an ongoing effort waged against different terror organizations not only in the Gaza Strip but elsewhere." He said the aim of the mission "was not to abduct or kill a Hamas operative."
Very little is known about the Israeli military operation, which remains under heavy military censorship, or about the officer who was killed, who has been identified only as 41-year-old Lt. Col. M.
But the magnitude of the incident could be gauged by Israeli Prime Minister Benjamin Netanyahu's decision to cut short his visit to Paris, where he attended an international gathering commemorating the 100 years since the end of World War I.
Israeli President Reuven Rivlin led the eulogies for the officer at a funeral attended by thousands. Close to tears, Rivlin described the fallen officer as "one of the bravest and most daring soldiers and commanders of the state of Israel" who defined the values of "bravery, self-sacrifice, daring and determination."
According to two mourners who attended the funeral Monday, a eulogy by Education Minister Naftali Bennett was interrupted by a heckler protesting Israel's nation-state law, the controversial measure adopted in July that differentiates between Jewish and non-Jewish citizens of the state of Israel.
The officer's identity as a member of Israel's Druze minority was disclosed early Monday in a scathing tweet posted by opposition legislator Shelly Yachimovich, decrying "the racist and despicable nation-state law that discriminates against non-Jewish citizens like M."
In an interview with The Times, retired Brig. Gen. Amal Asad, who is also Druze and led a series of protests against the law in August, said the slain officer was "a once-in-a-generation man."
Whatever the aim of Israel's foray into Gaza, the combat it has ignited imperils a delicate multilateral effort to quiet the Israeli-Gazan border after seven months of protests.
On Thursday, Qatar brought desperately needed cash into Gaza, where civil servants have not received full salaries for months and, in some cases, years, as a result of the air, land and sea blockade maintained by Israel for nearly a dozen years, since Hamas took over the territory.
The situation has been exacerbated by a mounting and unresolved crisis between Hamas and the Palestinian Authority, the internationally recognized government responsible for paying salaries for all Palestinian public servants.
The arrival of $15 million, the first chunk of $90 million in funds, was seen by some as a positive step towards the stabilization of Gaza.
In a news conference Sunday, Netanyahu said he had authorized the transfer of Qatari funds through Israel in order to avoid an unnecessary war in Gaza.
Speaking to Israeli reporters on his flight back to Israel, Netanyahu acknowledged that "I don't have a political solution for Gaza."
"We aren't preventing the entry of food, medicine and clothes, but that isn't our policy since we need to distinguish between the population and the regime," he said. "It's hard, and it isn't always possible. Can we reach an arrangement that will last longer and avert humanitarian collapse? I hope so. I'm not sure."
Upon his return Netanyahu confronted an array of challenges.
The political capital he invested in the Egyptian-brokered, Qatari-subsidized plan to calm Gaza leaves him vulnerable to accusations of failing to secure the nation's borders.
In addition, as Israel enters an election year, his coalition government is strained by the rival ambitions of ministers and political leaders who hope to succeed Netanyahu, who has announced he will run again after 10 years in office.
But that ambition could be short-lived. Israel's attorney general is weighing whether to pursue the police's recommendation to indict Netanyahu on several corruption charges and six of his closest confidants in a sprawling military procurement scandal.
The United States expressed unstinting support for Israel in a series of tweets posted by Jason Greenblatt, President Trump's special representative for international negotiations.
"Terrorists in Gaza are again attacking Israel with tools of war," he said.
"We stand with Israel as it defends itself against these attacks," he added. "The world has grown tired of Hamas' violence and the violence of other bad actors in Gaza."
Tarnopolsky is a special correspondent.
---
UPDATES:
5:25 p.m.: The story was updated with staff reporting.
This article was originally published at 8:40 a.m.
Must-read stories from the L.A. Times
Get the day's top news with our Today's Headlines newsletter, sent every weekday morning.
You may occasionally receive promotional content from the Los Angeles Times.