Kenya has one president. In a political showdown, it's about to swear in another
Kenya's main opposition leader is scheduled to be sworn in as president. Just one problem: The country already has a president.
Raila Odinga, leader of the National Super Alliance, a coalition of center-left opposition parties, is preparing for an inauguration Tuesday to install him as a "people's president" and create an alternative government — in protest of the recent reelection of President Uhuru Kenyatta.
"It's a combination of a symbolic gesture which calls into question the legitimacy of the de facto government, while at the same time provides alternative leadership both for the presidency and for the parliament," said Salim Lone, a longtime advisor to Odinga. "It's a very crucial moment."
The country's attorney general said it would amount to treason, an offense punishable by death.
The showdown is the latest round of a deepening political crisis that some fear could turn violent and further diminish the nation's previous standing as one of Africa's most stable countries.
Kenyatta, who has been president since 2013, was reelected in October after the country's Supreme Court annulled the original Aug. 8 election, blaming the electoral commission for what it called "illegalities and irregularities."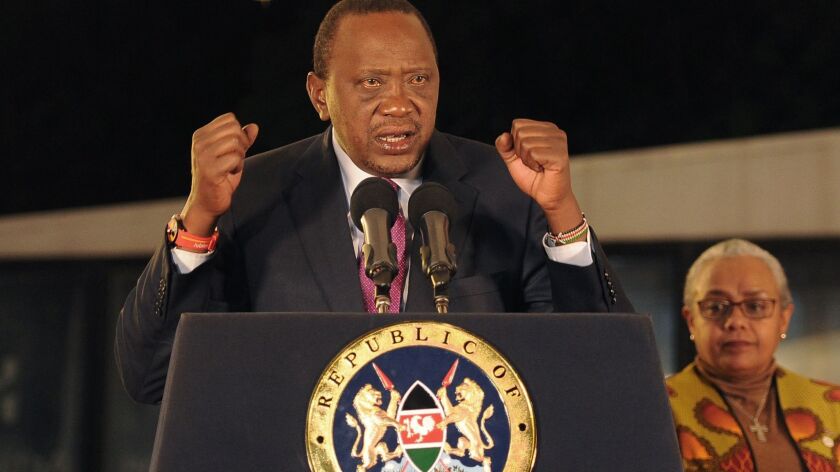 Odinga, who was pursuing his fourth shot at the presidency, boycotted the rerun, arguing that the electoral commission had done too little to ensure a fair election.
Kenyatta, head of the ruling Jubilee Party, was sworn in for a second term Nov. 28.
On Friday, the opposition released what it called "authentic" election results that purport to show that Odinga won the original election, the Associated Press reported. But it was unclear how the data was obtained.
The opposition has urged its followers to come out for Tuesday's swearing-in ceremony, which is scheduled to take place in sprawling Uhuru Park in the capital, Nairobi, even as authorities announced that it has been closed for maintenance.
The opposition has created a "People's Assembly" to operate as a shadow government following Odinga's "inauguration."
There is concern that the event will trigger violence.
In late 2007 and early 2008, after Mwai Kibaki was declared the winner of the presidency and Odinga — again the contender — alleged voter fraud and ballot manipulation, at least 1,200 people were left dead in clashes among three of the country's largest ethnic groups: Luos, Kikuyus and Kalenjins.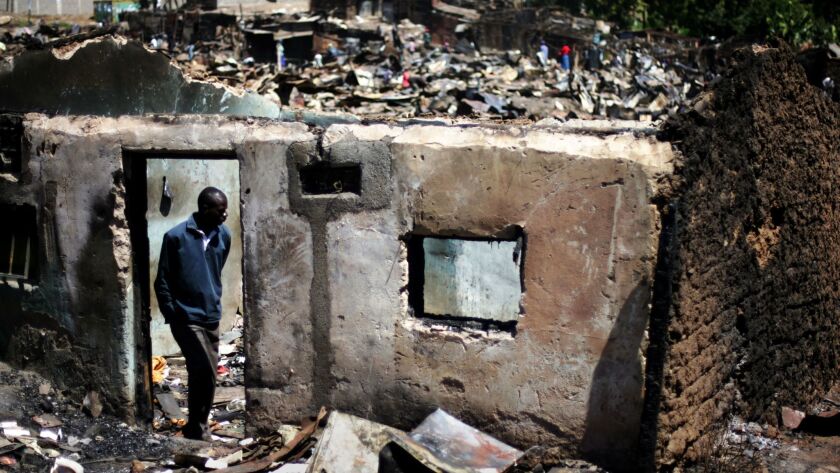 Kenyatta, who is Kikuyu and the son of Kenya's first president, Jomo Kenyatta, was indicted for crimes against humanity by the International Criminal Court in The Hague in 2011 for allegedly inciting the ethnic violence. He denied the charges, which were dropped three years later, after he became president.
Odinga, who is Luo and the son of Kenya's first vice president, Jaramogi Oginga Odinga, was appointed prime minister in 2008 in a power-sharing deal following the violence.
The current political morass is bigger than just ethnicity, said Edmond J. Keller, a political scientist and Africa expert at UCLA.
"What we have now in Kenya is a struggle among power elites," Keller said.
But many Kenyans resent that of the four men who have served as president since the country's independence in 1963, three have been Kikuyu. The other, Daniel Arap Moi, is Kalenjin.
"How can it be that in a nation of more than 50 ethnic groups … only two communities produce leaders?" said Maina Kiai, the former chairman of Kenya's National Human Rights Commission who is now based at Stanford Law School. "A big proportion of the country feels really angry and miffed and marginalized, and that anger is palpable."
So what happens next?
Much will depend on the state's reaction to the protest Tuesday, Kiai said.
"If the crowd is massive, as it is expected to be, it will prove a huge challenge to Kenyatta," Kiai said.
Some analysts suggested that Kenyatta might feel compelled to negotiate with Odinga.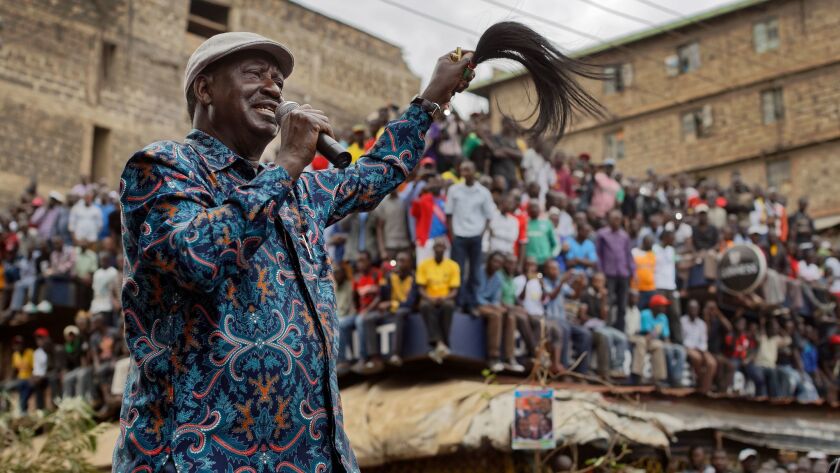 Lone, the longtime advisor to Odinga, said the shadow parliament could launch a legal process aimed at holding a new election. Under Kenyan law, 1 million signatures are needed to mandate a referendum on whether there should be a new vote, he said.
Some opposition supporters are calling for a change in Kenya's electoral system from the current winner-take-all voting to proportional representation, in which parties gain seats according to the number of votes cast for them.
The concerns about potential violence have reached far beyond Kenya's borders.
Kenyan Diaspora, an online organization that connects Kenyan expatriates living across the globe, sounded an ominous warning:
"We would like to put the Uhuru government on notice that although we are a nonviolent movement … if its security forces resort to the usual murdering and maiming of unarmed Kenyans who are lawfully and peacefully exercising their rights … we as Kenyan Diaspora will be left with no option but to arm our compatriots at home to exercise their right to self-defense in accordance with established principles of law," the group said in a statement.
"People are afraid," said Debra Akello, a Kenyan expatriate who has lived in the U.S. for more than two decades. "They are worried about violence."
Akello, who recently visited the country, said many people were stocking up on food and other supplies ahead of the swearing-in day, while others were rushing to buy bus and plane tickets to flee Nairobi.
"It's getting ugly," Akello said. " I'm so afraid for my country."
For more on global development news, see our Global Development Watch page, and follow me @AMSimmons1 on Twitter
---
Must-read stories from the L.A. Times
Get the day's top news with our Today's Headlines newsletter, sent every weekday morning.
You may occasionally receive promotional content from the Los Angeles Times.